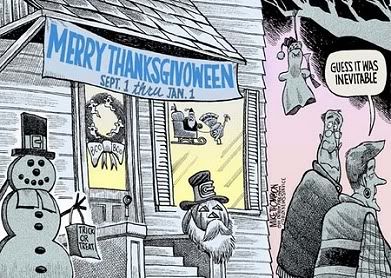 MERRY THANKSGIVOWEEN: Seasonal celebrations collide.
Cartoon by Mike Thompson of the Detroit Free Press.

Group Texts Before Turkey Dinner!

Holiday Commemorations Merge
Due to their proximity on the calendar and the influence of commercial activity, Halloween, Thanksgiving, and Christmas celebrations have so effectively merged that the appropriate seasonal greeting could easily be "Merry Thanksgivoween!"


The spooks of Halloween have come and gone, families are gathering for Thanksgiving Day festivities, while from radio stations from Schenectady to Spokane, Pensacola to Phoenix have begun broadcasting the third stanza of "Merry Thanksgivoween" with Clay Aiken Christmas carols.
Among the CA vocals decking the airwaves with a joyful noise are "O Holy Night," "The First Noel," "Don't Save It All for Christmas Day," "Merry Christmas with Love," and "Winter Wonderland."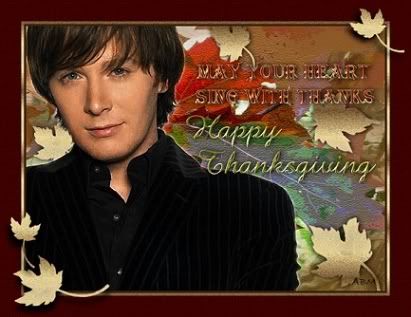 Thanksgiving graphic links to 'All Is Well' montage by SueReu.
The Thanksgiving graphic by
A Beautiful Mind
links to
SueReu
's montage of "All Is Well," celebrating the second and third stanzas of the "Merry Thanksgivoween" triology.
Holidays Provide Pepsi Alternatives
Creative voting is the key in the National Inclusion Project's $50k grant campaign while visiting family and friends this Thanksgiving weekend. Daily votes for the NIP, partners, and allies via the Pepsi site, Facebook, and mobile phone are a must for regulars if the foundation is to remain in the Top 10.
Thanksgiving Weekend provides supporters with new voting recruits. Hold daily group texts --

109857 to 73774

(Pepsi) -- with all who gather for holiday meals, games, and other weekend festivities.
Make sure all eligible (US citizens 13 and older) guests who can access an email account vote for the NIP during the holidays. Use the voting widget in the Carolina sidebar for ease in voting. Print and pass out these Thanksgiving fliers to garner new text votes.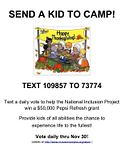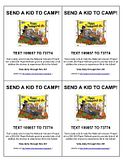 Double clickable/printable NIP Pepsi fliers.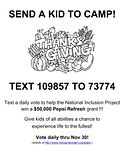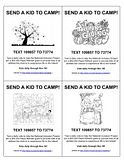 B/W double clickable/printable fliers.
Facebook Poll Offers More Ideas
Earlier this week,
Scarlett
posted this survey on her Facebook wall. The points in her poll provide excellent suggestions for garnering additional votes this holiday weekend.

If you are a site member, drop by her corner and take the poll. You can also share additional ideas in the comment section of this blog.
How will you increase Pepsi Refresh votes for the NIP during Thanksgiving Week?





1. Don't serve Thanksgiving turkey until everyone texts.




2. Vote early in the morning before the bedlam begins.




3. Vote at halftime, grab the remote and hold it hostage until people text, too.




4. Ask a friend to take care of your votes.




5. Vote before starting the car to drive anywhere, all passengers included.




6. Print out the NIP Pepsi Refresh fliers and hand them out wherever you go.




7. Register ID's of hosts/visitors so they can vote at the Pepsi site.




8. Vote late at night when the house is quiet again.




9. Add your suggestion.
For Clay Aiken fans who have followed tweets and photo trickles throughout the taping of a certain TV show in New York City, below are double clickable graphics by
Fountaindawg
-- for which we can be thankful. The second is wide screen.

Merry Thanksgivoween, Clay Nation and all you hold dear!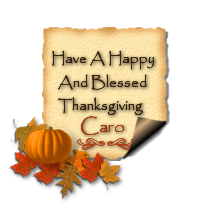 Thanksgiving design by Linda/ABM
Happy Thanksgiving e-cards in four styles to all who drop by the Carolina/OFC blogs throughout the year!
Thanksgiving with a Beat

Simple Gifts

Glorious Thanksgiving

Turkey Day Hoedown