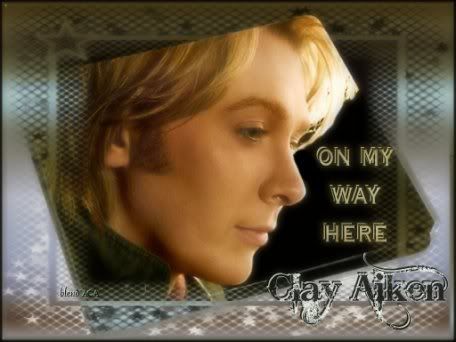 ON MY WAY HERE -- Amazing_CA's graphic spotlights an image from the photo shoot for Clay Aiken's upcoming CD.
'Sleuths' Share CD Finds
Aiken Fans Track Down Playlist
Clay Aiken often brags about the detective abilities of his fans, never more on display than this week's discoveries of the track list for his new CD, On My Way Here, as well as video and audio demos by songwriters.

Some fans choose to remain "CD virgins." Not me -- I listen to every little snippet and link that comes along because I know these songs will be brand new when Clay sings them.
Saturday morning a news story on the Ace Show Biz site confirmed the playlist CA fans had discovered through a music store a day earlier. From the track listing page, a click on more info takes the reader to OMWH's corner on Amazon.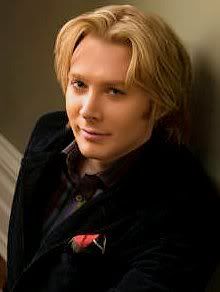 Photo by Eric Ogden

Clay Aiken Reveals 'On My Way Here' Track Listing



Clay Aiken has unleashed a new promotional picture, which is said to be the advanced version of the cover art, for his upcoming and fourth full-length album On My Way Here. The American Idol runner-up also reveals the track listing that includes a title track and previously revealed track "Ashes."

As reported earlier, Aiken's album will be released on May 6 via 19Recordings/RCA, featuring a production from Kipper (Sting, Chris Botti). His camp now reveals that Jaymes Foster will once again be back executive producing the album and that one of the tracks in the album will be a Ryan Tedder-written.


The OneRepublic frontman wrote the song "On My Way Here" that Aiken "fell in love" with instantly. The lyrics tell how lessons are learned as we grow up and those are what eventually shape us as adults.

"I thought if we could find songs along those lines, that deal with my life over the past five years and what I've learned from my experiences, it would be a great concept for an album," Aiken said.

"Since I got into this business, I've learned so much about myself and about life and the world. I'm nowhere near an expert, but this album has taken on the form of addressing how far I've come in those five years and how I feel like I've found myself."

Aiken who made his Broadway debut in January playing Sir Robin in Monty Phyton's Spamalot, has sold more than six million copies from his three albums, "Measure of a Man", 2004's holiday CD "Merry Christmas With Love" and the 2006 "A Thousand Different Ways".

ON MY WAY HERE Track List

1. On My Way Here
2. Ashes
3. Everything I Don't Need
4. Something About Us
5. Falling
6. Where I Draw The Line
7. The Real Me
8. Weight Of The World
9. As Long As We're Here
10. Sacrificial Love
11. Grace Of God
12. Lover All Alone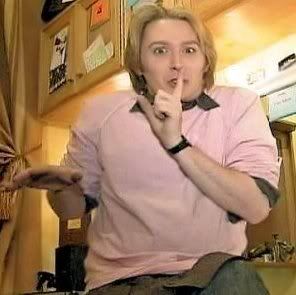 WRAL Photo by Geof Levine
Clay Spills Some of the Beans
In February, during Lynda Loveland's special report on WRAL-TV, Clay
spilled the beans
about his upcoming CD.

From the Raleigh station's video, talented fans promptly assembled a tentative playlist, as well as montages with partial song clips. Two oft-viewed YouTube teasers are
New CD Song Cuts 2008
by

Yollie950

and
Clay Aiken's New Album
from The Clay Channel.

From this weekend's findings, these songs or segments can be heard at the following links:
On My Way Here

,

sung by songwriter Ryan Tedder.

Everything I Don't Have blurb at the 2:09 mark of the web edit for This Is Different on Kipper's My Space.

The Real Me, music and lyrics by Natalie Grant.

Where I Draw the Line from songwriter Clint Lagerberg's My Space.

As Long As We're Here

, performed by Brooke Morton.
Earlier in the week, fans discovered pre-order info for OMWH at
Amazon International
. I stopped saving links after a few countries, but the CD is there. Check out Canada, the UK, France, Germany, Japan, etc.



Here is the link to pre-order
OMWH
at Amazon.com. The track listing has been added, and clips should soon follow. The CD is currently #8 in Vocal Pop.

It's not too early to register at the
CD Release Party Board
,

central heaquarters for May 5-6 CA fan festivities around the globe.

PHOTO INTERLUDE: The clickable interlude features graphics of pictures from CD photo shoots. Artists include Amazing_CA, 1; Ashes, 2; Cindilu2, 3; DangHesHot, 4; and Ambassador of Love, 5.
Posts Reflect Fan Excitement

According to intermission reports from Broadway Saturday afternoon, the "Spamalot" Playbill contains a full page ad for OMWH. From the many fan recaps shared on message boards and in this blog, many Not.Just.Us folks will be receiving info about Clay's new CD.

After reading the latest news and listening to the newly-located clips, message board posts reflect fan insight, aspirations, and excitement for Clay's new CD:
SMARTYPANTSSUZ: I'm undeniably excited to hear what Clay has decided to record, to hear musical insights into the past five years of his life and the end result of a project that he has been so involved in and is so proud of!

I've been listening to every demo we come across. I like getting a feel for the songs; but I know that when I hear Clay sing them, they will be his forever and I will forget the others.

KWHITE1022: I think this is going to be a very powerful, moving album. I cant wait to hear all the songs, and hear what they have to tell me. To know that for whatever reason Clay picked them because they resonated with him is almost more then I could have ever hoped for after ATDW.

I'm curious to see what Kipper and he have created and hope we get to hear Clay talk even more about the journey of pulling the album together.

LEROY1704: One thing I'm so excited about is that "Lover All Alone" is on the list. Finally, Clay will have full writing credit on his album; and the world will be able to hear this amazingly beautiful song.
I also think that it would be strange for Clay not to have a song which reflects his faith on his CD. I think without his faith sustaining him through some of the things he's faced in his life, we might not have any new music from Clay at all. After all, he did say that this CD will reflect his journey for the past five years; and I imagine he feels he hasn't traveled this path alone.

I can hardly wait to hear what he has to say. I've waited five years for this, and I think he has, too.
FIFTY: "Where I Draw the Line" is an earworm kind of song. Clay is going to nail this!

DEEPSOUTHGAL: I look forward to his thoughts and what he wants to share about his journey on his way here.

This man is still standing, unbowed and more beautiful than ever in every way. I would like to see into his heart a bit, and I feel that this CD will give that opportunity. And I am delighted that "Lover All Alone" is included. More people than just.us need to be bowled over by that brilliant song.

To say that I am excited is an understatement!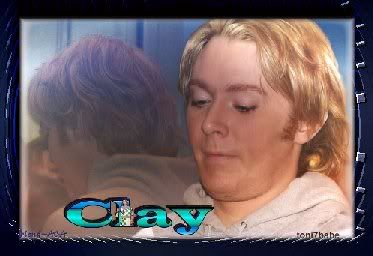 Graphic links to SueReu's stage door montage.
Notes from 'Spamalot'
SueReu's montage of Toni7babe's "Spamalot" stage door photos is accompanied by Eva Cassidy singing "You Take My Breath Away." The linking graphic by Amazing_CA also features photos by Toni.
New York City's WABC-TV included Clay singing "When I'm up here on the stage, I'll be the idol of my age" at the end of Saturday night's "Broadway Backstage: Spring Preview" special. Here is a Sendspace of the
Broadway segment
.

Below is a clickable of Amazing_CA's lead graphic: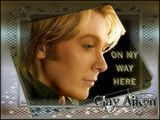 We are still in the midst of March Madness in NC. Yay, Carolina Tar Heels and Davidson Wildcats!
Have a great week, Clay Nation!
Caro
RELATED TAGS:
Clay Aiken
,
On My Way Here
,
Spamalot
,
Broadway
,
RCA/19 Entertainment
,
Kipper
,
Jaymes Foster
,
Ryan Tedder
,
Clint Lagerberg
,
Natalie Grant
,
Official Fan Club
,
Clay Nation