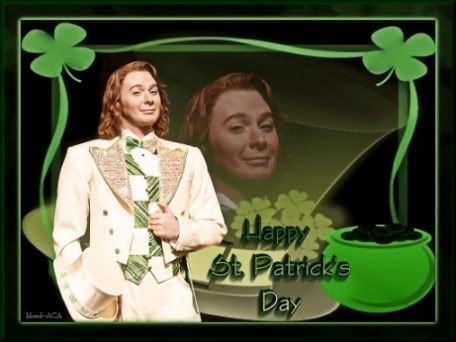 Graphic by Amazing_CA, photos by Joan Marcus


In honor of St. Patrick's Day, this blog is celebrating in "Spamalot" green, signature color of Sir Robin, one of Clay Aiken's roles in the Broadway hit musical.
For an edition, readers will get a reprieve from Tar Heel blue cheers, the usual plethora of links in a similar shade, as well as the stage door pictures of Clay in those lucky Carolina hoodies. I hope you enjoy the photos, blessing, and the pot 'o gold at the end!

Wishing you and yours a very special St. Patrick's Day!
INTERLUDE IN GREEN: Sir Robin's signature color lends itself to a clickable St. Patrick's Day interlude. Included are graphics by Amazing_CA, Claystruck, and Ambassador of Love. The three by ACA feature photos by Betsy, 1; Scrpkym, 2; and Toni7babe, 4. Claystruck's graphic includes a photo by Disneydeb84, 3.
Sally

's graphic of the Irish blessing below

is a rerun whose timeless message is just as current for St. Patrick's Day 2008.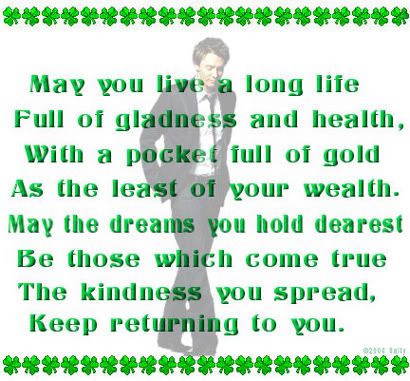 You may have guessed that grandson Kai, six months old on St. Patrick's Day, is our pot 'o gold.
On the 17th, this little tyke had to endure the requisite round of shots; so we are celebrating St. Pat's Week. In the photo below, he is intrigued with the mobile on his new swing.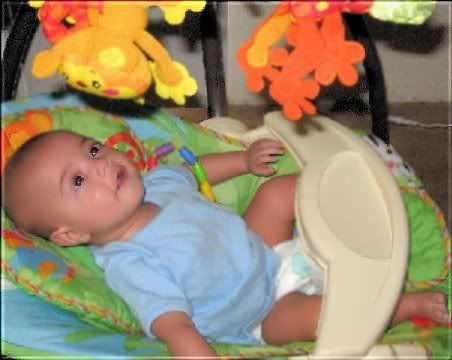 Our clan's pot o' gold, a priceless treasure.
Have an awesome St. Patrick's Week, Clay Nation!
Caro
RELATED TAGS: Clay Aiken, Spamalot, St. Patrick's Day, Official Fan Club, Clay Nation