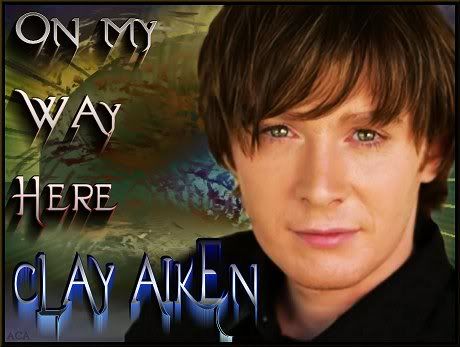 ON MY WAY HERE - Amazing_CA and other graphic artists have designed a variety of album covers highlighting the proposed title track of Clay Aiken's upcoming CD.
Very Special Journey
Clay Aiken's New CD Hits Home
In interviews about his soon-to-be released CD, Clay Aiken has indicated that "On My Way Here," the possible title track, embodies his journey to where he is now, musically and in life.

Thursday morning the track became this grandmother's new theme song as a I received the exciting news that my daughter and her son Kai will be "on their way here" in May for a month-long visit.

The first meeting of Kai and his grandmother, as well as a whole slew of Carolina aunts, uncles, and cousins, will occur a few days after his eight-month birthday and my students' spring recital. Too bad Kai will miss our Brandenburg Concerto #2 because his mother would be a welcome addition on cello.
At their end, plane tickets have been confirmed while in Carolina, the clan has already begun rounding up baby gear and aligning schedules for the four-week visit.

Meanwhile, a thorough spring cleaning suddenly shares my teaching agenda. The next two months promise to be some kind of busy!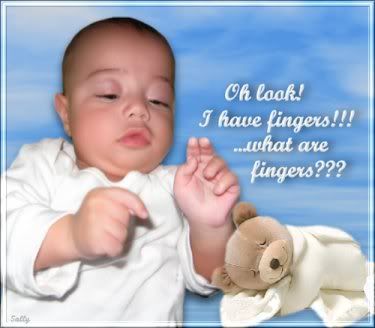 'On My Way Here' in two months, Grandma! - Graphic by Sally
Claying It Forward Stories Shared
Marie Drummond's "Claying It Forward" experience in this blog's March 9 entry inspired much head nodding and several reader remarks about similar incidences. OFC member Melisqueen secured permission and posted our segment in her March 11 Find Your Grail journal entry.

I long ago opted to use my "Spamalot" money for the upcoming initial meeting with my grandson. However, Clay friends Margaret5828 and Sally have sent me mementos from their "Spamalot" trips to the Big Apple -- a poster, the playbill, the New York City guide, and a pin that certifies "I'm Not Dead Yet."

Below are other "Claying It Forward" examples shared by readers, beginning with Melisqueen. Give this fan some hits/comments; and if you have a similar CIF story, I hope you will add it to this collection.

MELISQUEEN: I came home recently and found a small yellow envelope addressed to me. It's so exciting to get things besides bills, but in this case I had no idea who the person was. I stood there for a minute wondering who I know in Connecticut. I opened it and found a Spamalot playbill.

A lady on our message board had inquired if anyone was interested in one, as she had scooped up a bunch after the show that people had left behind. I provided my address just in case she had an extra since I would be going to New York later. This lady made my week! I now have the playbill in my cubicle at work preparing me for my trip to NYC.

CLAYANGEL53: I've been one to "Clay It Forward." I had three tickets to a concert, gave one away to a fan, who was very grateful. It made me feel amazing. Of course I had mine and got to see him as well. It's wonderful!

GRAMS4242: Here's my "Claying it Forward" story. In today's mail was a package from Marlyne. She told me she picked up the NYC Guide with Clay's picture on it for me, but also in the envelope was a Clay Spamalot magnet from the night she went to see Spamalot.

When I showed these to my husband, he said, "They can say what they want about you Clay fans; but from my experience you are the most loving fans in the universe and are really generous and kind with one another."

He definitely got that right - Clay has the best fans in the world!!!!
GALADRIEL: I love the "Clay It Forward" stories. That is just the way Clay Land should operate.

PHOTO INTERLUDE: This clickable interlude incorporates scenes from "Spamalot" and an early St. Patrick's Day greeting. Graphic artists and photographers featured include MNmeesh, photos by Scrpkym, 1; Amazing_CA, photos by Toni7babe, 2; Amazing_CA, photos by Joan Marsh, 3; Amazing_CA, photos by Snix, 4; and Artz11, photo by ClayChristina, 5.

TBAF Awards 'Let's All Play' Grants
On March 11, The Bubel/Aiken Foundation announced over $500,000 in grants to support programs nationwide as part of the organization's
Let's All Play
program:


This is an exciting development in The Bubel/Aiken Foundation's goal to expand Let's ALL Play. The Foundation will support over 30 recreational programs in 2008. Programs receive a program model and Foundation training in addition to grant funding. Because of the Foundation's support, children across the country will participate in inclusive programs for the first time.

Let's ALL Play brings an inclusive recreational experience to children with disabilities by giving them the same experience as children without. Children come together to participate in activities such as swimming, arts and crafts, community service, and physical fitness. The Foundation is also excited to partner with Best Buddies International, The Dancing Wheels Company and School, and LA's BEST After School Enrichment Program.
The complete press release can be read at the above link or at TBAF website.

Tar Heels Win ACC Tourney Title
The Carolina Tar Heels, Atlantic Coast Conference regular season champs, beat the Clemson Tigers, 86-81, in Charlottle Sunday to win the tournament title, too. To get there, the Heels beat Florida State, 82-70, in the tourney's quarter-finals on Friday and Virginia Tech, 68-66, in Saturday's semi-finals.
Clay continues to cheer for the Heels by wearing Carolina shirts and hoodies in stage door gatherings with fans following "Spamalot" shows. The above clickable graphic by Amazing_CA features photos by Scrpkym.

Congratulations to Tyler Hansbrough, North Carolina's All America junior forward from Poplar Bluff, Mo, who has been named National Player of the Year by Sports Illustrated and The Sporting News.

"By winning this [The Sporting News] award, Tyler qualifies to move into the front row in the rafters and have his jersey retired whenever he decides to leave the University of North Carolina," head coach Roy Williams said.
"There will never be another one just like him. I am so lucky to be his coach. For the rest of my career, I will be able to look up into that first row and see his jersey hanging next to the other retired jerseys and I know that will bring a big smile to my face."
Carolina Blog Greets 7 New Countries
Little red dots are keeping Ron Kanipe, my geography "coach," busy. Today the Carolina blog welcomes new readers from Guam, Egypt, Morocco, Estonia, Tasmania, Puerto Rico, and Panama.

Representing all continents except Antarctica, the 54 countries on the Carolina On My Mind ClustrMap include the following:

Asia: Israel, Thailand, Indonesia, Singapore, Saudi Arabia, India, Oman, Micronesia, Malaysia, Hong Kong-China, Korea, Japan, the Philippines, Guam

Africa: South Africa, Egypt, Morocco

Europe: Lithuania, Iceland, Spain, Portugal, Great Britain, Ireland, France, Norway, Sweden, Finland, Denmark, the Netherlands, Greece, Germany, Italy, Austria, Hungary, Czech Republic, Romania, Estonia

North America: Canada, United States, Mexico, Costa Rica, El Salvador, Puerto Rico, Panama

South America: Peru, Brazil, Argentina, Venezuela, Columbia, Chile, Paraguay

Australia: Australia, New Zealand, Tasmania

This corner of the Internet is glad you are quite often "on your way here" to read Clay Aiken news ... and then some!
Below is a clickable of Amazing_CA's opening graphic: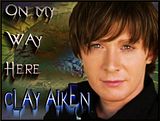 May love and laughter light your days and warm your heart and home.
May good and faithful friends be yours wherever you may roam.
May peace and plenty bless your world with joy that long endures.
May all life's passing seasons bring the best to you and yours!

Have a wonderful weekend, Clay Nation ... and Go, Heels, Go!!!

Caro
RELATED TAGS:
Clay Aiken
,
Spamalot
,
Broadway
,
On My Way Here
,
Claying It Forward
,
The Bubel/Aiken Foundation
,
Let's All Play
,
Carolina
,
Clay Aiken
,
Tyler Hansbrough
,
Carolina On My Mind ClustrMap
,
Official Fan Club
,
Clay Nation