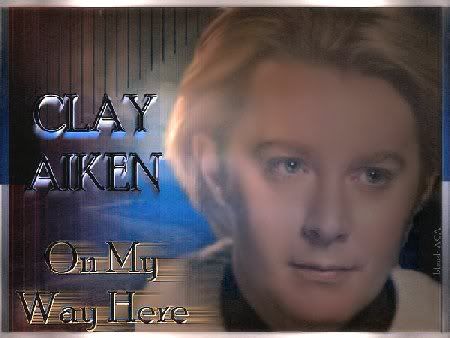 ON MY WAY HERE -- Possibly the title song of Clay Aiken's new CD, the single reflects the singer's journey. Graphic by Amazing_CA.
A Star on His Way
Clay Aiken's Musical Journey
Within the context of this competition, I thought that was terrible. Maybe I'm missing the plot here. I'm looking for a future superstar; and based on that, I just didn't get it.

-- Simon Cowell
Despite the fact that three other judges complimented Clay during the Disco Week competition April 1-2, 2003 -- Brilliant! ...Your voice is golden ... You've got chops; you can SING! -- Simon continued warbling a tired variation of his same old lament.
Only a couple weeks earlier, Clay, according to Simon, was the one to beat. Clearly, he didn't "get it" or didn't want to.

Through American Idol Rewind 2, many fans are reliving the events of five years ago while others are experiencing them for the first time. Due to sports scheduling, many missed last weekend's rerun. Here is a Sendspace of Clay's performance with judges comments: Everlasting Love.

Billboard Week
Graphic by Fountaindawg
Theme of the next show is "Billboard #1 Hits," during which Clay sang "At This Moment" by Billy Verra. Here is a Sendspace of an
AI2 Rewind Promo
for the Saturday-Sunday show.
You can take a visual stroll through the 2003 competition by linking to

Fountaindawg

's
AI Anniversary Wallpapers
at the
Clay Aiken Kids
site.

Unfortunately, AI Rewind doesn't include the group numbers because, week after week, the Season 2 ensemble was the best the show has ever produced.

During the 2003 competition, an oft-used tactic was the derogatory manner in which the Idol judges, especially Simon, planted the seed that Clay had a Broadway voice -- as if that were shameful or second rate.

And aren't we glad he does? I, for one, am ecstatic that "Spamalot" director Mike Nichols recognized the many talents Clay brings to the entertainment stage and cast him in the Broadway show. I also look forward to the resumption of his many-faceted pop music career.


Clay Aiken is amazing beyond that glorious voice. Turns out he is an excellent comic actor and a master of character. People will be surprised by his wide ranging talent, since the first impression is of great country charm and a singer to remember. This guy is not only a star, he is a lot more.

We are lucky to get him for Spamalot ... The guy is not only a star; he is a lot more. -- Mike Nichols
Simon Cowell probably still doesn't "get it."
PHOTO INTERLUDE: Featured in this clickable interlude are the graphics and photographs of seven visual artists, including Amazing_CA, photo by Butterflyshine, 1; photo by Jtgranny, edited by Sally, 2; Amazing_CA, photo by Scrpkym, 3; Marilyon98's photo in which Clay is signing a peasant award, 4; and Clayquebec1, 5.


'Something Completely Silly'
Highlights of the past week are the inclusion of the online "Spamalot" article in the print edition of New York's
Official City Guide
. Widely distributed, in the NYC area, here are the cover and an excerpt: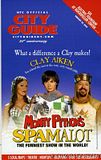 Official City Guide
Double Clickable
One of those woolly-tighted knights is being played through May 4 by Clay Aiken, the runner-up in 2003's "American Idol," whose various parts include the neurotic and cowardly Sir Robin. Aiken has drawn his own largely female fans - the "Claymates" - who are besotted by whatever he does onstage at the Shubert.

"It's hilarious," said Waddingham. "He's so sweet about them backstage. He says, 'Ah'm sorry, they're embarrassing me, y'all.'" She went on to add, "He's taller than I thought he was and he's also quite strapping. I expected him to be 5' 6" and quite puny."

Aiken, who sang the inspiring "Bridge Over Troubled Water" on the "American Idol" finale (losing to his arch-rival Ruben Studdard, who has yet to make his Broadway debut), sings far less-moving lyrics as Sir Robin. "You can sing, you can dance, and you won't soil your pants, in your white tie and tail," he tells his non-voting Shubert audience. "Find your Grail... Find your Grail."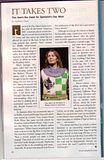 Spamalot Playbill
Double Clickable
Clay in Playbill Spotlight

The Spamalot Playbill now features an article about Clay, "It Takes Two," by Andrew Gans. From the second season of Idol, in which he came in second, to the fact that Clay had to see Spamalot twice before "getting it," the number "2" has played an important role throughout his career.

Although he does get the chance to display his beautiful, rangy, crystal-clear voice in a few numbers, Spamalot doesn't offer the gifted tenor as much opportunity for vocal acrobatics as several other Broadway musicals might.

We had other shows approach us," Aiken says, "... but the reason we were interested in Spamalot was it was completely different than anything I had done in the past, and it was something that I don't think people would have expected me to be interested in. That was kind of a draw, the fact that it was opposite of typical Clay Aiklen stuff."
Two time's the charm -- enjoy the scan!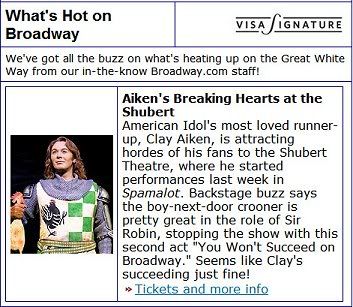 From Broadway.com Newsletter
Fans: NJU Crowd Still in Awe
Fan recaps of "Spamalot" are filled with examples of Not.Just.Us attendees enjoying Clay's performance. Here are a few:

PA4CLAY: I went to both the afternoon and evening shows. Talked to a lot of NJU's who loved Clay. One man said, "Clay Aiken. Who would have known?" And I said, "Oh, just a few thousand of us!"

HOPELESSLYDEVOTED: We sat next to a couple that traveled all the way from Texas, During intermission, I heard a NJU behind me say, "This is hysterical ... and Clay Aiken is really good, too!"

ZIPPY888: Clay wore the green Carolina hoodie again tonight. There were people about two rows deep at the barricades. Clay even signed someone's crutch!
CA fans would make excellent detectives and are matchless in locating props on the Internet about Clay's performance, no matter how obscure. This was posted by a male at a Broadway message board:


Saw Spamalot this evening. The show is in decent shape. Not the cleanest on Broadway but respectable.

I was however, completely blown away by Clay Aiken. I went in expecting to think 'He held his own with the cast'. He was hands down the most engaging principal in the show tonight. He made bold choices (maybe was given them, who knows?) and really went for the physical comedy as well as word play.

Fun night ... of a wonderfully silly show.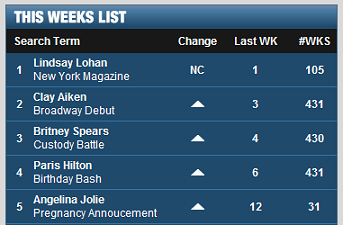 Clay stepped up from #3 to #2 on the Lycos 50 the week of March 3-9. His caption this week is "Broadway Debut."

Apparently, Clay fans, as well as the NJU crowd, are searching for info about the singer-actor!
Thnx for the Nudge!
In her OFC comment, a friend gently reminded me that the next "rewind" is Billboard #1 Hits, not Broadway #1 Hits, as I had previously written. Even though we Clay fans have Broadway on the brain, that's not a feasible theme for The Great White Way.
LOL, the real problem was that I compiled and posted this blog in between baskets and cheers for Carolina's final home game Tuesday night. Many thnx for the nudge, smz!
Below is a clickable of Amazing_CA's opening graphic: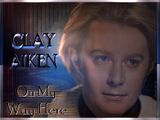 Have an awesome week, Clay Nation!

Caro
RELATED TAGS:
Clay Aiken
,
Spamalot
,
Broadway
,
Mike Nichols
,
Simon Cowell
,
American Idol Rewind 2
,
Clay Aiken Kids
,
Official City Guide
,
Spamalot Playbill
,
Lycos 50
,
Official Fan Club
,
Clay Nation