HRC video of Clay Aiken courtesy of Pam's House Blend.
'It's About Damn Time'

Singer Speaks at 2010 HRC Gala
Clay Aiken's speech at the Human Rights Campaign Carolinas Gala in Raleigh Saturday was eloquent, passionate, and even sprinkled with his trademark humor as he outlined the long, arduous path preceding major civil rights milestones, most often achieved after "it was about damn time."

This was not a pop concert appearance, but several of the singer's supporters attended the event and a cellcert was beamed to fans around the globe.

For sure, the title of the speech is the line Clay reiterated throughout about the personal and civil rights segments: "It's About Damn Time."

To me, one of the most moving lines occurred when he discussed a person's decision to come out: "I know that the power of truth and living honestly is very liberating."

The video of Clay's speech is from Pam Spaulding's blog, Pam's House Blend. A North Carolinian, Pam provided a running commentary of the HRC gala in her House Blend blog. The other keynote speaker was actress-producer Meredith Baxter, whose speech is also cued on the opening player.

Sendspace downloads of Clay's speech are available in video and audio formats.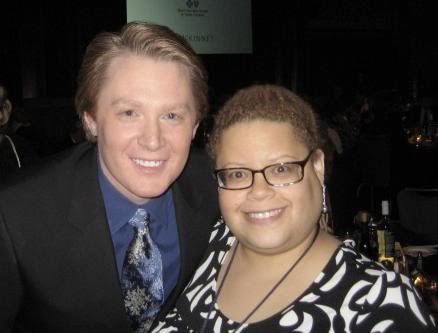 Clay and Pam Spaulding at HRC Gala.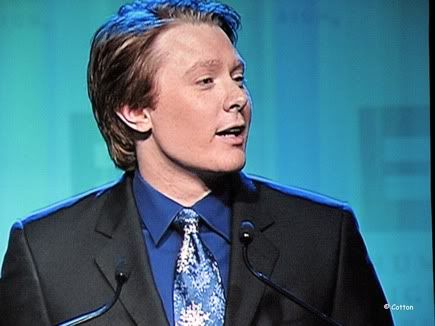 Clay addresses HRC Carolinas meet. (Photo by Cotton)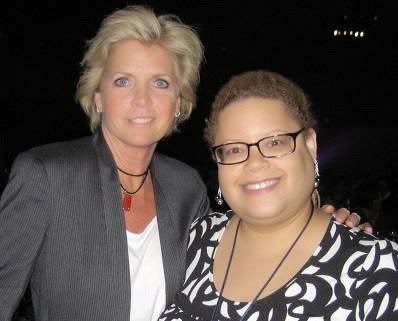 Meredith Baxter poses with Pam Spaulding.
Achievements of the organization's Equality Award honorees -- Greensboro's Guilford Green Foundation, Mary Elizabeth Lennon of Charlotte, and David Parker of Colfax -- are published here.
Speech Outlines Civil Rights Milestones

Clay's speech was not long. These are among the highlights:
We've seen throughout our nation's history that all the major civil rights movements, major milestones in our country have come after a lot of waiting and a lot of hard, long-fought work.

Thankfully, while many of us have been waiting, you at the HRC have been fighting to ensure that LGBT Americans have the same rights that straight Americans take for granted.

As HRC's name implies, our battle is about something much larger than the LGBT community. It's about that most American of notions that all men and women are created equal. (That is, with the exception of my son, who is brilliant.)

The belief which this nation was founded on is the cornerstone of our movement; and, as I said, it has been the cornerstone of every major civil rights movement in our nation's history.
In 1920 when the 19th amendment was passed which gave every American woman the right to vote, it was about damn time.



In 1954, Brown vs. Board of Education desegregated our schools. It was about damn time.



In 1964 when the Civil Rights Acts was passed banning discrimination based on race, religion, national origin, it was about damn time.



And last year when the Matthew Shepard and James Berg, Jr. Hate Crimes Prevention Act was passed, it was most certainly about damn time.
The LGBT community has seen and obtained unprecedented visibility and legitimacy in America. We have a great deal more work to do to ensure that LGBT individuals and families have the same rights and same freedoms that straight Americans have.

I know that my son's world will be a better one because no one no matter how hard they try, they are not going to stop our progress.

And like those civil rights movements that came before, our message is the message of fairness, of righteousness, of decency. Our message is the message of the future. Our time is now, and it is about damn time.
Cotton

, who generated the feed so fans could listen to the speech as it occurred, added this observation:
At the HRC Gala last night, I saw a room filled with people who were full of love. It was a very hopeful evening of celebrating progress and fighting for what everyone wants - the right to live and love equally. I'm so so honored to have been there.
Below are clickables of

Cotton

's podium photo and a collage of her HRC pictures by

Fountaindawg

:
Have a wonderful week, Clay Nation!

Caro