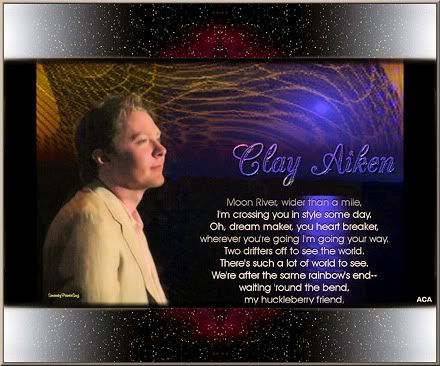 DREAM MAKER - Clay Aiken sings "Moon River" in the Feb. 1 Golfing for Inclusion concert in West Palm Beach, FL. Graphic by AmazingCA, photo by SmartyPantsSuz.
One More Sleep (Or Maybe More)!!!
Clocks Counting Down to News
Amidst the excitement and hoopla of Sunday's celebrated Super Bowl, the most repeated chant on Clay Aiken message boards -- "ONE MORE SLEEP!!!" -- has been indicative not of professional football's finale but of countdown clocks ticking off the minutes until Singer Man's big news announcement Monday.
Almost as an afterthought, the inevitable "Go, Saints!" or "Yay, Colts!" cheers are attached to board posts while the singer's anticipated news leads most excitement gages. Speculation centers around the upcoming Decca album release and information on the a PBS Special.

UPDATE: News Delayed, But Inevitable

Late Monday night fans learned the music business moves at a snail's pace, crossing all "T's" and bridges before official announcements can be made. However, Clay twice blogged his apologies and frustration about the delay. Clayonline members can read both blogs there.

Having already hinted that his fans they might want to be in Raleigh on March 12, Clay posted a list of excellent hotels. He also said the date is confirmed and he is more excited about "the event" than anything he has done in years.

Information will be forthcoming in a few days, the singer promised. Actually, according to the fandom's definition of SOON!
During Clay's concert at the Feb. 1 GFI fundraiser for the National Inclusion Project, participants were treated to bits and pieces of the new CD. Featured below is video is one of the tracks, "Moon River," recorded by Goldarngirl at the West Palm Beach, FL, performance.

Clay singing Moon River at GFI.
Song Revives Mercer's Career
Composed in 1961 by Johnny Mercer (lyrics) and Henry Mancini (music), Moon River was originally sung in the movie Breakfast at Tiffany's by Audrey Hepburn, although it has been covered by many other artists.

Performed by Andy Williams at the 1961 Academy Awards, "Moon River" won the Oscar for Best Original Song that year and received Grammy Award for Record of the Year in 1962.

Mercer (1909-1976)was a popular singer who recorded his own songs as well as those written by others from the mid-1930's through the mid 1950's. He wrote the lyrics to more than 1,500 songs, including compositions for movies and Broadway shows. He received 19 Academy Award nominations and won four.

Mancini (1924-1994) was an American composer, conductor, and arranger best remembered for his film and television scores. He won a record 20 Grammy awards.
The success of the song was responsible for re-launching Mercer's career as a songwriter, which had stalled in the mid-1950s because rock and roll replaced jazz standards as the popular music of the time.
Moon river, wider than a mile
I'm crossing you in style some day
Oh, dream maker, you heart breaker
Wherever you're goin', I'm goin' your way

Two drifters, off to see the world
There's such a lot of world to see
We're after the same rainbow's end, waitin' 'round the bend
My huckleberry friend, moon river, and me.
An inlet near Savannah, GA, Mercer's hometown, was named Moon River in honor of him and this song. The popularity of the song is such that it has been used as a test sample in a study on people's memories of popular songs.
"Moon River" became the theme song for Andy Williams, who sang the first eight bars at the beginning of his television show and also named his production company and venue in Branson, Missouri after it.
Below are Sendspace links for video and audio downloads by Goldarngirl and a clickable of AmazingCA's opening graphic: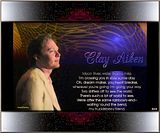 Kai Makes Grandmother's Day
A simple "Hello, Grandmother" over the phone provided my Super Bowl Sunday high. Poppy was in the midst of a family progress report when I asked about the "background music." Kai was playing with his trucks and providing all the proper sound effects.

Invited to come over and say hi to his grandmother, Kai did just that. Talk about making my day!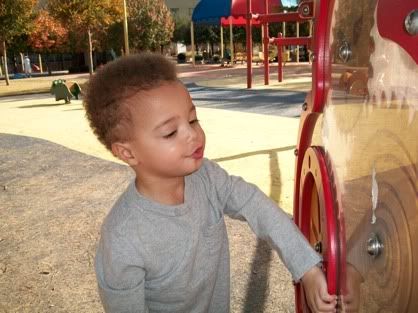 PARK FUN -- Kai knows one can't steer without proper sound effects.
Long overdue for grandson's many "aunties" in the Clay Aiken fandom, this clickable interlude depicts back the sunny November afternoon he and his mother spent in the park.

With little sister Lia and Poppy enjoying an afternoon snooze, Kai and Mom slipped away for some sliding and swinging in the sun. Fortunately, she took along her camera, too.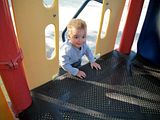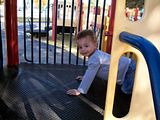 SOUND CHECK - Kai investigates slide's nooks and crannies.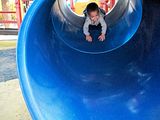 LONG WAY DOWN - Even a dare devil scopes out his slide
before diving into a maiden voyage.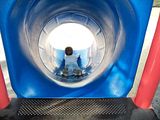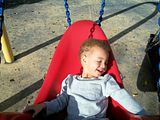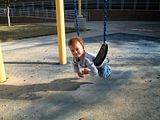 SWINGIN' FUN -- Kai tried out several swing positions before
returning for another round on the slide.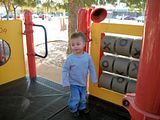 I understand Kai and Lia are also marking off their calendars, too, counting down the days until the arrival of spring and many more visits to the park.
One More Sleep! Have an awesome week, Clay Nation!
Caro
P.S. Happy 18 Months, Parker!