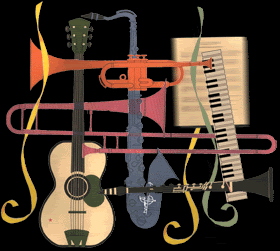 Adventures of The Cambiata Trio
Musical Friends Mark Birthday

Today marks the birthday of two very special people in my life. Friends and pianists, these ladies were keyboardists for the Cambiata Chamber Players, an ensemble (flute, oboe, piano) originally formed for the pleasure of making music together -- Betty on flute; Judy on piano; and yours truly playing oboe, flute, and saxophone.

In the five years we performed together, the group had two different pianists, Judy Mahone and Diane Aitken. Ironically, they share the same birthday, Feb. 19.

The night my husband walked in our rehearsal and said, "Y'all sound good enough to take on the road," the group moved from playing for our own enjoyment to performing professionally.
We printed cards and stationery, located matching dresses, and away we went. We wound up playing all over Middle Tennessee for park concerts, weddings, receptions, and fashion shows.
We became a hot ticket on the retirement home circuit, often donning concert attire, playing a luncheon gig, and rushing back to our studios to teach afternoon music lessons.
Regular at Governor's Mansion
When Judy could no longer play with the group, along came Diane, who was completing her master's degree in piano performance at Peabody. Diane and then Tennessee Governor Lamar Alexander had grown up together in Maryville, studying piano with the same teacher throughout their pre-college years.
After he became governor, Diane was asked to recommend a group to play background music at a reception. This became the first of many joyous occasions the trio accompanied at the Governor's Mansion.

The most difficult gig I ever played was the morning wedding of Lamar Alexander's publicist, for which the governor served as best man. My father had died during the night, and our program included his favorite classical song, "God My Shepherd Walks Beside Me" by J.S. Bach. Our car was loaded for the 12-hour drive home, and we left the minute the wedding ceremony was over.

Still a Nashvillian, Judy, an organist, performs and teaches elementary through college-aged piano students while Diane now makes music in the Chicago area. Betty, a church organist and excellent accompanist, teaches and performs flute in Nashville.
Heavy Equipment Not a Problem
Indoors or out, in good weather and bad, we hauled Diane's Fender Rhodes electric piano to various venues throughout Middle Tennessee. Since I already had three instruments, Diane and Betty were usually in charge of finding assistance for unloading the heavy piano and speaker.
They batted their eyelashes, asked nicely, and always seemed to find a couple of guys anxious to show off their muscles by carrying the equipment.
Wedding cake taste tests were the norm at receptions, and we could have advised prospective brides on the region's best caterers.
Cambiata Describes Repertoire

Originally, we chose the name Cambiata Chamber Players because of the alliteration and the musical connotation. The name evolved into The Cambiata Trio. A cambiata ornament involves a note that skips down and resolves back up -- A to F# to G, for example.
During retirement home programs, we provided background information about the music we played. Our repertoire was a a little bit classical and a little bit rock 'n roll, meeting in the middle like the cambiata.

Trio members were always amazed at the many compliments our pop arrangements received when, in truth, they were very simple: "OK, flute takes the melody at A ... oboe the harmony ... no, this will sound better on sax ... switch on the repeat, etc."
As music majors, picking out harmony from a piano/vocal score was a snap. We just smiled and graciously thanked the guests.
Tubular Oboe Reed Misjudged

Keeping reeds wet is a priority when you rotate three instruments. Following one retirement home gig, residents had come forward to express their appreciation for our program. One woman told me in no uncertain terms that I needed to quit "that nasty, unhealthy habit."
I didn't understand at first; but Diane and Betty did, turning and hiding their giggles from the resident. The lady thought my oboe reed, constantly in and out of my mouth, was a cigarette.
During the Cambiata years, the four of us -- Judy, Diane, Betty, and I -- were raising families. We are all grandmothers now and still making music.
Because time itself is like a spiral, something special happens on your birthday each year. The same energy that God invested in you at birth is present once again. -- Menachem Mendel Schneerson (The Rebbe)
Happy Birthday to Judy and Diane, two very good friends with whom I have shared some very special times!
Caro
ADDENDUM: Judy, one of the birthday gals, emailed additions, inspiring others:


The trio alternated rehearsals on opposite sides of Nashville. When we practiced in Bellevue, we had to stop at a certain time so the flautist could leave for Donelson, 30 minutes away, in time to watch "Mary Hartman, Mary Hartman."


Our apartment had a dryer; and the flautist, whose didn't, sometimes brought her laundry to dry while we rehearsed.


On a night Judy's childcare fell through, Mr. Caro took all the youngsters around while he ran errands. The winning stop was the car wash. "It was my kids' first ride through the car wash, and they were tickled to death," she recalls.


For a Jewish-Episcopal wedding, we played "Hava Nagilia" at the reception and all the grandmothers got up and danced. That was the same wedding we had to learn the "Yale Whiffenpoof Song" ("Baa, baa, baa").


I played oboe and flute during pre-wedding concerts and added the alto sax at receptions. One bride asked that we play "At Last" for the groom's parents to enter. This was "their song" and definitely a saxophone piece.

During the reception, the bride gushed that everyone was raving about the music.

"Not quite everyone," I told her, describing the stern woman who had made faces at me throughout "At Last" from the bride's side of the aisle.

"Oh, that's Aunt Trudy. She never likes anything!"