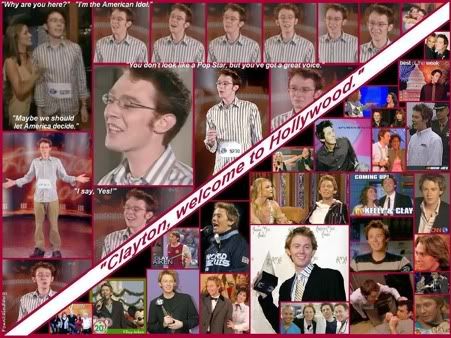 ATLANTA AUDITION - The Clay Nation honors the anniversary of "Take," Jan. 28, 2003. Graphic by Fountaindawg.
'Always and Forever' in Atlanta
Clay Nation Marks Anniversary
Celebrations are in full swing throughout Cyberspace as fans recall the night in 2003 that Clay Aiken was introduced to the world with the American Idol 2 telecast of his Atlanta audition.

Take time to tell me you really care
And we'll share tomorrow together
Baby, I'll always love you forever.

Always and forever
Each moment with you
Is just like a dream to me
That somehow came true.
Sign into any message board in Clay Cyber and you will note a stream of "Happy Take!" greetings honoring the opening lyrics of "Always and Forever," his audition song.
What a Feeling, a montage by Aspiegirl, commemorates the Atlanta event and the memorable AI5 finale appearance three years later.

What a Feeling - Montage by Aspiegirl
On January 28, 2003, an unassuming redhead from North Carolina took his first step on the path of pop culture. The text below has been adapted from a seven-year highlights post by Fountaindawg.
2003

: We watched Clay Aiken rise through the ranks of American Idol and take his initial steps as a successful independent performer by the fourth quarter of that year. The early days were just a peek at both the "Measure of a Man" and a natural entertainer.



2004

: Three tours! And a book! And a Christmas special! Clay was one of the hardest working people in the entertainment business. We were definitely spoiled.



2005

: With the Jukebox Tour's Elvis-Motown-Beatles-Disco-New Music, Clay certainly showed his range. He showed that he "Scrubs" up nicely, too.



2006

: Silence and patience as we waited for the man to talk and to sing ... the AI5 finale water cooler moment ... and the "Clay Aiken Traveling Christmas Music and Comedy Banter Show."



2007

: This year brought a tour that showed "A Thousand Different Ways" to sing slooooooowwwww songs and, later on, the "Clay Aiken Traveling Christmas Music But *Not* Talking to You This Year (Nope No Way) Show"!



2008

: Clay "Spammed" … a lot! Stage doors galore meant plenty of pics for the truly obsessed. (Yes, that would be me!) He also began his own family and spoke his Truth. He was "out" in every meaning of the word, reclaiming his life. "On My Way Here" had some interesting stops along the way!



2009

: A quiet year fandom-wise, but we did catch Clay between a "30 Rock" and a Tyra place. While "Fostering" his relationships quietly, he made a few appearances and, after kicking the old "Arsey, Eh" label to the curb, announced that he would begin a new "Deccade" with a release in 2010.


If You Don't Know Me By Now - Montage by Aspiegirl
The montage If You Don't Know Me By Now encapsulates highlights from tours, television appearances, UNICEF trips, and National Inclusion Project events. IYDKMBN is a bonus track from the singer's A Thousand Different Ways CD of 2007.

Here are Sendspace downloads for both montages -- What a Feeling and If You Don't Know Me By Now -- by Aspiegirl.
See Fountaindawg's Year at a Glance Timelines, annual collages from 2002 - 2009, at the Clay Aiken Kids site.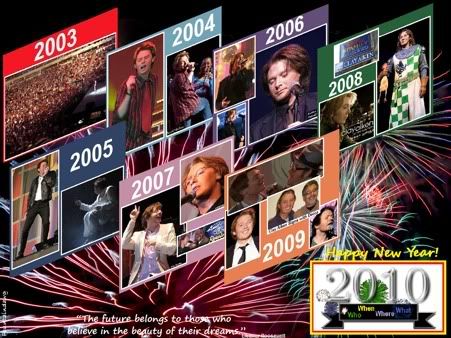 NEW YEAR - The Clay Nation celebrates Years 1-7 and the beginning of Year 8. Graphic by Fountaindawg.

So here's to what was,
The memories are sweet.
And here's to what will be.
Hey, maybe he'll even Tweet!
Below are clickables of commemorative graphics by

Fountaindawg

, 1 and 3, and

Cotton

, 2:

Happy "Take" anniversary ... the beginning of Year 8 ... and the new decade, aptly spelled "Deccade" by the Clay Nation!
Caro
Recently featured in this blog, the Retrospective montages by SueReu provide an outstanding rewind of the past seven years. The Atlanta audition appears in Retro 1. Enjoy!

Clay Aiken, A Retrospective, Part 1 - The Music

Clay Aiken, A Retrospective, Part 2 - Small Screen Fun

Clay Aiken, A Retrospective, Part 3 - A Special Guest

Clay Aiken, A Retrospective, Part 4 - Photographs and Memories