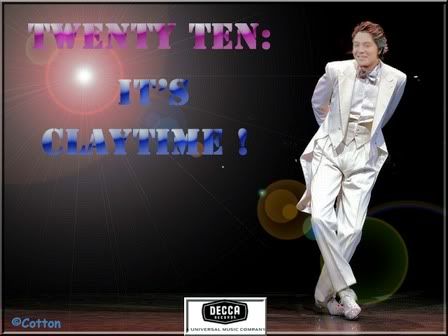 2010: It's CLAY TIME! - Graphic by Cotton
'Small Screen Fun' in Retrospect
Clay Nation Celebrates 2010
With the final strains of "Auld Lang Syne" still fading, Clay Aiken fans everywhere are celebrating the arrival of 2010 and the much-anticipated Decca Decade.
Ten-year welcome mats in place, Clay Nation residents replay past tours and performances at the drop of a hat. All week SueReu has been making this activity special with a series of retrospective montages. The first -- "The Music" -- was featured in the previous blog. She unveiled the second at an online New Year's Eve party.
Highlights from Clay's talk show appearances -- Small Screen Fun -- are featured in the second Retrospective montage, which even boasts a surprise ending.
You can view the montage in the player below or via the YouTube link. Downloads for "Retrospective, Part 2" are available in both Sendspace and MEGAUPLOAD files.

Clay Aiken, A Retrospective - Part 2, Small Screen Fun
Montage by SueReu
The third Retrospective montage is scheduled for completion on Saturday.

Vintage Cards Popular Collectibles

A few years ago, I read a blog about vintage postcards the writer had discovered among her family's keepsakes; and I became intrigued with this creative mode of communication. Today's designs are in step with the latest technology and are available for use in emails and online networking.
In the beginning, homemade, hand-delivered greeting cards were mostly used by the wealthy because they were too expensive for common people.

In the 1400's, Germany began producing "woodcut" New Year's greetings and Christmas cards. Originally intended for decoration, these crudely made cards were also traded among friends and family.

In the mid 1800's, Germany again led the way when artisans began mass producing greeting cards with the new printing methods. This new and improved technology, combined with more modern postal systems, created a new industry. Greeting cards were now more affordable and practical to send to loved ones.
The postcard was even cheaper to send and became wildly popular during the late 1890's to the 1920's.

A flurry of competition evolved as artists and publisher's flooded the market with colorful postcard designs. Landscapes, historic events, exhibitions, advertising, souvenirs, famous people were among the topics of postcards in the early 1900's.

Postcard albums became very popular as people wanted a place to display their collections. For additional history and samples, see vintage greeting cards.
Look around your attic. You just may discover vintage card treasures from previous generations.

Below are clickables graphics by cindilu2 (1 and 3) and Cotton (2). Widescreen and no-date versions of the January 2010 calendar are available at the artist's Yuku page.
Happy New Year, all! Here's to the Decca Decade -- the Best is Yet To Come!!!
Caro