Clay Aiken - Unchained Melody (Season 2)
CA Fans Celebrate PBS, CD News!!!

Curtain Rises on Idol's Season 9

It's showtime for American Idol 9, and the opening curtain countdown is being celebrated in countless ways across the Web.
Clay Aiken's Top 3 performance of "Unchained Melody" from Season 2 is featured in a lineup of 12 former AI contestants at Countdown to American Idol: 12 of the Best Idol Voices on Neon Limelght:

Through all of the delicious side dishes, we really tune in to hear the great voices of talented undiscovered singers. From sultry soul singers, big theatrical wailers, and angelic soothers, Idol has seen every kind of voice imaginable.
The 12 best vocals from Idol's eight seasons -- Clay Aiken, David Archuleta, Elliott Yamin, Carrie Underwood, Fantasia, LaToya London, Kelly Clarkson, Kris Allen, Melinda Doolittle, David Cook, Chris Daughtry, and Adam Lambert -- are featured in the festivities.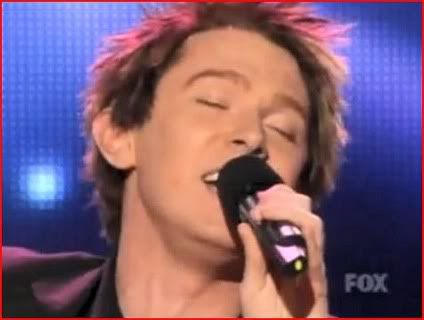 Clay sings 'Unchained Melody' on AI2.

Read a blurb about each, view all 12 performances, and leave a comment on Neon Limelight. Of course, Clay's Season 2 version of Unchained Melody is my favorite. The falsetto leap puts a lump in my throat every time:
If Clay didn't give you chills at least once during his run on American Idol, you're dead inside. Haul yourself off to the nearest morgue. He's the first Idol to get hit with the "too theatrical" critique; and, thankfully, for those who'd follow, he made it OK.
Pop Sugar Rush kicked off the new season with a splash about the five Most Successful American Idol Contestants. They include Clay, Jennifer Hudson, Chris Daughtry, Carrie Underwood, and Kelly Clarkson.

The video at Idolator -- Simon's Idol Legacy - His Best and Worst Calls -- includes an exchange CA fans can quote from memory:


Simon Call: "Okay. Very good. You don't look like a pop star, but you've got a great voice. So now what? Clay Aiken, we'll see you in Hollywood."

Actual Outcome: Oh, ye of little faith. Thankfully for Clay, the mass market can sometimes see greatness beneath the surface. While he may have come in second (by a mere 130,000 votes), Clay went on to debut at #1 on the Billboard chart with the highest-selling first album by an Idol alum to date.

He has scored a number of subsequent hits (though he left the RCA label in 2008), generated some $28 million at the concert box office in his first five tours, and starred on Broadway in Spamalot.
Clay's PBS Special, CD Headline News

Tuesday night the curtain rose on American Idol 9 on FOX.

Even more exciting to Clay Aiken fans was the latest tweet from @deccalabelgroup:
Listening to the upcoming @ClayAiken album in the Decca office and it sounds amazing! Fans will definitely not be disappointed!
And from iNternational Media on Wednesday:

LATEST NEWS - JANUARY 2010

American Idol superstar alumni, NY Times best-selling author and TV personality Clay Aiken sings great romantic favorites in "Classic Memories". Stay tuned for more information on a forthcoming special!
And from
International Media's Facebook page
Thursday morning:


International Media COMING IN JUNE: American Idol superstar alumni and TV personality CLAY AIKEN sings great romantic favorites in "Classic Memories". Tapings for this International Media special will take place in February. Look for the show to be aired on public TV this June!
And then Singer Man tweeted and posted at Facebook about his new album:
Clay Aiken: Clay will release his 1st album on @deccalabelgroup in summer 2010! It will be a collection of classic songs from the 50s and 60s.
WOOHOO, the Decca Decade has arrived!!! Have a wonderful week, Clay Nation!

Caro