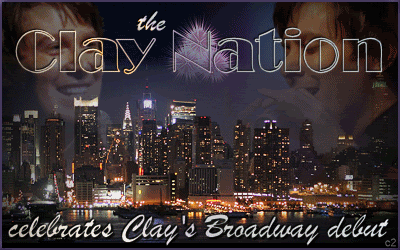 OPENING NIGHT -- Cindilu2's animated design with photos by Kareneh commemorates Clay Aiken's Jan. 18, 2008, debut as Sir Robin in the Broadway show "Spamalot."
Ovations Rock Shubert Theatre
Clay Aiken Debuts in 'Spamalot'
Today's 400th Carolina On My Mind entry salutes Clay Aiken's Jan. 18, 2008, Broadway debut as Spamalot's Sir Robin. With minor alterations, below is a reprint of the Carolina blog that appeared the morning after the singer's celebrated opening.

Many thnx to all who visit this site regularly, leave comments, and are participating in the 400th milestone entry. At last count, you represent 138 countries around the world.

This weekend Clay Aiken is the toast of the town in New York City. With his spectacular debut Friday in Broadway's award-winning "Spamalot," the singer was everything his director had predicted in promos leading up to the extraordinary night.
Clay is amazing beyond that glorious voice. Turns out he is an excellent comic actor and a master of character. People are going to be surprised by his wide-ranging talent. -- Mike Nichols
The stunning performance had also been predicted five years ago by American Idol guest judge Gladys Knight:
You're ... you're ... a mystery. You have your own look. There's something very magical about your look. And your voice is so pure. I don't know in the contemporary world what's going to happen with you, but something exceptional is going to happen for you along the way because you are pure. You're wonderful.
Opening night excitement continued Saturday as both performances were SOLD OUT and "Standing Room Only"!
Special Celllcert Breaks Records
Friday's audience was filled with CA fans; and despite the plan to abide by no clack or streams from the theater, Internet fan participation via cellcerts before/after the show, as well as during intermission, registered peak proportions for those back home.
With 721 on board Friday night, Clayversity broke the previous record of 666 set during The Bubel/Aiken Foundation Gala last year. Amazingly, the only transmissions Friday night were fan reactions.
Official critiques of a newcomer in an established show can take a while, but the Clay Nation has prolific recaps from those who attended the singer/actor's Broadway debut. This blog is quoting parts of several from multiple message boards.

Cast Cheers Clay's Performance
Queensmum: This was an absolutely magical night and an experience I will never forget. I knew Clay would be good, but I never thought he would be that good. The joy on his face -- and his fellow cast mates' -- at the curtain call, lifted up my heart. Sir Galahad hugged his arm and patted him on the back ("job well done"), and the King gave a little special acknowledgment of Clay.
A Not.Just.Us man, talking about how good the knight was, thought he was speaking with Clay's mother because the fan knew so much about him.
PanayRN4Clay: What a night! The sold-out Shubert Theater pulsated with cheers for Clay and company. The cast were excellent, but Clay was undeniably the one with the biggest applause. All the numbers were treated with huge cheers, but Clay generated the most "oohs" and "aahs" and the loudest ovation at the finale. What a star!
During the curtain call, Clay was second to the last to come out. He's a superstar. Even his cast mates are acknowledging that when they turned and pointed at him as the whole audience erupted in cheers and a standing ovation.
I was choked up with so much pride for Clay. His face was lit up as he absorbed the love from the audience and the respect from his peers. A nice salute at the end from Clay!
PHOTO INTERLUDE: The first three photos are by Bruce Gilkas of Broadway.com. In the first, Clay is pictured with Hannah Waddingham, who Friday night made her Broadway debut as Lady of the Lake. The second includes original cast member Christopher Sieber, and the third is a cast shot.
Photos 4 and 5 by Irishbookgal and BigAppleforClay, respectively, show the enormous crowd that gathered in Shubert Alley for autographs and to congratulate Clay on his big night.
A Master of Comedic Timing
WinkyDink: "Clay was superb. Mike Nichols knew what he was critiquing when he said Clay has excellent comedic timing. The cast knew it, too. At the very end, even "King Arthur," during his own bow, held out his arm to Clay, in acknowledgment."
LinusluvsClay: "The cast looked stunned at the reaction of the audience during the curtain call, and they were loving it! Kind of like the reaction of the Saturday Night Live cast when Clay did the show and came out in the white outfit and the audience went ballistic.
I remember the regular cast looking at each other, grinning and shaking their heads. It was like that tonight. They were all smiling at him and pointing at him, and Clay just beamed. Truly a magical moment!"
Cindilu2: "Beyond amazing! I don't even have the words. He is a natural -- pure and simple. Born to be on the stage. Loved the whole show - it was funny beyond expectations. Laughed until I had tears in my eyes several times.
The Guard, Brother Maynard, and Sir Robin might have been three different people. He made each one unique and awesome. And his voice - just GAH!"
A Knight To Remember!
Toni7babe: "What a incredible KNIGHT last KNIGHT was! And then what a blast we all had taking over Sardi's afterwards! Truly a KNIGHT I will never forget!
Clay was, as you all know, totally wonderful. His comedic timing, his expressions, and the accent blew me away. I have no words to describe just how wonderful he was.
Some NJU people had attended the show and were waiting near us by the door. They said they had never seen Clay in person or a concert but came when they saw he was going to be in "Spamalot" because they always had liked him on Idol. They said they couldn't believe how good he was, that his expressions were priceless."
Mustbeeme: "Not only did it all "click," but he fit in like a pro! I had more than a few "OMG" moments last night, but I must say seeing the press run and swarm the stage at the end to get pictures of Clay was one of the best ones."
GRAPHIC INTERLUDE: The fandom's graphic artists helped celebrate Clay's debut weekend with new creations, many using the official "Spamalot" photos by Joan Marcus. Featured in this interlude are clickables by Amazing_CA, 1 and 4; MNmeesh, 2; A Beautiful Mind, photo by FiveGoldens, 3; and Fountaindawg, 5.
Applause Raises the Rafters
Playbiller: "At the end, the applause was loud and long for everyone from the chorus members to the king. It was loudest for Clay; he was next to last, only followed by the king. After the king took his bow, he pointed to Clay in the line and the thunderous applause came again.
Perhaps he wanted to see if we were paying attention. So they went into the big finale number. The lights dimmed, and the actors moved back onto the stage waving -- and Clay did his little salute before returning to waving like everyone else."
Dancermom2: "He really didn't "sing" like at a concert. The singing was a breeze for him last night. When they added the line about "Idol." the audience roared; and when he said his line about singing and dancing, the audience roared. There was a lot of that going on last night.
During the curtain call, everyone got applause and cheers; but for Clay, I think we lifted the rafters of the Shubert theater. It was deafening, truly deafening.
We all came out of the theater and waited in Shubert Alley for Clay. There were a lot of people there, the paparazzi, too.When Clay came out, there was a roar. A cheer went up. I know he felt the love; he had to.
Those who make it to Broadway are only the best of the best. Last night on the stage of the Shubert Theater, Clay Aiken proved those words."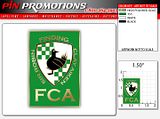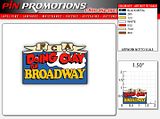 Clickable proofs of FCA's 'Spamalot' pins
FCA 'Spamalot' Pins Sell Out
The original order for two "Spamalot" pins designed by Cindilu2 for the Finding Clay Aiken board more than doubled expectations before completely selling out in the middle of Friday's opening show.
Couch Tomato sent word that she literally pulled the plug for the pin link mid-performance. Orders for 500 "Finding Sir Robin" and "Doing Clay on Broadway" pins were received from fans throughout the United States and Canada, as well as Denmark, New Zealand, and Australia.
Clay Salutes Fans in Final Bow
Clay's silent salute to fans during Friday night's final bows had many expecting to hear his traditional tour closer: "I'm Clay Aiken! Good Night!"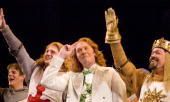 Photo by Steven A. Henry
Singer Man posted a brief blog at the OFC thanking his fans for their support. The cast was apparently blown away by the audience's enthusiasm. Now they wonder if CA fans can maintain the same intensity for 15 weeks.
Little did they know. Bravo, Clay!
Have an awesome week, Clay Nation!
Caro