Home by Clay Aiken, montage by LovesClaysVoice
View montage full screen at YouTube
Download with this Sendspace
'Home' Montage Replays Week
Clay Named July Guest Co-Host
Still basking in the abundance of audio and video clack from the previous week's Bringing Broadway Home and AOL/Popeater's multi-media A Day in the Life feature, inquisitive fans have discovered that Clay Aiken will fulfill a longtime goal as guest co-host for The View on Tuesday, July 13.
THE VIEW Tuesday, 7/13

: Bret Michaels, Lisa Lillien, guest co-host Clay Aiken
Skilled super sleuths in the CA fandom located the news on a TV guide site. The co-hosting possibility, discussed in Clay's exit interview after his June 2 appearance on The View, is featured in the "Bring It On!" video further down.

Meanwhile, LovesClaysVoice and other montage makers have begun combining visuals with audio from the singer's "Broadway" benefit performance. Well-received at the NC Theatre benefit concert, "Home" provides a spectacular reprise of the week.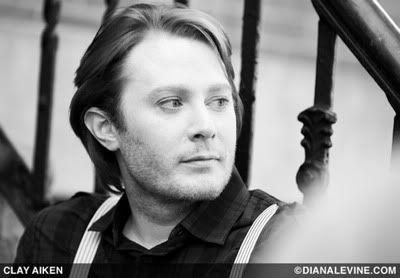 Click to enlarge Clay's photo by Diana Levine.
Diana Levine, New York photographer who took the incredible pictures of Clay for Popeater's A Day in the Life feature, has posted more in a blog at her site: DianaLevine.com.
By Sunday, the 91 photos by toni7babe from the June 21 Raleigh event had brought views in her SmugMug account to 17k. BBH videos on her YouTube Channel are logging huge numbers, the most popular of which is Clay's performance of Those Magic Changes with 4,500+ hits.
Graphic artists have their own way of replaying performances. The clickable designs below are by Fountaindawg, 1 and 5; AmazingCA, 2 and 3; and cindilu2, 4. Photographers include toni7babe, BBH (1 and 2), and Diana Levine, A Day in the Life (3, 4, 5).
'Disney Promotes Phineas and Ferb'
The Disney Channel plans to give the offbeat 'Phineas and Ferb' cartoon the full marketing treatment with a full line of merchandise and a movie next summer.
In two seasons, Phineas and Ferb has emerged as the Disney Channel's first breakthrough original animated series, receiving top ratings from children and young teens.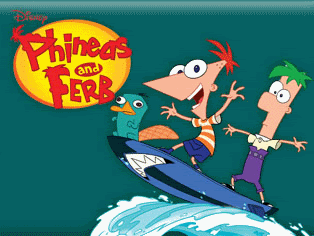 Among the stars who have recently lent their voices to the show are Tina Fey, Ben Stiller, Seth MacFarlane, director Kevin Smith, and musicians Clay Aiken and Chaka Khan.

In a sign of its growing significance, "Phineas and Ferb" is getting the full Disney treatment as the company revs up its well-oiled franchise machine.


Soon it will uncork a full merchandise line, with 200 Phineas and Ferb-related items — including boxer shorts, skateboards and boxes of macaroni and cheese — headed to stores. A Disney Channel movie, "Phineas and Ferb: Across the Second Dimension," debuts next summer.
Entertainment President Gary Marsh believes that within 18 months, Phineas and Ferb will be one of the biggest properties the Disney Channel has ever had.
The complete article by Dawn C. Chmielewski of the LA Times can be read here.

BRING IT ON - Clay's reply nets guest co-host spot.
'The View' Heeds 'Bring It On!'
The June 2 exit interviews of best-selling author Brenda Carlise, on the The View to discuss her Lips Unsealed autobiography, and Clay, promoting the new Tried & True CD and July-August Timeless Tour with Ruben Studdard, are featured in the video above.
After giving the ABC show props for guests being able to talk about their topics and the show's incredible performance sets, Clay was asked about his desire to guest co-host. His "Bring It On!" reply was apparently noted!
Kai Enlists 'Family Feud' Helpers
In a PM about BBH clack I mentioned to Scarlett that grandson Kai is playing "Family Feud" on his Mom's Facebook page and receiving assistance from her childhood friends and even their mothers.
Within a few hours, the traveling "clack goddess" wrote back:
OMG, i just made the connection & realized that I used to view Kai's baby pictures - wow! time flies! I'll be a good, safe neighbor for him!

It'll be fun to play... (my kids and I used to play yahoo bridge while sitting across from each other on our own computers)... thanks! Looking forward to helping/playing!
I notice on Facebook that the adults are now friends and the stage is set for Kai, three months shy of 3, to receive a helping hand from a very special friend known throughout the Clay Nation.
Stay tuned; Grandma has definitely requested a photo of Kai playing the "Feud" and "Bejeweled" on the computer with his new friends!
Have an awesome week, Clay Nation!
Caro
Thank you for your blog comments and props for the contributing artists. To leave a remark, scroll to the bottom of that section, click on the "Post a Comment" link, and write in the box provided.

Visitors have arrived at this site from 153 countries. Many thnx for stopping by today! - Caro