Clay Aiken sings 'Unchained Melody' on The View.
Watch on YouTube Download: UM Performance
Download: Interview and UM Performance
'Classy Key Change Slide'
Clay Aiken Adds Signature to UM
The Clay Nation aside, everybody everywhere seems to be talking, texting, tweeting about Clay Aiken's performance of "Unchained Melody" on 'The View' Wednesday.
Even the Examiner weighed in with props about the singer's "vocal skillz" in this treasure of a track from the new Tried & True Decca release which dropped Tuesday:
Today on The View, the ladies welcomed former American Idol star Clay Aiken on the show. He spoke with the hostesses and seemed to be continuing down the road of his career as a music artist.

After coming back from a commerical break, Clay Aiken performed the classic "Unchained Melody" for the audience, who swooned at his awesome vocal skillz.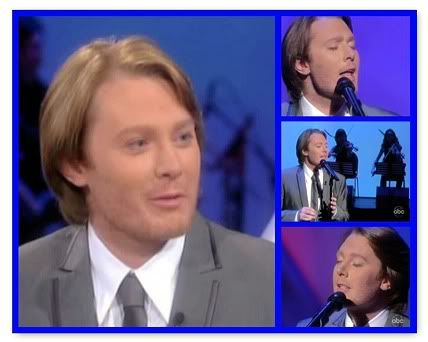 Mosaic by LovesClaysVoice
I particularly like a musician's compliment on Ben Cohn's Facebook page about his orchestration and arrangement for the song:
Loving watching you on The View right now! Fantastic arrangement - did you do it? Really nice between the classical piano, the gorgeous strings, and then the almost military cadence from the drums.

Then the Sam Harris'esque (but so much classier) slide on the key change! Loved it.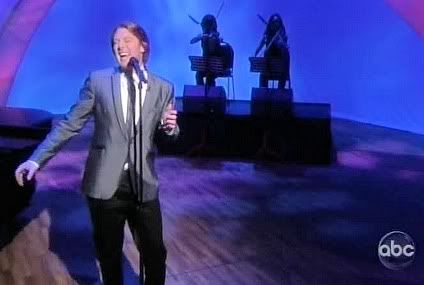 Clay nails 'The Note' in UM performance. (Dancermom2 cap)
UM Feedback Proves Phenomenal
Clay's performance of "Unchained Melody" has easily been the hottest topic in town and not just on the message boards. Fans received amazing feedback from family, friends, and associates all day long.
The impact of Clay's beautiful rendition was also measured at Amazon and other venues selling T&T as the album climbed charts throughout the day. Clickable screencaps below are by Dancermom2, gerwhisp, and Cotton.
Here is a sampling of the water cooler moments Clay's performance set in motion:
K4Clay2: Just got a phone call from my "non-Clay fan" friend in Ohio. As soon as I answered the phone, she said "That was AWESOME!" She went on to say she had just seen Clay on "The View" and was completely captivated.

She said she had never heard him sing like that before and that he is gorgeous too! She was on her way out to look for his new CD. Another one bites the dust.

Tweet: Still the BEST, most crisp, lush voice out there. Just downloaded the new Clay Aiken album after listening to him on The View. Missed U, Clay!
me_myb: My adult kids don't follow Clay except for me. They enable me but really don't listen to him or care. But the most exciting thing just happened to me. My daughter texted me that she saw Clay on "The View." ("He did an awesome job! I taped it even!") This is huge!
brensmemaw: Last night I stopped at Barnes & Noble and bought one of their deluxe T&T CD's. I have two coming, but I just couldn't wait. After listening and watching, I took it to my hairdresser today. He loves Clay, and he and his partner are going with me to the Timeless Tour Concert in Biloxi.
He looked at the CD and said, "Oh, my favorite song in all the world - Unchained Melody!" I told him that he wouldn't believe Clay's version of it.

He immediately put it on the shop sound system and we listened to it. He couldn't believe it, and it was still playing when I left the shop.
neelie
: Just got a text from my neighbor and best gal pal: "Saw your BF on The View this morning. He sang one of my faves, very well, too!
Promo Performance Raises Roof
snarkystripes: Yet ANOTHER co-worker is now listening to TNT on my iPod. She's listening to "Misty," and her head is now officially on her desk. Another one bites the dust.
shyeyewitness: I had a phone call last night from one of my customers that Clay was going to be on Joy Behar's Show, then one this morning from a different customer telling me he was on The View. Yesterday the husband of one of my customers told her, "Your hair stylist's boyfriend is on GMA."
cablegirl: Right after The View performance I had a business call so I couldn't post much more than "WOW!" While I was on the call, my cell phone rang and the caller left a message, which I retrieved when I was done.
The message was from my MIL, who has never said much about Clay. She is a country fan but always thought Clay was a nice guy.

She left me a message in tears telling me how beautiful UM was and how music had not moved her like that in a very long time and could I get her a copy of the CD.

I called her, and she cried again, saying, "Your boy is really good; I just never realized how good he is." I promised her I'd find her the CD as soon as possible.
Tweet: OMG!!! Clay Aiken on THE VIEW singing "Unchained Melody," and all the girls in my family are passing out on the floor. He's incredible!!!!!
joanie: I hope ABC called someone to repair the roof that was blown off this morning!
Buzz Sends 'T&T' Up Charts

Having spent 33 days in Amazon's Top 100, Tried & True (Deluxe) is currently #5 in Bestsellers in Pop, #1 in Vocal Pop, and #1 in Broadway & Vocalists. When this blog uploaded, the standard T&T CD was charting in the three categories at #14, #2, and #4, respectively.
Their stock depleted, brick and mortar stores are reportedly re-ordering CD's. Below are links to other ABC videos surround the Clay's visit at The View:
Clay Aiken 'Tried and True' (What's the Buzz, ABC, 6/2)
Clay and His iPad (Before The View, ABC, 6/2)
The View Exit Interviews (ABC, 6/2)
The promo train continues as Clay touts the Tried & True album and the

Timeless Tour

on various news broadcasts.
The interview at Good Day Atlanta from WAGAFox - Clay Aiken Releases Fifth Studio Album - is followed by links to several others that occurred via satellite Thursday.
Clay Talks About CD, Tour Via Satellite
Fox31 Denver (scroll down)

KWGN Denver

Artisan News on YouTube

MyFoxDC

Fox59 Indianapolis

Fox40 Sacramento
June 5 Clay will appear on The Early Show Saturday Morning (CBS).
Happy Birthday to my Sis and good friend/former editor Paula! Have an awesome weekend, Clay Nation!
Caro