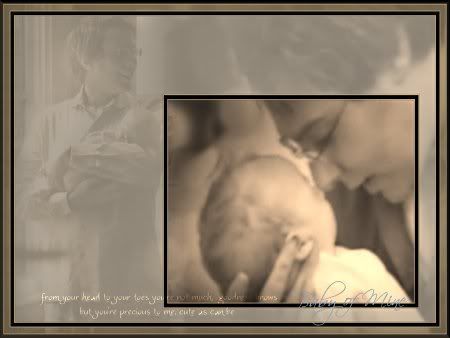 FATHER'S DAY -- In this graphic design, cindilu2 included the words to a "Baby of Mine," as lullaby Clay sang to his son Parker on Good Morning, America almost two years ago.
Second Dad's Day for Clay!
Clay Nation Celebrates Fathers


Any man can be a father, but it takes someone special to be a Dad. - Anne Geddes
Happy Father's Day to Clay Aiken and to all dads everywhere, those still with us and those who live in our hearts!
As high profile parents, Clay and Jaymes Foster keep their son Parker out of the limelight; so the few published photos of the 22-month-old are more than a year old.
Below are clickables of graphics by

Fountaindawg

, 1, 3, 4, and the opening "Baby of Mine" design by cindilu2

, 2.
Long before the birth of his son, Clay Aiken's love for children and advocacy on their behalf played a major role in his life. In 2003, he and Diane Bubel co-founded the National Inclusion Project providing opportunities for children with and without disabilities to participate in community activities while raising public consciousness about the needs and benefits of inclusion.
In 2004, Clay became a UNICEF Ambassador committed to supporting health and educational programs benefiting children around the world. On behalf of UNICEF, he has visited Indonesia, northern Uganda, Somalia, Afghanistan, and Mexico.
The singer's advocacy for children is provided in this pictorial interlude. Included are graphics by Claystruck, 1; AmazingCA, 2 and 5; UNICEF photo, 3; and ClaysTouch, 4.
In today's Clay Aiken News Network edition, SueReu quoted Clarence Budington Kelland in describing Parker's father:
He didn't tell me how to live; he lived and let me watch him do it

.

- Clarence Budington Kelland
In so many ways, this quote also applies to the three special fathers in my life -- my dad, my father-in-law, and the father of our daughter. This blog pays homage to our family's Three Father Lions, whose narratives were shared here in 2007 and 2008.
Wishing the Father Lions of your life a very memorable celebration. Have a very special weekend, Clay Nation!
Caro
Thank you for your blog comments and props for the contributing artists. To leave a remark, scroll to the bottom of that section, click on the "Post a Comment" link, and write in the box provided.

Visitors have come to this site from 153 countries. Many thnx for stopping by today! - Caro