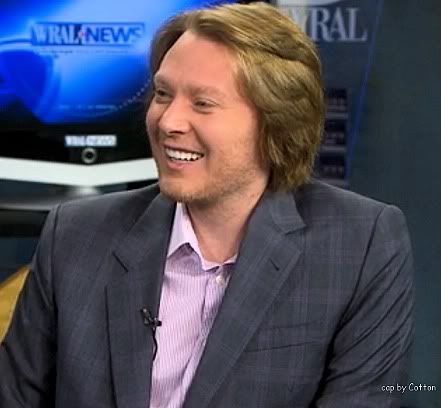 BRINGING BROADWAY HOME - Clay Aiken stopped by WRAL to promote Monday's benefit concert for the NC Theatre. Screen cap by Cotton links to the video at WRAL.
In WRAL, Insider Interviews
Clay Promotes Benefit, Album
With my bum ankle, I would have had a hard time keeping up with Clay Aiken Thursday as he made the interview rounds on television talking about Monday's NC Theatre benefit concert "Bringing Broadway Home," his new Tried & True CD, PBS Special, upcoming tour, and the changes in his life.
A click of the screen cap links to the WRAL video interview, which works great for those of us with ailing ankles.
While in the studios, Clay signed several autographs, one for the mother of a WRAL staffer who revealed a special story in his blog, A Clay Aiken Autograph Four Years in the Making.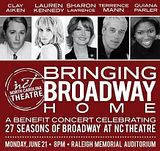 Bringing Broadway Home
Clickable poster
Mix 101.5 has posted a podcast of the Bill and Lynda in the Morning Show on the WRAL website. Download Clay's portion of the show with this mp3
Sendspace
file. From stubble, the topic shifted back to Clay's beard and preparations for his UNICEF Afghanistan trip.
Below are clickables of three WRAL screen caps by Cotton:
Later, in an interview with the
The Insider
, Clay talked about the his new Decca release, the PBS Special taped in his hometown, and fatherhood. To view the interview, click on

Queen

's screen cap below: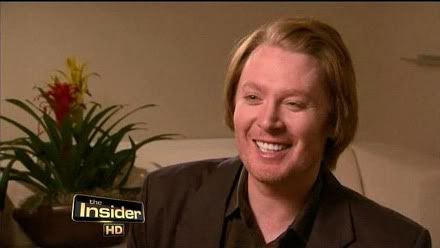 Screen cap by Queen links to Clay's interview on The Insider.
Below are other clickable caps by

Queen

from The Insider interview:
T&T Album Kindles NJU Stories

CA fans continue to share Not.Just.Us stories from family, friends, and associates excited about the new Tried & True CD, as well as the singer's appearances on TV. Here are a couple:
LADYD
: I sometimes talk music with a guy I know through the VFW. He always tells me how he hates the type of music that's out there today, so I decided to gift him with a copy of Tried & True. I told him to give it a listen and let me know what he thinks of it. He said he would listen and return it to me. I told him that it was a gift and I didn't want it back.

He looked at me like I had grown two heads for giving him a new unopened CD. When his shock wore off, he thanked me and told me he'd let me know.

Yesterday he told me that he loves the CD and has been playing it non-stop in his car since I gave it to him. Because his young granddaughter was with him, rock music was playing; but he said as soon as he took her home, he'd be listening to Clay again.
janfan821
: I always buy a copy of Clay's CD for my older brother, who is an attorney. He's always supported my love of Clay and his music as I have supported his hobby of astronomy. He also watches PBS faithfully and was very impressed when I told him Clay will have a special in August.

On Monday, I dropped by his office to deliver the CD. He was in court; so I left it with his receptionist to give to him. She looked at the cover and said, "We don't see much of him anymore." She then told me her friend had seen him on one of the morning TV shows and called her to let her know.

When I got to my car, it hit me. Her friend called her so she could tune in to see Clay? A fan!
A couple of hours later, my brother emailed me to thank me for the CD and said his receptionist told him she was trying to figure out ways to tear off the wrapper and look inside without him noticing.

Later that afternoon, my brother emailed again to tell me how much fun the CD is and that Clay is "wailing away" in his office. He again mentioned his receptionist's reaction.

The next morning I took the receptionist a CD (the only remaining one at our Target). I thought the woman was going to cry. She apparently was a huge fan after AI, and she and her friend went to some concerts, but she had drifted away over the years. Let's just say her "fan-girlyness" has been revived.

She asked me if she could pay me for the CD and I told her to buy one for her Clay-loving friend. I have a feeling she'll be doing just that!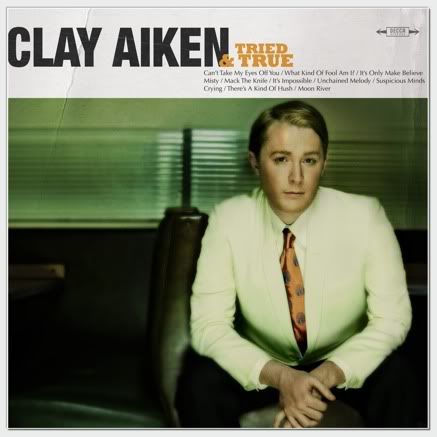 American Idol News Spotlights CD, Tour
In a new article Friday, American Idol News is touting
Clay Aiken: Tried, True, and Timeless
. Besides listing the Deluxe CD tracks, the story also includes the Timeless Tour dates.
Clay Aiken recently released his fifth full length studio album, Tried & True.

The album includes classic songs performed by the Season 2 runner-up. In an interview about the album, Clay said Tried & True "is special to me simply because these are songs that everyone recognize. [snip]

This summer, Clay will tour the nation with his Season 2 pal, American Idol Ruben Studdard, on "The Timeless Tour." [snip]

But first, Clay will perform solo at the Progress Energy Center at Raleigh Memorial Auditorium in his hometown of Raleigh, NC on June 21.

Sprain Yields Rainbow of Colors
Thank you for your good wishes for a speedy recovery from Tuesday's bathtub disaster. I am learning that coming back from a sprained ankle is slow, and I am a walking (somewhat) testament to the multiple shades of blue and purple on the color chart. Two of my favorite colors, at least!

New muscles join the "hurt" column daily, but I probably employed many that aren't normally required for writing a blog or teaching music lessons. My piano/violin students are supposedly practicing with plans to regroup next week.

Have a wonderful weekend, Clay Nation!

Caro
To leave a remark, scroll to the bottom of the comments, click on the "Post a Comment" link, and write in the box provided. If you post as Anonymous, do add your screen name at the bottom.

Visitors have come to this site from 153 countries. Thank you for stopping by the Carolina blog! - Caro