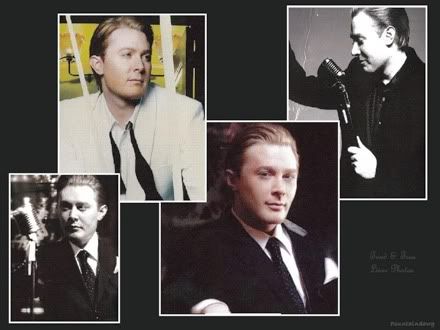 TRIED & TRUE - Graphic spotlights CD liner photos/Fountaindawg.
Aiken CD Captivates Fans

'T&T' Digital Downloads Take Off
The hills -- make that homes, offices, CD players, desktops, laptops, iPods, etc. -- are alive with the sound of Clay Aiken's out-of-this-world, new CD, Tried & True, only hours into its initial release week.
At the stroke of midnight (9 p.m. for those in the West), the digital gates of iTunes, Amazon, and other Internet musical portals released downloads of the singer's first album with Decca Records.
During the Memorial Day Weekend, several reviewers waxed poetic with very positive takes on the CD, some of which are shared below.
Even as clocks and video recorders were being set for Clay's Tuesday appearance on "Good Morning America," fans put sleep on the back burner to listen to the much-anticipated digital downloads of the incredible voice many fell for on the singer's 2003 American Idol season. Fans eagerly shared their first reactions with message board friends into the wee hours of a new work week.
In addition to Tuesday morning's appearance on Good Morning America, Clay will appear on The Joy Behar Show (CNN Headline News) at 9 p.m. ET Tuesday and The View (ABC) at 11 a.m. ET Wednesday, singing "Unchained Melody."

Clay's GMA interview and CTMEOOY performance Tuesday.
View ABC video on YouTube
Fans Label Clay's CD 'Exquisite'

So what are Clay Aiken fans saying about Tried & True? Early reactions from three message boards tell the story:
VoxAngelicus: Just finished listening to my iTunes pre-order. This CD is exquisite! There aren't enough superlatives to describe the beauty of Clay's voice and the instrumental arrangements. Thank you, Decca, and most of all, thank you, Clay, for these timeless gifts of song.

starbrite: OMG!!!! I just listened to the entire CD! It's AWESOME!!!! The songs I thought I wouldn't care for are turning out to be my favorites!!! I knew it was going to be fabulous but this has exceeded my expectations!!!

sutter4clay: Over the top incredible!!! Breathtaking!!! I'm spent; someone notify my next of kin.
Sally: After "What Kind of Fool Am I?", I had to plug my fan into the wall next to my computer desk and set it on high speed.

I listened to the last two tracks with my face down on the desk, the external speakers blasting into my ears and zinging through my entire body.

ianmom: Headphones on! Let's party!!!!

hunter: I am listening now. Every song I have heard so far is just beautiful. Sleep is over-rated!

Remy: It took the better part of an hour but OMG, what I've heard so far is stunning! "Crying" and "You Don't Have To Say You Love Me" have both made me cry. Every song I've listened to so far is a masterpiece in is own right.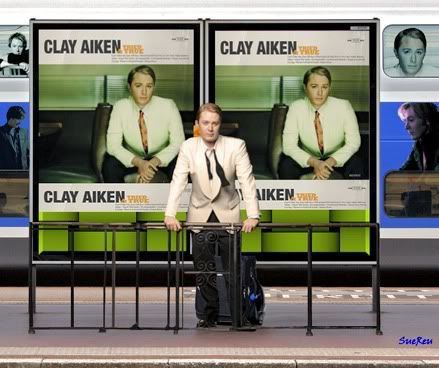 Graphic of 'Tried & True' CD cover by SueReu
Beanblossom
: West coast here - and Clay is now crooning in my ears. The CD is to die for. Clay is making me one happy woman (even though he STILL hasn't accepted my friend request [on the new fan board.]

Lucia
(Brazil): Downloading now and very, very emotional because this is the first time I'll have Clay's music at the moment it is released. I cannot tell about the feeling I am feeling!

canuck2010
: I LOVE YOU BAAAYBYYYY!!!

CravingClay
: I have never heard anything so wonderful!!!

wandacleo
: The sound is so intimate, perfect balance of vocals and orchestra. It sounds as though Clay's in the room singing with me.

caperkeeper
: "What Kind of Fool Am I?" Clay's fool for sure! Simply Wonderful. "Make Believe" is so different and jazzy - love it!

Cotton
: OMG, the last word of the entire album - BAY-beeeee. The beeee just whispered off into nothing like a feather drifting on air!
MaryJoanne123
: There are no words. Every song is a masterpiece, and Clay at his very best. The orchestration and arrangements are WOW. DECCA does get Clay and what a great match!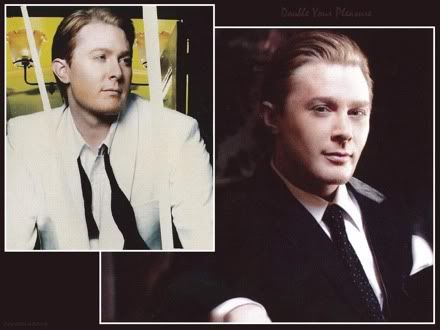 'Tried & True' liner photos -- Graphic by Fountaindawg
roadnottaken: Finally, Decca and Clay have created an album where we hear that voice that we fell in love with seven years ago.

dancermom2: This CD is one long caress of his voice. It's magic.I have to get up at 4 am to get to GMA.I have to try to get some sleep!!!

maetwo: After each song I leaned forward in my chair to type some comment; then the next track began and I was lost for words. Don't remember breathing until that last, quiet bay-beeee faded away. This is one beautiful, beautiful production!!!

cindilu2: The booklet is smokin' hot. Hi-Res Super Cool Aiken. Noise-cancelling headphones in place. I don't think I'll be sleeping any time soon. Squeeeeeeeeeeeee!

I don't think I'm gonna be able to get past "What Kind of Fool." My fingers keep hitting repeat. I skipped to "Crying." And guess what? I am. Oh. My. And now I'm gonna lay down and listen to "Unchained" cuz it's so much easier than falling down.

Idyjocelyn: Oh man, this is SUBLIME. The entire thing. I remember many of us in the fandom clamoring for a recorded version of "Moon River" in 2003. So, it's seven years later and we have it. And it's perfect. The scary thing? I think this album will get better with age, like a fine wine.

Clayworthy: Online download purchases are not available in Singapore, but I was gifted with the i-Tunes downloads tonight, and I am now listening to that gorgeous voice.I will forever cherish this beautiful gift. An old soul he is but with a new twist - instituting and rendering his signature sound in each of these classic pieces. Thank you, Clay, for the sincere, heartfelt, and thankful message in your liner notes.

Brightstar: So many adjectives apply -- exquisite, sublime, awesome, velvety, artistic, incredible, beautiful, perfect, breathtaking yet also playful, fun, catchy, bouncy, And loving, yearning, joyful, passionate, moving, introspective, whimsical. It's an emotional journey!
jclay: I'm at work, but I'm not sure how I got here.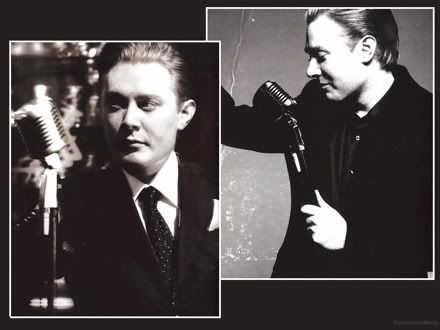 'Tried & True' liner photos - Graphic by Fountaindawg
MSNBC Awards CD 'Best Bet' Nod

Below are links and partial posts from two media reviews of the past weekend.
Each week MSNBC spotlights a "best bet" for various arts mediums. Tried & True is the network's best bet pick for new albums this week:
"American Idol" alum Clay Aiken has changed a lot since his days as a geeky contender on the show. He's starred on Broadway, worked as a UNICEF ambassador, come out as gay and become a father.

His new album, "Tried and True," takes a break from all the changes and features Aiken singing classic tunes, including "Mack the Knife," "Moon River" and "Unchained Melody." (Out on CD June 1.)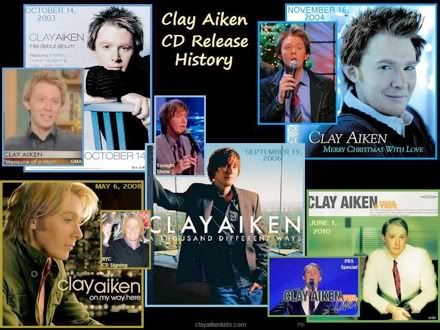 CD releases past and present. - Graphic by Fountaindawg
USA Today Applauds 'T&T' CD
Brian Mansfield of USA Today reviewed Tried & True, track by track. Quotes from his CD overview and top three picks, Clay Aiken, 'Tried & True': A track-by-track review, are included here:
Go to any estate sale with a stack of vinyl, and, invariably, you'll find a selection of singers whose music seems left behind by time and popular opinion, acts like Perry Como, Jack Jones, Andy Williams. These were the pop singers whose careers were the last bastions of adult resistance against the onslaught of rock 'n' roll. [snip]
During their day, they recorded prolifically and sold well, but -- with the exception of Johnny Mathis, whose ethereal, vibrato-laden voice seemed to drift in from another, dreamier universe -- any lasting impact on contemporary artists has proven to be the exception rather than the rule.

These are the acts to whom Clay Aiken pays tribute on Tried and True, his debut for Decca Records. Unlike Tony Bennett and Frank Sinatra, they weren't jazz singers at heart, though you could hear the vestiges of big-band music in their lavish arrangements. [snip]

FAVORITES: Unchained Melody, Moon River, It's Impossible

Unchained Melody. Another favorite from Clay's Idol run (sung the same night he did Mack the Knife), and, if you liked it then, you'll love it now, with its multiple modulations and a fully realized vocal performance from Clay that expresses yearning both tenderly and powerfully.

Moon River. Clay's version of Henry Mancini's Breakfast at Tiffany's classic begins with the motif from Beethoven's Moonlight Sonata, and Clay sings the first verse accompanied solely by piano. When you see Vince Gill's name on the bill for this one, you expect to hear his high harmonies (which would have blended beautifully with Clay's slightly darker tenor); instead, he contributes a lovely acoustic guitar solo.

It's Impossible. By the late '70s, this song, made famous by Perry Como, had become a punchline, thanks to a Steve Martin routine that parodied it -- "It's impossible ... to put a Cadillac up your nose." Most singers have considered the song off-limits since then, but Clay's sincere attempt revitalizes it somewhat, its arrangement highlighted by subdued strings, acoustic guitar and trumpet.

Be sure to read the comments. Representative are these remarks:
"First off, it's bursting with class. He is singing songs that have more gold than a gold mine."

"Clay and Decca are a match made in heaven. He found a label that knows what to do with his voice."

"These songs may no longer be current, but they endure and that's why several of them are considered standards."
CLICKABLE WALLPAPERS: Below are clickable wallpapers of this entry's T&T graphics by Fountaindawg (1, 3, 4, 5) and SueReu (2):
Having spent 31 days in Amazon's Top 100, Tried & True (deluxe) is currently #5 in Bestsellers in Pop, #1 in Vocal Pop, and #1 in Broadway & Vocalists.

Other reviews and links of interest include Front Stage (review), Express Night Out (review), and Just Jared (story, video, photos from GMA). Along with Amazon, these are excellent places for fans to write reviews.
Have a wonderful week, Clay Nation!
Caro