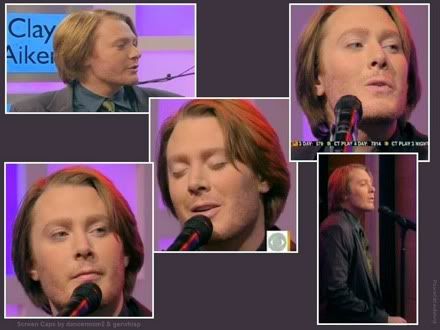 Clay awakens weekenders on CBS Early Show Saturday.
Wallpapaer by Fountaindawg
Digital Age Saves Weekend Recap

Aiken's Album Reprises Classics

Guess who missed Clay Aiken's weekend appearance on both the Backstage Live stream and the televised performance on the CBS Saturday morning Early Show!

Definitely my fault with the online mix-up, but my local CBS station doesn't carry the national feed of the Saturday morning Early Show. Faithfully, I watched and taped what turned out to be two solid hours of local news and weather.
A video of Clay's Backstage Live interview with Shira Lazar, which also began at 7 a.m., is now online at CBS. They discussed Clay's new Decca CD release, his iPad, American Idol, UNICEF, and the July-August Timeless Tour with Ruben Studdard.
A/C Problems Hit Carolina Recap
Unfortunately, I don't need weather analysts to tell me it's HOT! My A/C is barely running, needs coolant, and won't be fixed until early Tuesday morning. With outdoor temps predicted to hit 90 degrees Saturday and Sunday, a large box fan and I will be best buds all weekend long -- a scorching reminder of my non A/C childhood in the humid South.
Saturday morning Amazon posted the deluxe album video of Clay discussing the making of Tried & True. It's very possible the online vendor is experiencing a bit of a heat wave, too.
Meanwhile, between the Digital Age, dancermom2, and Fountaindawg, the Carolina blog's report about Clay Aiken's latest promo performance came together. This blog's three videos have been merged on YouTube.

"There's a Kind of Hush" accompanied the promo leading into Clay's intro:
During the singer's introduction, you can hear "Mack the Knife" in the background. The main video also includes the shortened version of "Unchained Melody" and interview:
'Tried & True' a Homecoming for Clay
The CBS website is also featuring an excellent article by Melissa Castellanos about the singer and the Tried & True CD:
Clay Aiken Album Like a Homecoming
:
When "American Idol" season two favorite Clay Aiken belted out his touching 2003 rendition of Simon & Garfunkel's "Bridge Over Troubled Waters," he won over the hearts of millions.

Now, seven years later, he's built his own bridge of success as a platinum-selling artist, Broadway actor, author and, more recently, a dad.

The down-to-earth, Raleigh, N.C. native just released his fifth studio album, "Tried and True," featuring classics from the '50s and '60s.

"It seems like a little bit of a departure from the last four albums I've made to some extent, but in truth, it's really more of a homecoming in a way, because it's really what I have always wanted to do," Aiken told CBSNews.com.

Aiken points out that the classics had more emphasis on the melody, lyrics and orchestration when compared to contemporary songs heard on the radio today.

"They are standards because they did set the standard for what's really excellent," he added.

Aiken stopped by "The Early Show on Saturday Morning"'s "Second Cup Cafe" to perform his version of "Can't Take My Eyes Off of You" and "Mack the Knife."
Clay & Company accompanied CBS off the air with "Can't Take My Eyes Off of You":
So did Singerman sell some CD's this Saturday? At Clayversity,

Rainlover

posted the following:
A friend -- not a Clay fan -- just called. She hadn't seen GMA or The View, as she works Monday through Friday. She saw Clay on The Early Show this morning and loved it.

She said she is going to Borders today to get two copies of the CD, one for herself and one for her sister. And another one bites the dust!
Classic, Traditional Pop Suits Aiken
If you haven't read Napster's review of Tried & True, Clay's fifth studio album, be sure to check out the link. Here is a portion of the article:
Of course there are some jumping big-band arrangements like "Mack the Knife" that swing convincingly, but Aiken's at his best when wrapping himself in a tender ballad and making it his own, as with "It's Impossible" (again, once a big hit for Perry Como—see where he's going with this?), "Unchained Melody," or "Moon River."

It may seem a little early in Aiken's career for an album of standards, considering how others from Linda Ronstadt to Rod Stewart and Barry Manilow have played it, but this move to classic, traditional pop (complete with '60s-style album art) really suits him.

And more important, it works.
Below are clickables of the opening graphic by

Fountaindawg

and the Saturday Morning Show screen caps by

dancermom2
:
Before I uploaded this blog at the new Clay Aiken fan club website, I decided I'd better check my mailbox. BEDANG if the temps in my house haven't fired up the ole thermostat because ...
MY CD ARRIVED TODAY!!!!!
Have a wonderful weekend, Clay Nation. And, Lawd Jesus, please send some cool air this way, LOL!

Caro