Clay premieres first PBS Special at Chicago's WTTW-11.

Clay Aiken: Tried & True: LIVE!
Fans Multitask To View Special
Members of the Clay Nation have become expert multi-taskers, and various approaches were invoked to share Saturday's premiere telecast of Clay Aiken: Tried & True - LIVE! with all who wanted to "see" the show two months ahead of its August release date.
Many shuffled through multiple windows -- WTTW-11's LIVE CHAT augmenting Clay's PBS debut, "red reports" by residents in the Chicago station's viewing area, and "cellcerts" from many watching the telecast.

Several fans drove to the Chicago area to view the special in a motel room while others diverted spousal plans for dinner and a movie in order to sit at a computer, register a PBS pledge, and participate in this much-anticipated event with friends in the Clay Nation.
The photos interspersed in the following recaps were taken by 2Old4Clay as the Special played on the TV set in her motel room.

One of the funniest reports of the evening came from Adrienne1954, who posted at Clayversity:

I made my pledge from the ladies' room at the movie theater. I think everyone in there now knows my name, phone number, email address, and how much I pledged.

Coopersgirl wrote that she had to make her pledge call in the garage because she promised my husband she wouldn't charge anything else until they know how many trips will be needed for a family member.

I just couldn't help myself, and I know he will forgive me. He pays the bills, but I will try to beat him to the mail next month. I paid the bill for months after "Spamalot," and he had no idea how many times I saw the show.
PBS Recaps Spread Enthusiasm
The Clay Nation is blessed with members who either wrote running reports as they watched the show or full recaps from scribbled notes afterwards.

These posts by yaknelle, toni7babe, Poison Ivy, kwhite1022, claytonitis, Beagle3, and outback are interspersed with the photos by 2Old4Clay:
The DVD is supposed to have more banter in the intros to the songs. I was blown away by the production of this show. Everything from the sound to the lighting and camera work was perfection. You see Clay's face up close and personal. You see his emotions.

Yeah, I'm a fan girl, but I have never hidden that fact. I'm so happy this was so well-produced. He deserves a vehicle like this. It's simply beautiful.

OMG, I am DEAD after the ending of "Unchained Melody!" Standing ovation being shown, tears in Clay's eyes.

Phones seem to be ringing like crazy! Clay on now talking to them. He remembers being on his grandparents' floor waiting for "Sesame Street." He grew up watching PBS, and Parker will be able to do the same.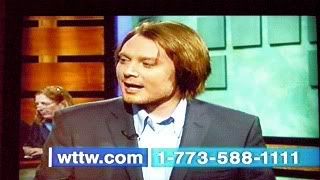 Tears in his eyes after "In My Life." (Clay sang this song to and for his former teachers gathered at the March concert.)

Phones seem to be ringing like crazy! Everyone is busy, and there's lots of excitement and buzz.

Pink said "Eso Besso" is one of the bonus songs on the DVD along with "Who's Sorry Now," which I loved.

I'm so excited. I just pledged for the DVD just as they were going into the third break. I told Jenny at WTTW that two relatives who live in Chicago area and know I'm a Clay fan called to tell me a PBS Special with Clay Aiken was on their PBS station and I should call in a pledge.

Of course I knew about it anyway, but that was so sweet of them to let me know. My cousin, who called from Mundelein, probably thinks I'm going to put him in my will now, LOL!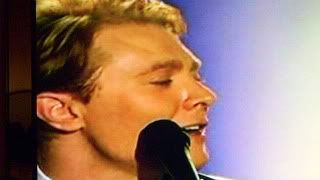 I have wondered all along if this one was successful if he would get the chance to do a Christmas special for PBS. I hope so, because there is nothing like hearing Clay Aiken sing Christmas music.

There were 40 people answering the phone, and they have been busy all night.

Spending the evening in the same room with Clay a few feet away is always a good time. The phones were going crazy and it was so hard to hear. We had to keep asking people to repeat information. Oh what a night.

Oh what a night! I hope it was a huge success for both Clay and WTTW!
Pink Armchair Hosts Live Chat
Pink Armchair, a CA fan and WTTW manager of media relations, hosted an online live chat that provided information about activities in the studio during the Special. Kudos to Pink and her team for arranging this preview telecast of the show!
Thank you gifts for the Clay Aiken Special include his new Tried & True CD ($50); the Tried & True DVD ($75); and a special one-night only Chicago concert on Oct. 14 ($250). The pledge drive is ongoing -- 1 (773-588-1111) and WTTW-Clay. The special concert is by phone only: 1 (773) 509-1111, ext. 6, weekdays 9 a.m.-5 p.m. CT. Pink: I think everyone here in the studio already loves Clay. [To which CA fans who know anything about Spamalot replied, "D101!!!"]

Linda, one of our regular phone volunteers sitting next to me kept turning to me and saying, "Oh my God -- the Bronx, Minneapolis, Cincinnati, Atlanta! What IS this?"

She was amazed at the calls she was getting. The buzz in the studio was great, and the phones were ringing off the hook, which was wonderful to see.

They don't share numbers with me, but I could tell it did really, really well. And I think the other PBS stations will sit up and take notice, which is what we -- Clay, the producers, the station, the fans -- were ultimately working for. It was definitely a success, and we should all be very proud.
From

Twitter

: OMG! OMG! OMG! Linda Eder is singing w/ Clay Aiken on his concert special!!! They are dueting on the Orbison/Lang version of CRYIN' ...!!!
claysweetea: Last night's show was absolutely stunning! Clay's voice was so perfectly beautiful. What a glamorous production. Driving to a hotel in Chicago with a 32 inch flat screen was well worth it!!
wandacleo: After purchasing tour tickets for Reno and New York City, I swore I was absolutely NOT going to buy a ticket to the Chicago concert. I SWORE. I lied.
I emptied all my piggy banks this morning and took them to the Coinstar machine at the grocery store--$185.

Since that's mad money, the concert ticket REALLY only cost me $65 instead of $250. What a relief. Practically free, not counting hotel, airfare, food!
Typical of public television fundraisers, there were four pledge breaks during the telecast of Tried & True: Live! Below is video of the final one:

WTTW-11 PBS Special pledge break
There's Nothing Like 'Live Clay'
In her home,

Aikim viewed Clay's PBS Special away from her computer, but she took excellent notes and afterwards shared a full account on two message boards. Non-members can read her complete report at Finding Clay Aiken as a guest. Parts of her recap are printed below:
Fabulous show! Clay looked stunning! They did not show the opening with his back to the audience. I know I said it wasn't one of my favorites, but I enjoyed "Mack the Knife" on the show.

I really love watching Clay sing and -- as good as he his recorded -- he is better live. He did this cute rubbing-his-fingers-together on "hard-earned cash."

Not too much banter. He did the "Clay Aiken tonight, tomorrow 'Menopause The Musical'" shtick.

Lots of shots of the audience and the orchestra. Next two songs were "It's Only Make Believe" and "You Don't Have to Say You Love Me."

Loved his version of the last song, not too different from the original. And again, "It's Only Make Believe" is not one of my favorites on the CD, but I loved it live.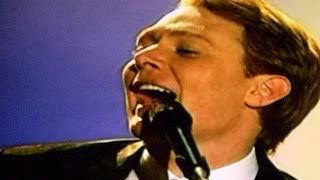 On a studio break, Clay talked about PBS and watching "Sesame Street" and said he and Parker watch "Clifford, the Big Red Dog" in the mornings. Phones look really busy. "Can't Take My Eyes Off of You" after the break.

Then - in my opinion - the best song of the whole special, "Crying" with Linda Eder. Amazing, absolutely amazing! This is my favorite on the CD. Heart-wrenching. Just sitting there watching these two amazing artists create this masterpiece -- I have no words for how good this is.

They didn't include the whole salute to his teachers, but Clay talked about being a loser and introduced Mrs. Stevens and then sang, "In My Life." I was so hoping he would sing this song. Been dying to hear it and was not disappointed. He looked verklempt singing it.

"Misty" just beautiful. "There is a Kind of Hush" -- love the jazzy version of this song. "Moon River" -- the fog machine was in full use, very nice. He really makes this his own, no visions of Andy Williams in my head while he is singing it.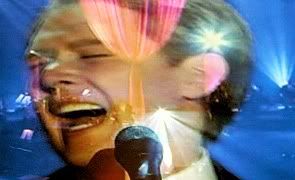 Many thnx to all the fans who beamed their impressions of Clay Aiken: Tried & True: LIVE! to fans in other areas. Anyone with a computer could enjoy this special moment, a brand new phase in the singer's career.

Saturday afternoon Clay wrote about the PBS premiere in his blog, "New Beginnings":
Here's to an incredible new chapter together … and, hopefully, many more "seven more years" of music!
How long is it until August? Have a wonderful week, Clay Nation!

Caro
Monday, June 14: Siriusly Sinatra 6 PM ET
* Clay Aiken stops by to play some of his new recordings along with performances by our stars that he loves. Sirius XM Radio

Rebroadcasts: Thurs 6/17 9:00 am ET; Sat 6/19 3:00 pm ET


Happy Flag Day!