TRIED & TRUE: In this design, SueReu incorporated images
from the album's liner pages . Photos by Vincent Soyez.
Three T&T Songs on Radio!

Aiken, Flick Discuss Album, Life

Since Sunday afternoon, chatter around the Clay Nation has focused on Clay Aiken's in-depth interview with veteran Billboard editor/pop culture commentator Larry Flick, host of Feel the Spin Show on SIRIUS XM Radio.

The popular show, which airs on Sundays from 2-4 pm., features music from the current pop scene to the classics. The 45-minute segment with Clay began with the "Unchained Melody" track from his new Tried & True CD and quickly became the consensus "best interview ever" among his fans.

From album talk -- Clay's new home with Decca Records, producer David Novik, track selections, the recording of 15 songs in Germany in three days -- the discussion turned to Clay's personal life and the path he has traveled.
Fans Upload Interview to iPods

If you haven't already listened to the SIRIUS interview, download it with this Sendspace file. Some fans even have it on the iPods.
On the show, Larry, a former senior talent editor with Billboard, played three complete songs from T&T: "Unchained Melody, "What Kind of Fool Am I," and "Can't Take My Eyes Off of You."

Fan feedback has been phenomenal, surprising the host, who, according to several Tweets, was swamped with appreciative messages from Clay Aiken fans. Here is one of the tweets:
I am blown away by the love I've been shown by Clay Aiken fans. I've gotten hundreds of kind letters after yesterday's interview on Spin.
To email the 'Spin' host at SIRIUS, use Larry Flick.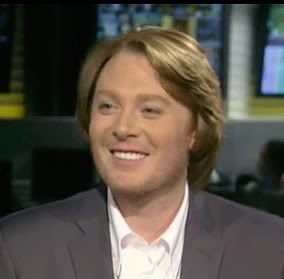 Clay Aiken
'Spin' Session Still a Hot Topic
Monday morning the interview was still the hottest topic around Clay Cyberspace. BelieveInHim shared her thoughts about the singer, the seven-year journey, and Sunday's interview in a post at the Clay Aiken Fans site. With her permission, here is a reprint:
Is there anywhere you would rather be? Is there anywhere else you could be? I know the answer to that.

Truly, from the moment I heard the first note out of his mouth, it was a compulsion. Not, I think, in a bad, weirdo stalker sort of way. But a need to hear that voice, have it in my day to day. It was like a drug, a soothing one. It elicited feelings and manipulated my senses.

And once I discovered more of this remarkable man, I was in awe. Of not only his talent but his wit and wisdom, his strength of character, his strength of conviction. So much to admire and so much to keep me here loving him unconditionally. I'm still compelled to follow, still happy that I discovered this man that, for me, is magic.

This latest interview gave us even more of a glimpse into Clay Aiken, and it makes me even prouder to be a fan. He was relaxed and confident, open and extremely candid. One of his best ever and I thank Larry Flick for being so genuinely respectful and happy to have the chance to talk to Clay. He is a wonderful interviewer, and I hope Clay will visit his show again sometime in the future.

I'm kind of proud of all of us who stuck by Clay as well. It hasn't been fun and games every day and sometimes there were long stretches where it was downright depressing dealing with all the crap not only thrown at Clay but at us as well.

But really, where else would we rather have been? It's all been so worth it! Boy has it ever!!!
PHOTO INTERLUDE
: Premiere week graphics from Clay's Tried & True appearance at GMA, The View, and the Early Show, as well as designs of the CD cover, are featured in this interlude. They include

Fountaindawg

, 1, 3, 5; SueReu, 2; and

AmazingCA

, 4.
Clay Aiken: Old Songs, New Life
Making the media rounds is an excellent article about Clay by AP writer Martha Waggoner, Clay Aiken Finds Comfort in Old Songs, New Life. You may have already seen it at Yahoo, a newspaper website, or on Facebook. If not, it's definitely worth the read!
RALEIGH, N.C. (AP) ― For Clay Aiken, life now is about being comfortable, from the songs he sings to the life he lives.

Aiken's CD "Tried and True," released last week, is a collection of 13 songs from the 1950s and 1960s, all of which predate the 31-year-old Aiken. But Aiken feels intimately familiar with the music that he heard as a child, while riding in the car with his mother.

The songs, including "Mack the Knife," ''Unchained Melody" and "Moon River," are not merely standards, but songs Aiken wants to sing live. And since many singers make their bread and butter from touring these days, Aiken says he never wants to record another song that he won't perform live in concert.

"There are certain songs I've recorded that I've never sung since the studio," says Aiken, who starts a tour in July with good friend Ruben Studdard, to whom he came in second on "American Idol" in 2003. "So every song on this album is a song that I enjoy singing and love doing live." [snip]

His newly redesigned Website still has promotions for his favorite projects — UNICEF and The Inclusion Project. But now it also includes GLSEN, the Gay, Lesbian and Straight Education Network, which focuses on safe schools for all students.
The entire article can be read at this link.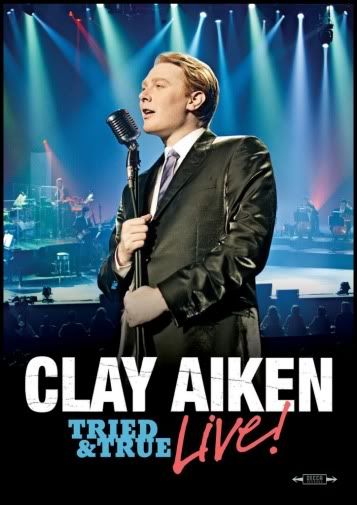 Clay Aiken: Tried & True Live! cover design
Double clickable enhanced by cindilu2
MARK YOUR CALENDAR
TUESDAY, JUNE 8: Chelsey Lately on E! 11 p.m. EDT
* Clay Aiken is here, seriously, with his new CD Tried and True. Comedians Ben Gleib, Loni Love, and Gary Valentine also guest.

THURSDAY, JUNE 10: Canada AM (check local listings)
* Canada AM cathes up with American Idol runner-up Clay Aiken in New York. See canadaam.

SATURDAY, JUNE 12: WTTW-Chicago PBS, 7 p.m. CDT
* Preview of Clay Aiken Tried & True Live! at Chicago PBS station ONLY.
SATURDAY, JUNE 21: Bringing Broadway Home, 8 p.m.
* One Night Only, Raleigh Memorial Auditorium Ticket Info
July 27: Release of Clay Aiken: Tried & True Live! DVD
* Pre-order at Amazon now.

Summer music lessons begin Tuesday, and the teacher sure hopes there's some practicing going on in the Triad. Meanwhile, A/C relief arrived Monday afternoon!

Sly Kai Emails Grandma

Grandson Kai, who will be 3 in September, sent me an email Monday night; but he didn't type a thing. Everyone else was otherwise occupied, so he REPLIED to his sister's Jacquie Lawson birthday card.

I thought it was strange that there was no message, so I dialed the phone number to see what was up. Sure enough, his mother was feeding Lia and didn't even know he was on the computer!
Kai knows how to log into the sites of his favorite kiddie shows. Now to get him to press some keys when he "writes" to Grandma, LOL!
Have a wonderful week, Clay Nation!
Caro