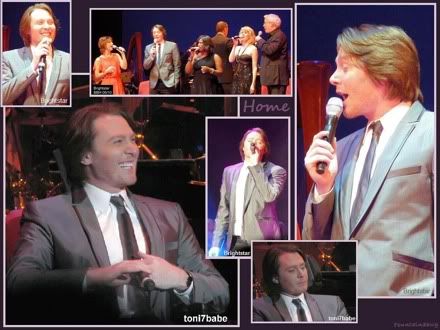 Clay Aiken helps bring Broadway home. - Graphic by Fountaindawg
Bringing Broadway Home
Clay Nation Celebrates Clack!
Ankle recuperation in the slow lane and a full teaching schedule Tuesday have me arriving late to Clay Aiken's performance at Bringing Broadway Home, benefit concert for NC Theatre in Raleigh Monday night.
If you read this blog, you are no doubt a Clay Aiken fan, have absorbed countless message board recaps, and are in the process of downloading all available clack.
Clay Cyberspace went into temporary stress mode when it was reported that Scarlett's luggage failed to arrive in Raleigh the same time she did. There was a collective sigh of relief when the report was amended that the "clack goddess" did, however, have her camera!
Donate to CU as Clack Downloads
Between Scarlett, toni7babe, deborah760, and others, the Clay Nation is basking in audio and video clack from Monday's performance. If you download at Clack Unlimited, be sure to make a donation or sign up for a subscription in support of the site's fund drive. BBH is under "Special Appearances."

Below is a double clickable of Monday's BBH program: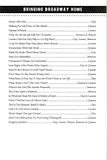 In addition to Clay, BBH performers included Lauren Kennedy, Terrence Mann, Sharon Lawrence, and Quiana Parler.

The Terrence Mann fans have discovered Clack Unlimited, and this LiveJournal blog --
Bringing Broadway Home - OMG Yay!
-- provides an excellent recap of the evening.

Toni has uploaded some of her video to her YouTube Channel. Don't miss "Those Magic Changes" and "Home." Her photos will eventually be stored in the BBH album of her SmugMug account, so bookmark this link.
For the record, Scarlett's luggage arrived at the hotel at 1:30 a.m. Monday. Many thnx to all all who shared the concert with the thousands of fans who could not attend.
'Moments' Montage Fuses Past, Present
One of my favorite videos from the Broadway performance is the "Moments" montage by Fountaindawg in which she incorporated audio pieces from the 1997 "Pieces of Gold," Wake County talent showcase in which Clay received accolades his "This Is the Moment" performance; the Durham Herald-Sun review of the show; an "early Clay" clip from The Tonight Show with Jay Leno in 2004; plus Toni's video of Clay singing the song at Monday's benefit concert.
There is probably no better gauge of Clay's performance at the Broadway benefit concert than these random tweets:
I don't care what you think of Clay Aiken's sexuality, he can sing his face off in Showtunes!! Damn. He stood his own against Tony winners!

Oh My God. I know I'm annoying with this stuff, but Clay Aiken was AMAZING!!!! Saw Bringing Broadway Home.

I wasn't a Clay Aiken fan until tonight. But, I heard him sing live, and he truly has #thevoice.
Below are clickables of

Fountaindawg

's BBH graphics with photos by

toni7babe

:

Clay Aiken Ready for Tour, Idol
Gary Graff's Billboard article (June 23) features the Tried & True CD, the PBS Special, the Timeless Tour with Ruben Studdard, and Clay's notion that he would be the best replacement for departing judge Simon Cowell.
American Idol's" second season runner-up Clay Aiken has his own idea of what the show should do to replace departing judge Simon Cowell. [snip]

Aiken, however, has plenty of singing to do before having that discussion. The North Carolina-based singer released his fifth album, "Tried & True," on June 1; the collection of pop standards -- including "Unchained Melody," "Can't Take My Eyes Off You," "Misty," "Mack The Knife" and "Moon River" (with Vince Gill) -- marks his first release away from the "American Idol" enclave of 19 Recordings and Sony Music (he's now with Decca), and Aiken feels it shows the measure of the man better than his previous releases.
To read the complete story, see Clay Aiken Ready for Tour, Would Return to 'Idol' as Judge at Billboard.
First Day Back an Adjustment
Keeping an injured ankle elevated and walking gingerly through the house for the bare necessities is a whole lot different from the way I spent my first day back teaching six violin and piano lessons on Tuesday.
No matter how careful I was leaning over the tub to wash my hair, I thoroughly soaked my dress and the all-important ankle wrap. Fortunately, three hours later, the wrap was dry when I stuffed my enlarged left foot into a tennis shoe for the 30-minute drive to teach six students.
Earlier I had pared down the books, student info sheets, etc., that I carry into the academy. Since the ankle sprain, I do most of my carrying by pushing all in the seat of a wheelchair. Walking to the car wasn't so bad, and I took along my late mother's cane for support.
Dr. Mike Jarrett, head of the Wesleyan Studios, couldn't have been more accommodating. First, he unlocked a side door, greatly shortening the walk to my room. He even produced an abandoned wheel chair, so I loaded my music bags and followed routine.
WV Grandmother a Clay Fan
During the two violin lessons, I accompanied students at the piano and could not prop up my ankle. Dr. Jarrett supplied several variations for me to try during the piano lessons, and a drum case worked really well as a footstool.
When my fourth student (Jay) arrived with his grandmother, I learned that she is from Morgantown, WV, and a Clay Aiken fan from way back. We talked briefly about the new "Tried & True" CD, the upcoming PBS Special, and a good friend, xxx4clay, who shared the West Virginian's love for Clay and the Moutaineers until her untimely death last summer.
After six hours, my ankle and knee were screaming for frozen corn and elevation. Recovery came slowly, but I am finally back in my groove. Next Tuesday is six days way, and I hope to be in a faster lane by then.
Have a wonderful week, Clay Nation!
Caro