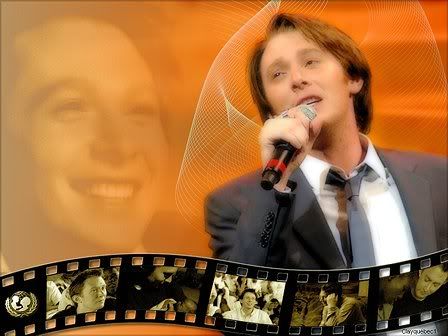 WINNING COMBO -- The entertaining duo of David Foster and Clay Aiken will perform together again in Las Vegas on May 9. Graphic from 2006 performance by Clayquebec1.
Clay, David Foster To Perform
Concert News Boosts Economy
In one fell swoop, the announcement of Clay Aiken's May 9 performance with David Foster and Friends in Las Vegas guaranteed the travel industry a gigantic economic boost as CA fans from both coasts scrambled to secure airline and hotel reservations.
When one considers all the cameras, videos, computer-related equipment, and various aspects of traveling to concerts by their favorite singer, the Clay Nation has for years been a boon to the economy.


Mandalay Bay Event Center in Vegas.
According to the Mandalay Bay Event Center website, May 9 should be a very special evening:

David Foster and Friends
Location: Mandalay Bay Events Center
Date: May 9th, 2009
Price: $134.25, $81.75, $55.50

Back by popular demand, a concert celebration featuring music's premier songwriter and producer David Foster will take place Saturday, May 9 at the Mandalay Bay Events Center.

The event will pay tribute to the 15-time Grammy winner and will feature Clay Aiken, Philip Bailey from the chart-topping band Earth, Wind & Fire, Brian McKnight, Peter Cincotti and Oprah Winfrey's protégé, Charice.

Foster also will perform some of the hits he has written or produced during his 40-year musical career. The event is scheduled to begin at 8 p.m.
At the David Foster Foundation Benefit Concert in 2006, David and Clay proved they really can put on an entertaining show. Thanks to

Scarlett

, who videoed the charity gala performance, here is their rendition of "Unchained Melody":

Clay sings 'Unchained Melody' at David Foster Gala.
Video by Scarlett.
With backup musicians, the duo presented several songs from Clay's then soon-to-be-released album, A Thousand Different Ways. After UM, David asked Clay to repeat what he called "the moment," i.e., the "glory note" or something he as a producer looks for when recording a song.
These are links to more gala videos by Scarlett: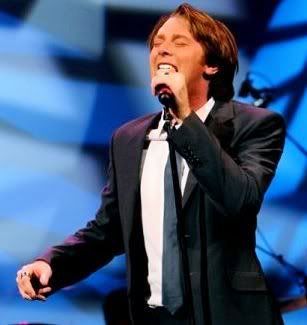 Clay singing at David Foster's charity gala.
Photo by Dee Lippingwell.
Preceding RHW, David provided some background about Clay for the attendees:
He put an album out about three years ago. The first week it sold 600,000 copies. [For the gala] we were selling the pianos for $200,000; I came out and said I'd go with the piano for life, and it went up to $205,000.

He walks out and says he'll sing three songs, and it goes to $500,000. There is only one -- what an amazing singer ... what an amazing story ... he'll tell you some of it ... he used to be a schoolteacher, this kid. Please welcome the fantastic Clay Aiken!
If May 9 fits your schedule and budget, you'd better secure those reservations.
Below are clickables of two graphics from the 2006 weekend and the current May calendar. They include the lead design by Clayquebec1, 1; Amazing_CA, photo by Galrow, from Clay's stint as a Star Search adjudicator prior to the concert, 2; and cindilu2, the May 2009 calendar, 3. The widescreen version of the latter is available here.

Students Discover Whole New World
Thursday marked the first combined rehearsal of my sister's woodwind students and my strings. Both pieces -- "Ashokan Farewell" and "Star Wars" -- went very well. Afterwards, we separated so her students could prepare for a Sunday church service and mine could perform their solos.
Did I happen to mention we were in one of the best equipped band rooms I have ever seen? As a former band director, I have been around the block on this aspect. I actually don't know how the violinists and violist lasted as long as they did; but the minute we were alone, they began contemplating how they were going to sample some of the very intriguing percussion instruments.
We are talking bongos of various sizes, a complete set of timpani, a huge bass drum, cymbals, chimes, you name it. I was trying keep their minds on dynamics, controlled tempi, even correct notes; and they were looking around like kids in a candy store. We finally agreed that once we completed their solo segment, they would each be allowed to play the gong.
'Gong Show' Ends Rehearsal
Sure enough, when we finished their solos, everyone took a turn striking the gigantic gong with its mallet. One of the mothers who had driven the group to the rehearsal said we sounded like "the gong show" as she came down the hall.
Our final joint rehearsal will be the Thursday before the May 17 recital. Same percussion-filled room with the extraordinary addition of a harpist. Heaven help us -- but I fully expect another noteworthy day in music education, LOL!
Have a wonderful weekend, Clay Nation!
Caro
TECHNORATI TAGS:
Clay Aiken
,
David Foster and Friends
,
Mandalay Bay Event Center
,
Unchained Melody
,
A Thousand Different Ways
,
David Foster Benefit Concert
,
spring recital
,
Official Fan Club
,
Clay Nation