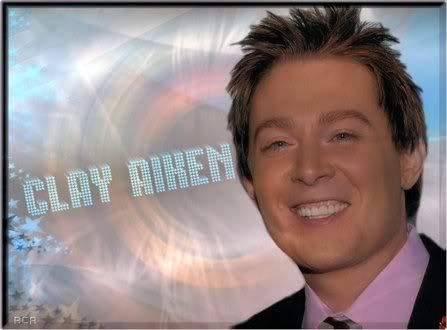 ALL SMILES -- There's nothing like a Clay Aiken smile. Graphic by Amazing_CA.
April Schedule Amps Up
Recaps Amplify Aiken's Honor
With a bulging "real life" calendar, the normal three-day blog routine hit a misstep this week. Three weeks into April, I finally remembered I had not even posted the monthly calendar, so you know my schedule is in overdrive.
This blog will make amends for the calendar slip up and try to catch up on the latest happenings.
Tuesday platinum recording artist Clay Aiken and Terry Boggis, director of Center Kids in New York City, were honored with Family Equality Council Awards at the fourth annual Night at the Tavern in NYC. The event was well-covered by several CA bloggers [see sidebar], as well as the FEC site.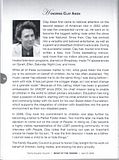 Honoring Clay Aiken
Double clickable
In the FEC blog are video clips by Tavern attendees plus articles about the event. Below are a couple of reports from CA fans that you won't find in official news articles. The first is from the recap of claynov30:
[Clay] was so warm and friendly mingling with everyone. We never thought we would have such close proximity to him last night but we did. It was great to see him in a totally different setting and be so relaxed.
And the people on the Family Equality Council did a fantastic job. They were warm and inviting, and I had some great conversation with a few of them.
Families come in all shapes and sizes, and last night I learned what it means to people in the LGBT community to have the support of ALL people, not just their own gay community. A truly memorable and enlightening evening!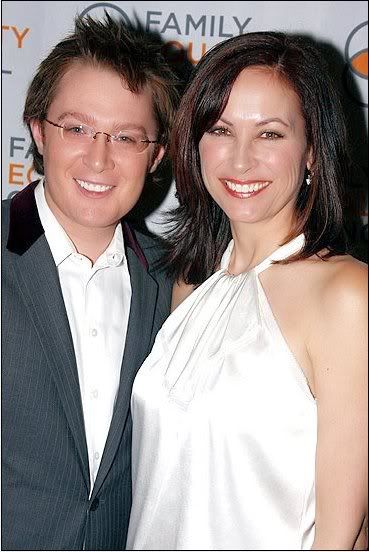 Photo of Clay with special performer Linda Eder
links to Broadway.com slide show. (Bruce Glikas)
Winner Donates Prize Poster
Big winner of the silent auction's life-size Spamalot poster of Sir Robin, the Lady of the Lake, and the king was CA fan crazyglue91152. Clay, who had signed the poster with the words "Find Your Grail," planned to personalize it with the name of the winner. Here is a paraphrase of her recap:
After the auction, she congratulated Clay on his award, and he hugged her. Laughing, he jokingly asked her twice what she planned to do with that huge poster.

She told him she planned to donate it to The Bubel/Aiken Foundation. Clay replied, "Wow, that's wonderful! Thank you very much!" It was decided that instead of inscribing the poster to her, he and crazyglue91152 would have their picture taken with her prize.

With his assistant positioned behind the poster so it wouldn't fall over, Clay stooped down next to the winner for her photo memento. She thanked him, and he promised to see her again soon.
The singer, TBAF, and fans throughout Clay Cyberspace are celebrating this thoughtful gesture that will eventually raise lots of funds for Foundation. CA fans are also hoping "soon" really means SOON!
PHOTE INTERLUDE: This clickable interlude features graphics by cindilu2, 1 (April calendar) and 5, and Amazing_CA, 3, as well as photos by robyn428, 2 and 4. For widescreen versions of the calendar and its matching graphic, see the artist's Yuku page.
Boyle Recalls 'Clay Aiken Era'
You'd almost have to be a hermit on a desert island not to have come across Britain's Got Talent sensation Susan Boyle. Not a few have compared the Scottish singer to diamond-in-the-rough emergence of Clay Aiken during American Idol's Season 2.
Somewhere along the way AI, now in its 8th season, moved away from its innocent appeal and original premise to find the best "undiscovered talent" in America. One of the latest to examine the phenomenon is Philadelphia Inquirer staffer Amy S. Rosenberg.
In her Thursday (4/23) column Has a Brit Knocked 'Idol' off its pedestal? column, she quotes Jason Mittell, associate professor of American Studies and Film & Media Culture at Middlebury College.
Television critics are calling for a return to the simple pleasures of the undiscovered gems in the rough of the earlier Clay Aiken era. Feminists are charmed. Priests are seeing God's work. As for age, Barack Obama already made 47 sexy and powerful; now Susan Boyle is standing up for the unlucky-at-love set.

"It plays into a narrative that seems authentic," says Mittell. "The idea that she is just a real person, following her dreams. There's a sense of discovery of something authentic. It tweaks that pleasure. It plays especially well in the U.S. because our frame for the genre is American Idol. American Idol is about young people who look the part, act the way in which we expect a pop star to act."
In case you have been on the proverbial desert island, here is Boyle's April 11 performance of I Dreamed a Dream from "Les Miserables," which is about to hit 13 million views on YouTube.
Recital Calendar Marches On
Recently I mentioned that due to double booking, my sister and I had to rearrange the location for our Spring Recital of woodwind, string, and piano students. Symphony harpist Helen Rikas will accompany the woodwind solos, as well as the joint selections in the middle of the two recitals.
We spent the better part of Easter Week searching for an alternate locale. Because of our harpist's schedule, the date was not movable. After checking with area churches and trying a grand with a troubling rebound action in a nearby chapel, we decided to go with the academy's bandroom and a really fine upright ebony piano.
Our first joint string-woodwind rehearsal is next Thursday; and, hopefully, there will be no major surprises. The students range in age from Grades 4 - 12, so you never know.
The May 17 main event will be followed by another the next day when grandson Kai welcomes a baby sister -- or "Sissy" as he already calls her. Between the two happenings many miles away, their maternal grandmother will no doubt be off the wall all weekend long!
Below is a clickable of Amazing_CA 's opening graphic: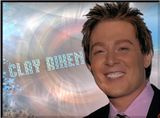 Have a wonderful weekend, Clay Nation!
Caro
TECHNORATI TAGS:
Clay Aiken
,
Family Equality Council Award
,
Night at the Tavern
,
Terry Boggis
,
Linda Eder
,
Spamalot poster
,
The Bubel/Aiken Foundation
,
Susan Boyle
,
Britain's Got Talent
,
American Idol
,
Spring Recital
,
April calendar
,
Official Fan Club
,
Clay Nation