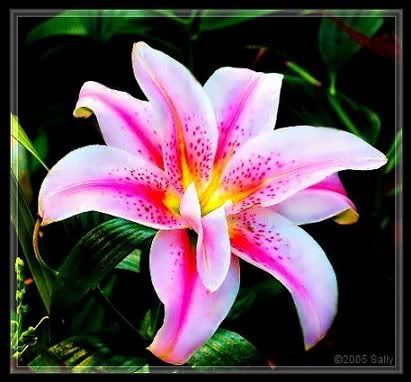 NEW BIRTH -- This beautiful tiger lily graphic by Sally commemorates Easter and the rebirth of Spring.
Rebirth and Renewal
Easter Celebrates Resurrection

Sunday Christians all over the world celebrate Easter, an occasion commemorating the crucifixion, death, and resurrection of Jesus Christ. The day also honors the rebirth of Spring and, for many, the renewal of faith, hope, and new life.
Since its conception as a holy celebration in the second century AD, Easter has had its non-religious side and, like most Christian holidays, was originally a pagan festival.
The ancient Saxons celebrated the return of spring with an uproarious festival commemorating Eastre, their goddess of offspring and of springtime. When second-century Christian missionaries encountered the tribes of the north with their pagan celebrations, they attempted to convert them to Christianity, but in a clandestine manner.
To save lives, the missionaries cleverly decided to spread their religious message slowly throughout the populations by allowing them to continue to celebrate pagan feasts, but to do so in a Christian manner.
Pagan Eastre Becomes Easter
The pagan festival of Eastre occurred at the same time of year as the Christian observance of the Resurrection of Christ. It made sense to alter the festival itself and make it a Christian celebration as converts were slowly won over. The early name, Eastre, was eventually changed to its modern spelling, Easter.
Both the rabbit, Eastre's earthly symbol, and the exchange of eggs, a celebration of springtime's rebirth, were centuries old customs of the pagan festival that eventually merged with the religious Easter season.
More about the history of Easter and the parallel pagan festivities can be read at Wilstar.
Photos Extol Spring Blessings
This blog's pictorial celebration takes place on three stages -- the glorious landscape photographs by my friend Sally; clickable blends of Clay Aiken photos by his talented fans; and Sally's beautiful floral graphics signifying the rebirth of the spring season.
Many may remember the featured artist as Sally888, who in the past featured many of her stunning photos and graphics in an Official Fan Club blog.

Even though I have played for countless Easter sunrise services, I have never been to Canada. Sally's beautiful photo of a sunrise along the Ice fields Parkway transports us to the heart of the Canadian Rockies.

Lake Louise near Banff, Alberta, reported to be the most photographed lake in the world, was once recorded by Sally.

In this photo, Sally captured springtime one morning in the Smoky Mountains of Tennessee, a state I called home for 17 years.
Fans Applaud Voice, Heart
On a much larger stage than he ever imagined, Clay Aiken has for the past six years shared with the planet his magnificent voice, caring heart, and unbending faith in word, deed, and song.
Through the The Bubel/Aiken Foundation's inclusive programs and his projects as an ambassador for UNICEF, he has endeavored to make the world a better place for children.

In recognition of the singer's commitment to loving families, sharing his journey to parenthood, and the work he does on behalf of children the world over, Clay will be presented the Equality Circle Award at the Family Equality Council's Night at the Tavern in New York City on Tuesday, April 21.
Dancing Event To Benefit TBAF

In a benefit for TBAF, the Foundation and A Step to Gold International Ballroom will co-host "Dancing Like the Stars" at Raleigh's Southern Women's Show April 26. Local celebrities will participate in the popular dance competition at the NC State Fairgrounds.
Fans first followed the exceptional voice from Carolina. During the past six years, they have also become enthusiastic supporters and participants in his charitable causes, inspiring the motto: "We came for the voice but stayed for the man."
A treasured spin off for countless fans who have come together in Clay Cyberspace are the close personal friendships that have evolved. No national boundaries, not an unusual progression on the Internet, but still very special!
PHOTO INTERLUDE: Looking back, these handsome clickables feature Invisible926's 2006 Easter design (1); Clayquebec1, photo by Invisible926, (2); cindilu2, photo and screencap by Galrow and Spotlightlover, (3); Amazing_CA's JNT05 blend, photos by Renee4Clay, (4); and ABeautifulMind's Easter graphic, photo by Scrpkym, (5).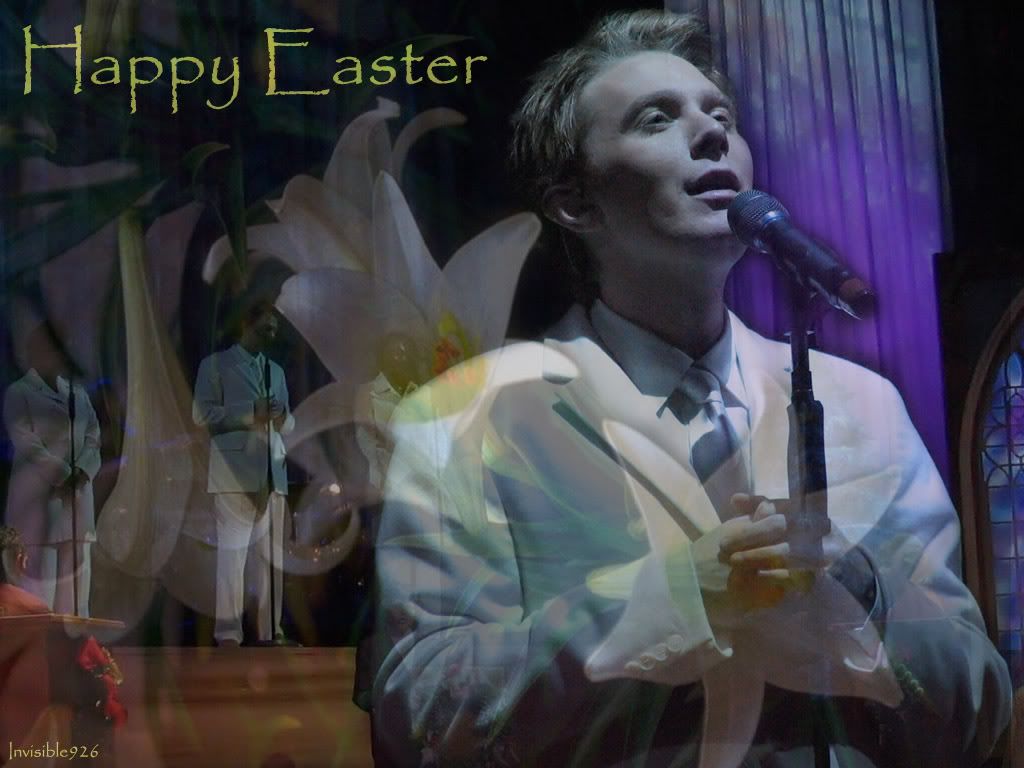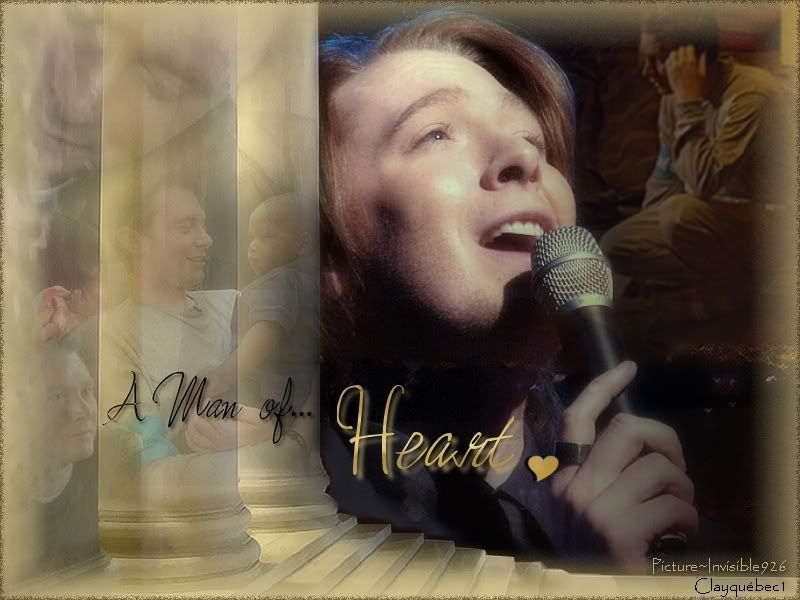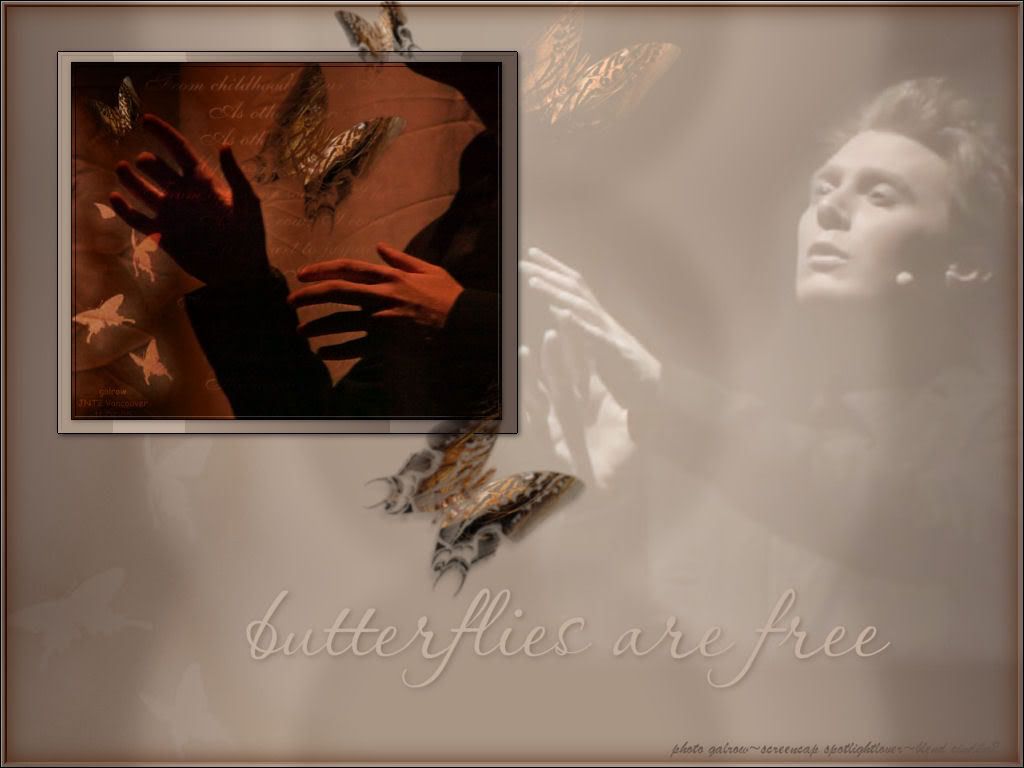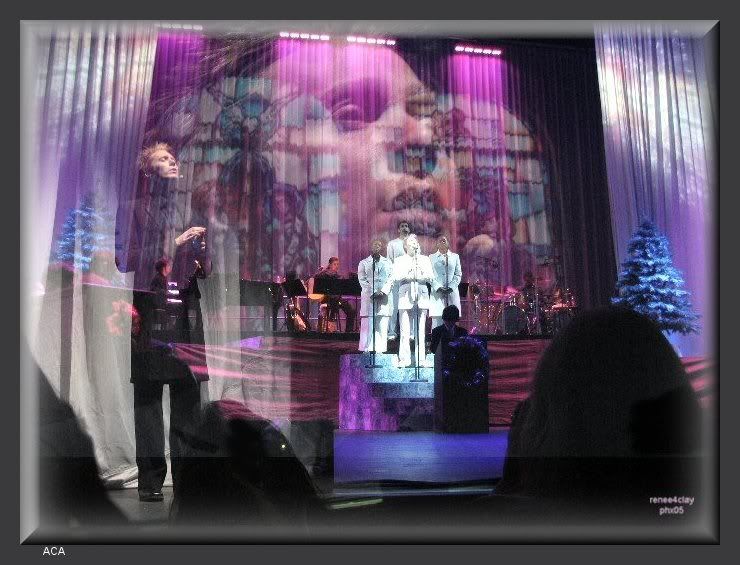 Flowers a Canvas for Nature

Nature's splendor resonates throughout Sally's floral photos and graphics. My special affinity for the first is the annual North Carolina Azalea Festival celebrated in my hometown of Wilmington. The 62nd "best party in the South" occurred last week, April 1-5.
Joining the pink azalea in this springtime gala are sweet-fragranced freesia and a lovely apple blossom.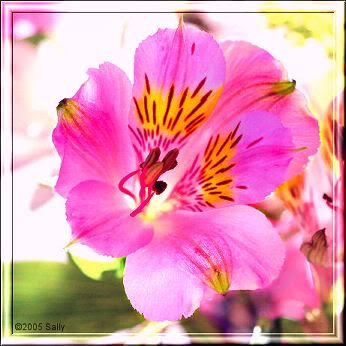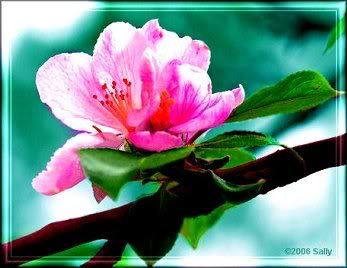 Bravo to Sally, whose photos, graphics, and friendship helped this blog commemorate Easter in such a special way!
Did the Monkey Mail Come?
Did the Monkey Mail come? Well, whose it from? ... Twinkle and Wayne from Higglytown Heroes up next! ... Meeska Mooska Mickey Mouse!!!
During my grandson's month-long visit last summer, he and I greeted each morning singing along with several familiar cartoon characters on TV. Much to Kai's delight, one morning we actually received some real "monkey mail" ourselves -- three snugly toys from my friend and his "fairy godmother" Sally.
A squeeze of the correct button and Kai's favorite, a pastel-colored chicken, wobbled into his open arms to strains of "The Easter Parade" followed by a barnyard cacophony. The Easter chick now sits on a shelf awaiting grandson's next visit.
Meanwhile, I hear the little guy in question has been very active. Blessed with amazing balance, unquenchable curiosity, and a penchant for heights, his latest "trick" is to climb onto the closed toilet seat, maneuver over to the sink on which he stands to investigate the contents of the mysterious medicine cabinet. Locks don't work, so lessons are hopefully being learned!
Below are three clickables celebrating Kai's two Easters and the fun we shared with that shimmying little chick last June. Graphics are by Sally (2008) and Ashes (2009):

Happy Easter ~ Blessed Passover ~ Joyous Spring, Clay Nation!
Caro

TECHNORATI TAGS: Clay Aiken, Easter, Spring, rebirth, photography, North Carolina Azalea Festival,The Bubel/Aiken Foundation, Dancing Like the Stars, Family Equality Council, Equality Circle Award, Internet friendships, Monkey Mail, grandson, Official Fan Club, Clay Nation