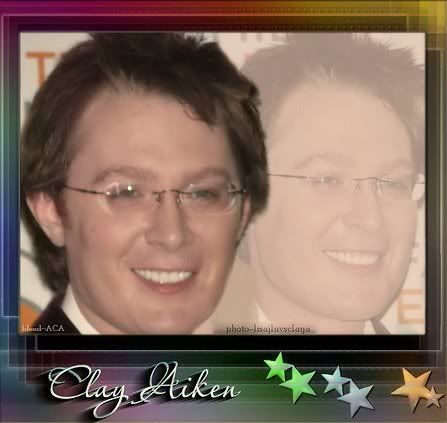 DOUBLE THE PLEASURE -- Graphic by Amazing_CA, photo by lisajluvsclaya.
On Wide Range of Topics

Clay Aiken Talks with His Fans

This weekend Clay Aiken instigated a line of communication with his fans in a question-answer thread on his official message board that has already proved very popular, informative, and a leading reason for supporters to keep their membership up to date.
After a few ground rules and a promise to drop by from time to time to continue answering queries, the place to be for the next several hours was the "Ask Clay a Question" Thread. Topics ranged from the very serious (bullying, autism, the Miss USA controversy) to important information about how he harmonizes a song and the secret behind his Jukebox Tour piano technique.
There was even an "orange crocs" moment!
By no means does this blog cover all that was discussed, but it does provide an overview for fans who are not yet OFC members. As always, Clay was articulate, personable, and candid. The accompanying images are clickable.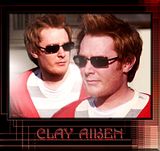 Clay in Los Angeles
Graphic by Amazing_CA
Like the OFC thread, I hope this is a fun and informative read ...
I've gotten bullied my whole life even at times as a adult. I try to ignore people such as co workers and such but its not easy at all. How were you able to develop such a thick skin? Any advice?
As unbelievably hard as it is to do, I just learned to ignore. I don't think that the term "thick-skin" really applies to me. If I pay attention to negativity, it still hurts my feelings. I don't think anyone is impervious to that type of pain. Therefore, I found the best way to deal with it is to ignore it.

There has NEVER been a case that I have EVER seen where bullying is not a DIRECT result of the insecurities of the bully themselves.

People who are happy with themselves don't have any reason to spend their time cutting down other people. In almost EVERY situation, I have found that when someone is mean to someone else because of a trait they don't care for it is because they have insecurities about themselves and want to make other feel bad for the rush of superiority it gives them.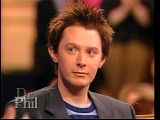 Clay on Dr. Phil Show
Topic: Bullying

When you let that person affect your attitude in anyway, it gives them dominion over you, which is exactly what they want. Ignoring is hard, really hard; but one of three things will happen as a result of ignoring those who are nasty to you.

1) They will see that they no longer affect you and they will stop.

2) Others will see that the bully no longer affects you, and they will stop encouraging the bullying or ... and most powerfully ...

3) Your ignoring will allow you to spend your time focusing on things that make you happy and make you feel good about yourself, and you honestly won't even notice the haters anymore.

Trust me ... it works.
Just for the record, Clay, do you own a pair of orange crocs??!!
UNEQUIVOCALLY, ABSOLUTELY ... NO! NO! NO! NO! So ugly!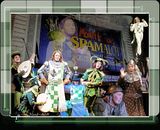 Spamalot graphic by Amazing_CA
You seriously NEVER got excited seeing your face go by on the side of a bus? Not even the first time? What about your huge billboard in Times Square?
No, not really. But I did get tickled when I was in NYC last week and there was STILL an ad on the side of a bus saying I was in Spamalot. LAST WEEK!!!
Clay, what's your favorite TV show lately? Any new favorites?
I have started liking '30 Rock' a lot. Not just because I did it, but because it is funny, Spamalot-type funny; and I think Tina Fey is a genius.

And I LOVE LOVE LOVE 'The Closer'! Best show on TV!
Where did you learn to harmonize? Did it come naturally, or did you really have to work at it?
I was just blessed. I could always hear one harmony (usually just a third). As I got older I started to be able to pick out a third part and sometimes a fourth. I can usually pull out a fourth part if i try really hard.

Angela, is AMAZING. If there is a fifth part to be heard, she hears it automatically. She recorded and laid the tracks for all he harmony parts on "All Is Well" while Quiana and I were still stuck in traffic on the way to the studio. We just sang what she instructed when we got there. She's unreal.

What is a song that sticks out in your head as one you remember learning growing up in music class?
The arrangement of "Bridge Over Troubled Water" that I did on Idol was an arrangement that Alison Lawrence had us sing in ninth grade.. so I would say that one is pretty significant.

As was "Merry Christmas With Love," also a song Alison taught us in ninth grade.
Do you miss doing Spamalot? Do you still remember all your lines and choreography?
I do miss it. I barely remembered them then. God knows If I could do it now!
What is your favorite song from each of your Cd's?
MOAM: I hardly remember it, probably "Run To Me."

MCWL: "Don't Save It All for Christmas Day."

ATDW: Too many to name one ..."Broken Wings," "Every Time You Go Away," "Here You Come Again," "A Thousand Days."

OMWH: "As Long As We're Here"

AIW: "All Is Well" and "Emmanuel"
PHOTO INTERLUDE
-- This clickable interlude features graphics by

Amazing_CA

from 2009 events, as well as one from the very popular Jukebox Tour discussed in the OFC's "Ask Clay" thread. Photographers include

dc4clay

, 2, and

Katy4Clay

, 3.
Clay, do you ever come to the OFC and read while in invisible mode?
No, but I would have if I had known how to! Good Lord! You're keeping this very valuable piece of information from me!?!? Someone message me and tell me how!
Did you ever find your passport, the one you lost in Calgary?
I had left it in Vancouver. I got it back after I had to get a temporary one. Which works out in the end, because now I get to keep the passport that has my Afghanistan and Uganda stamps in it!
You auction off so many of your mementos at your Galas. Is there anything that is so special that you've saved it for yourself?
I still have the outfit I auditioned in Atlanta in, and my mom has the red leather jacket from the "Grease" performance which I don't think she will ever part with.
Was your amazing duet with Quiana of "Listen" on the 2007 tour totally impromptu, or had you played around with it with her, like on the tour bus, before that night?

We had NEVER sung it at all. At intermission, Angie mentioned that she was going hoarse. I told Quiana to be ready that she might have to sing it.

That's all the notice she got. Angela literally signaled me RIGHT BEFORE she was supposed to sing it and said she couldn't do it. You saw the rest in real time.
Kids say the funniest things. What is a really funny thing a child has said to you?
When I was working at the YMCA, we used to have the campers say the Pledge Of Allegiance to the flag every morning. One morning I was standing near one camper and he was reciting it, but something sounded a bit off.

So, afterwards, I asked him to stay back and talk to me. When all the other campers had left, I asked him to say the pledge for me. He did: "I led the pigeons to the flag of the United States of America" ...
You did a great job as a judge and mentor on ANTM. Would you consider being a guest judge on another reality type show?
I've always loved America's Got Talent. I'd love to be on that.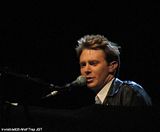 'Playing piano' at Wolf Trap
Photo by Invisible926
Clay Reveals LMT Piano Secret
Conceivably, the accompaniment for "Love Me Tender" was simple enough for a non-pianist to learn. Even for this piano teacher, the next answer was quite a revelation. However, the plan makes sense for a live show in which anything can happen; and apparently, it did one night in Ohio, LOL!
How long did it take you to learn to play "Love Me Tender" on the piano for the Jukebox Tour?
It amazes me that you all think I played that on the piano! I know hundreds of you will say you knew all along.. but I've yet to meet ONE person who wasn't floored when I told them that I was "lip-syncing" that.

S'von recorded it before we hit the road, and I pretended to play it while I was slipping the blue shoes on for the next song. What's funniest is that, on one stop in Ohio, the sound guy accidentally pressed play on the tape before I even came close to the piano, and the song played before I got there. He had to stop it and reset it for me and play it again.

I was SURE that the jig was up then and everyone knew, but I have been asked this very same question over and over for years since that show. So DO NOT tell me that you weren't fooled. We did a lot better than I thought we did.
My daughter started with the Greenspan Method in school. The new teacher is starting to use ABA with her. What do you think about this method? Have you ever used it before when you taught?
Yeah, I learned it. It's got a lot of positive aspects to it. BUT, my LIMITED experience is that it's so one-on-one intensive that often the student has great success with the facilitator, yet does not have the same level of success with others who they don't work with regularly.

Other methods focus a bit more on group instruction and help students interact with various individuals. The progress is often slower, but I always found that the student was able to transfer what they learned and use it in a larger variety of situations and settings.

That said, trust the experts your daughter works with. Definitely don't make any decisions based on my limited experience.
When you sang the "Amen" in Spamalot, did you decide how it would be sung at that moment, or did you know ahead of time how you were going to sing it?
I usually decided right there on stage in the moment.
Clay, do you have any good luck charms that you carry with you at all times?
I have worn the exact same underwear for six years straight! It's worked, don't you think?

(ha ha)
What is your take on the controversy surrounding Miss California's answer regarding gay marriage in the Miss USA contest? And do you think Perez Hilton is using it to prolong his 15 minutes or should he just shut up?
I don't think Perez was wrong for asking the question at all. Pageant contestants ALWAYS get politically controversial questions. ALWAYS. I think it was a good question. I think it was an especially appropriate question for the contestant from California.

While I obviously don't agree with her answer, she's entitled to her opinion. And I don't think Perez should be chastised for asking the question.

That said, I don't think we'll ever get anywhere as long as folks have closed-minded views on EITHER side of the argument.

In my opinion, Miss California is shortsighted and closed-minded; but I also think that crucifying her and lambasting her because she doesn't agree with him definitely doesn't make Perez look that great and doesn't help to advance his cause much. Neither one of them should be demonized.
If the label had not chosen "On My Way Here" to be the lead single, what song would you and Jaymes have chosen?
"Where I Draw The Line" was always our preference.

'Just You' Revisited - Montage by Yollie950
Surprise Song Ends First Session
Late Friday night Clay encouraged fans to hang around because he had a surprise and, in his words, planned to end the evening "with a bang." Among the afternoon's questions was whether he would ever record "Just You."
Subsequently, the singer explained in his blog that the "Just You" was one of the first songs recorded for the 2006 album A Thousand Different Ways. The track was laid down prior to the label's decision to go with a love song cover concept, and "Just You" was temporarily shelved.
So, here I have had this song all along that, to my knowledge, I own the only copy of. What to do with it? Well, this evening, with some encouragement from Jaymes, I decided let's just give it to the fans.

We do have plans (which we will tell you about eventually) to be back in the studio and record in the near future, but until then, you might as well get a bit of something you haven't been able to hear in a while. "New" music!
Since Clay didn't write or produce the song, he can't sell it; so he gifted his fans with a link to the Just You recording and encouraged all who download it to make a donation to The Bubel/Aiken Foundation.
I want to give it to you because you deserve it. You've stuck by me and been patient for a long time. We are gonna do this on the "honor system." Download the song. It's yours. Share it with your friends. It's free.

But I want to make it count for someone, so let's make it count for tens of thousands of children in the US with developmental disabilities If you can't afford anything for it, then don't pay; but if you can, I encourage you to make a donation to the Bubel/Aiken Foundation for however much you feel the song is worth.

If you want to give $1 ... great. If you want to give $1,000 ... GREAT. If you can only give $.05 ... that's fine too. It's a tough time we're living through nowadays, and non-profits are hurting more than ever as well.

TBAF (which will soon be known by a different name) has had amazing success in fulfilling it's mission, and is embarking on a long term plan to continue including kids in every aspect of life. But, it will continue to need help from all of us in order to make that possible.
Clay has continued answering questions throughoutout the week at his Official Fan Club. To become a member of the OFC, sign up at Clayonline.com. Below is a clickable of

Amazing_CA

's opening graphic: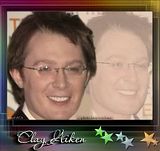 Have an awesome week, Clay Nation!

Caro
TECHNORATI TAGS:
Clay Aiken
,
bullying
,
Spamalot
,
singing harmony
,
Listen duet
,
Love Me Tender
,
autism
,
Miss USA controversy
,
Just You
,
The Bubel/Aiken Foundation
,
donation
,
montage
,
Official Fan Club
,
Clay Nation