Fountaindawg graphic links to 'AI2 Journey' montage by Gerwhisp.
Looking Back at AI2
Montage Recaps Clay's Season
Since Clay Aiken's successful run on the American Idol stage six years ago, I have followed his career instead of viewing subsequent seasons of the show. Occasionally I tune into the quick summary that closes Tuesday performances so I will know what aficionados of the current contestants are talking about.
Like many Clay Aiken fans, my philosophy epitomizes the fandom slogan "Idol Found, Game Over."
Monday night I came across Gerwhisp's montage of Clay's AI2 Journey, and I have been lost in a reminiscent tour ever since. The first thing that strikes you is THE VOX week after week, show after show.
The montage opens with Clay singing "Dont Let the Sun Go Down on Me," the Wildcard song that punched his ticket to continue in the competition. Here is a Sendspace download for the montage.
With the assistance of Fountaindawg of the Clay Aiken Kids site, I assembled some graphics to accompany compliments by guest judges that are featured in the video. I also located What Not To Sing, an uber-comprehensive AI database that includes note for note every episode of every season, ratings of performances, you name it.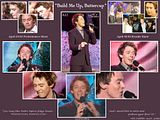 Neil Sedaka/60s Week
Clickable graphic by Fountaindawg
Here are a few notes from WNTS's AI Season 2 pages:
During 1960s / Neil Sedaka Week, he [Clay] busted out with two showstoppers: an uncharacteristically energetic "Build Me Up Buttercup," and a dramatic, near-flawless "Solitaire." Coming in at 94 and 92 respectively, Aiken remains the only contestant to break 90 twice in the same week.

Season Two owns the highest average approval rating of the first seven years. Aiken's 68.5 average rating led the way, with Locke, Studdard, and Trenyce also coming in with 4-star averages.

Each of the Final 12 turned in at least one above-average rated performance. You might think at first that's nothing special, but it didn't happen again until Season Seven.


For what it's worth, we consider it a tossup between Studdard's "A Whole New World" and Locke's "New York State Of Mind" as the best of the season.


Aiken earns a special achievement award for his twin triumphs in the Final 5; we have a feeling that his 93 average in a multi-song week will stand as the record for a very, very long time.
Whether you are interested in Season 2 or 8, check out the site and see how your favorite Idol compares.

During Season 2's Movie Week, Clay sang "Somewhere Out There" from "An American Tail." Three judges gave him a standing ovation, and guest adjudicator Gladys Knight said he was "magical." The date was 3/18/03:

You're a mystery. You have your own look. There is something very magical about your look, and your voice is so pure. I don't know in the contemporary world what is going to happen with you, but something exceptional is going to happen for you somewhere along the way because you are pure.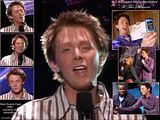 Billboard #1 Hits
Clickable by Fountaindawg
During his Billboard #1 Hits performance of 4/8/03, Clay sang "At This Moment" by Billy Vera and the Beaters. Guest judge Lionel Ritchie was very impressed with THE VOX:
I'm in awe that all of that is coming out of that body. Unbelievable! Who is that guy?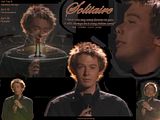 Solitaire
Clickable by Fountaindawg
For Neil Sedaka/60s Week (4/29/03), Singer Man performed "Build Me Up, Buttercup" and "Solitaire." Most CA fans can quote word for word Sedaka's kudos:
Clay, you sing like Andre Agassi plays tennis -- PERFECTION, PERFECTION! -- and I would kill to write and produce your first CD!

(After "Solitaire,"): Bravo, Clay! I have lost my song forever to you. It will always be a Clay Aiken song.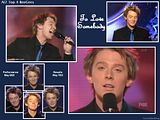 BeeGees Night
Fountaindawg Clickable
Clay chose "Grease" and "To Love Somebody" for the 5/6/03 BeeGees/Top 4 Night. After TLS, guest judge Robin Gibb was very complimentary:


You've got an absolutely fantastic voice. This is the way the song should be sung, and it's just brilliant.
Hope you enjoyed this walk down memory lane. Many thnx to my accomplices, Gerwhisp and Fountaindawg!

Have an awesome week, Clay Nation!

Caro
TECHNORATI TAGS:
Clay Aiken
,
American Idol Season 2
,
What Not To Sing
,
Clay Aiken Kids
,
montage
,
Gladys Knight
,
Lionel Ritchie
,
Neil Sedaka
,
Robin Gibb
,
Official Fan Club
,
Clay Nation