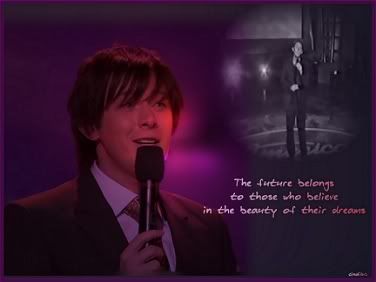 Image links to Clay Aiken's 'Bridge Over Troubled Water'
MDA performance. - Montage by Aspiegirl, graphic by cindilu2.
While Battling ALS
Ace Noface Sets Musical Mark
One of the first times I conversed with Ace Noface, a 38-year-old musician with amyotrophic lateral sclerosis, a form of muscular dystrophy known as Lou Gehrig's Disease, he felt obliged to tweet back the fact that he resides in "enemy territory," i.e., East Lansing, MI.
That was April 5, the day before the Michigan State Spartans and the Carolina Tar Heels played in the NCAA Final Four championship game. The next night my team won; but, after meeting him on Twitter, reading his story, and listening to his music, there was no rivalry. I was already a card-carrying member of the AceNoface fan club and following him at Twitter.
For most readers of this blog, muscular dystrophy and Clay Aiken's performance of "Bridge Over Troubled Water" at the 2003 Labor Day Muscular Dystrophy Telethon are synonymous and the reason for the opening montage:
We are thrilled to have him joining us today because when it was made known that he would appear on this telethon, the emails and the fan clubs that this young man has have sent us $30,000 just for the fact that he was here. -- Jerry Lewis
Appropriately, cindilu2's linking graphic for Aspiegirl's montage bears the quotation: The future belongs to those who believe in the beauty of their dreams. Ace Noface signed on to this philosophy a while back.
ALS Diagnosis Determines Goals
In Feb. 2005, Ace Noface was diagnosed with the muscular dystrophy strain ALS, a progressive neurodegenerative disease that attacks nerve cells in the brain and spinal column.
Once the initial shock wore off, he withdrew from his active life as a graduate student, stopped volunteering at a crisis center, and spent the next six months feeling sorry for himself and playing Euchre on his computer.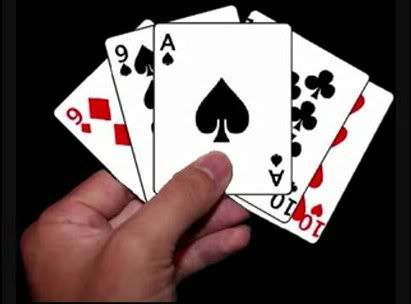 The moniker "Ace NoFace" comes from his card game and describes the occasion in which a player who draws a single ace and nothing else except nines and tens can throw in his cards.
Or, in this man's case, it describes the terminally ill, alternative piano-rock artist working to leave behind a significant musical legacy. Following the revelation that he had time to make his mark, almost every ounce of energy that doesn't go into fighting the disease goes into his music.

I'm not the Iron Horse,
I'm not the luckiest alive.
But I won't sit and wait,
For the Black Angel to arrive
Prior to his illness, Ace was bassist for a touring indie-rock band. Now he writes songs on his computer touch pad and adaptive equipment. Down to the forefinger of his right hand, Ace presses on.
In a Jan. 4 blog on the AceNoface website, he stated his 2009 goals and provided an overview of the journey that has determined his life since the diagnosis four years ago.
From learning to read the treble clef (after all, he was a bassist!), he progressed through advanced music theory, first by reading books and later through lessons and online classes. Songwriting, composition, marketing, and using music notation software have headlined Ace's annual lists of goals.

In the final two weeks of 2008, Ace completed that year's plan to write 20 songs. Twelve were recorded in his home studio. Ten tracks of his new CD Toxic Charm, also a 2008 goal, can be sampled on the player at his website. There are links for lyrics, bio, press, interaction.
Toxic Charm is for sale through CD BABY for $11.99 (CD) or $9.90 (mp3 downloads). Appropriately, the tag line is "Ace Noface: Pure Piano Rock for the Brave!"
His piano-driven melodies are reminiscent of songwriting heroes from both the past (The Beatles, Steely Dan) and the present (Something Corporate, Semicsonic, Josh Groban, Five for Fighting,The Fray). The lyrics are at once honest, introspective, optimistic, and defiant.
MERCY



Mercy I need a reply
Just answer my plea
Ain't got the patience of Job
I ask for the key

To help make it possible
To face this damn disease
God will take His time
to have some Mercy on me
This optimism in the face of adversity has caught the attention of many in the media, from the Chicago Tribune to college radio. "Ace Noface creates music ... that confronts the grit of life ... not soon to be forgotten," said DJ Petros of WUMD radio.
Recently, Ace was one of 31 Americans with ALS selected nationwide to be featured in an online national awareness campaign by the Muscular Dystrophy Association. Efforts to eradicate, treat, and ease the progression of dystrophy are year-round. MDA donations can be made here all year round.


REGRET

Put your house in order my friend
Soon your life will come to an end
With this task you will ask
Have you done more harm than good

Self-reflection wasn't your style
Now you put your conduct on trial
Will it sting wondering
Have you done more harm than good

This is what you get
Living with regret


WLNS-TV interview about Ace's music, living with ALS.
Affirmations, Goals Guide Life
Visiting Ace's
Artist YouTube
page
is informative and inspiring. In addition to the song montages in the right column, there are three
interviews
by WLNS-TV, the first of which is linked here. You can also listen to his music at the Ace Noface and the Misdeals page on MySpace.

Ace's coping mechanism is a tool chest filled with daily affirmations and designated goals. At day's end, he recites four times the affirmation "I will not give up." Just one of many. He assigns himself 4-6 daily tasks and sets weekly and monthly goals.
I'm not the Iron Horse,
I'm not the luckiest alive.
But I won't sit and wait,
For the Black Angel to arrive
Rather than throwing in his cards, Ace Noface is inspiration of the rarest persuasion.
Caro
TECHNORATI TAGS:
Clay Aiken
,
Bridge Over Troubled Water
,
Muscular Dystrophy Association
,
AceNoface
,
Twitter
,
Amyotrophic Lateral Sclerosis
,
ALS
,
Lou Gehrig's Disease
,
Toxic Charm
,
CD BABY
,
montage
,
Official Fan Club
,
Clay Nation