Clay Aiken, the Judge - Montage by SueReu
Secret Weapons Assist Heels (89-72!)
ANTM To Welcome Judge Aiken
America's Next Top Model welcomes multi-platinum singer Clay Aiken as special guest and judge on Wednesday's episode on the WCWG (CW) network. A promo video for the show ran in the previous entry, and SueRue has outlined Clay's qualifications for his ANTM gig in the montage above.

Clay, whose portrayal as Sir Robin in Broadway's "Spamalot" received rave reviews, will star opposite the girls in "Acting Like a Model" before joining his good friend Tyra Banks, regular judge/executive producer, to critique the contestants' performances and decide which hopeful will be eliminated.
Throughout Clay Cyber, tivos are already set for Wednesday's two-hour ANTM edition. Check your local listings, and plan the evening around 8 p.m. EDT.
Idol Experience ANTM Plus
According to an AP story Monday, Clay's American Idol experience gave him an "in" with the ANTM contestants. Fans will especially celebrate the last two paragraphs:


RALEIGH, N.C. (AP) — Singer Clay Aiken says the women competing to be "America's Next Top Model" may have appreciated his judging comments more because of his own reality show experience.

The "American Idol" runner-up will appear in an episode of the modeling show that focuses on stage acting. The 30-year-old Raleigh native said he was selected to be a judge and act opposite the contestants because of his time on Broadway in "Monty Python's Spamalot."

The episode is set to air Wednesday on the CW Network. Aiken has been friends with the show's host and creator, Tyra Banks, since he appeared on her talk show in 2006.

Aiken placed second to Ruben Studdard on the second season of Fox's "American Idol." He says he thinks the contestants knew he understood what they were going through. [snip]

Aiken's recording contract with RCA has ended, and he said he's considering other labels, while also looking at stage and television offers.

"All three look enticing, and I'm in the luxurious position of letting them sit down and come to me," he said.
PHOTO INTERLUDE: Featured in this clickable collection are screen caps from montages by SueReu.
Sly Maneuvers in Carolina Arsenal
Saturday the Carolina Tar Heels won the right to play Michigan State University for all the marbles in the NCAA championship game Monday night. With the final weekend of March Madness set in Detroit, the Spartans definitely will hold home field advantage.
Playing in Ford Field arena, which seats approximately 72,000 fans, the Carolina-Michigan State game will take place only 90 miles from MSU's East Lansing campus. As departing fans of the defeated semi-final teams sell their tickets and head home, around 80% will be sporting green and white Monday night.
However, Carolina has a couple of secret weapons. Just as she did Saturday night, my friend Terri, a classical violinist and lifelong Tar Heel fan, will don the same sweatshirt she wore when Carolina won the NCAA crown in 2005.
If that's not enough, she keeps 2-3 additional shirts nearby and during rough spells has been known to wrap one around her neck. A special token for the 2009 championship game is her plan to transfer a treasured Ram mascot figurine to the top of the TV set. That move alone ought to guarantee the win!
Triple Overtime Spurs Tactic
The other element in Carolina's behind-the-scenes game plan is my childhood Bible. It took three overtimes for the Tar Heels to defeat Kansas in 1957. Between each period, I rushed to my bedroom and prayed over this particular Bible. Eventually Carolina prevailed.
Years later I told Terri about the Carolina-Kansas strategy. Every time Carolina gets into hot water, she calls and urges me to "go get the Bible."
As the sports announcers bestow their audiences with two days' worth of statistics, predictions, and whatnot, little do they know that two retired orchestra teachers really hold the hush-hush keys to the game's outcome.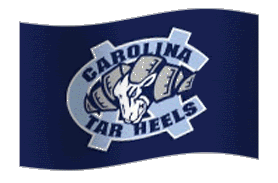 Go, Tar Heels, Go!
Thank you for your kind remarks to LAP & LACIE. They are already lobbying to write another blog. Have a wonderful week, Clay Nation!
Caro
TECHNORATI TAGS:
Clay Aiken
,
America's Next Top Model
,
Tyra Banks
,
montage
,
NCAA Basketball Championship
,
Carolina Tar Heels
,
Michigan State Spartans
,
March Madness
,
Official Fan Club
,
Clay Nation