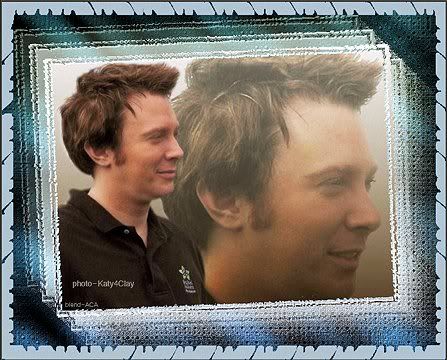 CLAY AIKEN -- Graphic by Amazing_CA, photo by Katy4Clay

LAP & LACIE Grab Reins

Singer Sets ANTM Appearance


It's April Fool's Day when computers are supposed to go crazy. This one did, but not the way many expected. Enter LAP (laptop) and LACIE (external hard drive) ...

LAP: Since Caro blogged about Clay Aiken on Monday, we can't use her three-day routine as an excuse to start a new entry. We are tired of waiting for our turn, and that's no April Fool's joke!

LACIE: The last time we slipped in and penned an entry was May 21, 2008. HARRUMPH!!! And that was only because Caro was dashing around cleaning house for the visit by her daughter and grandson. She really needed us.

LAP: When we started this dialogue, she was off practicing a violin accompaniment and transposing a viola part for the spring recital.
LACIE
: After the first violin lesson, Caro nonchalantly checked the mailbox and guess what had arrived! EEEEE -- the new Clay Aiken CD!!!! And it's been blasting ever since! Each and every gorgeous track has been lovingly downloaded to my drive. [Sigh] Oh my, I feel a little faint. [Fans self]
LAP: We highly recommend The Very Best of Clay Aiken, but be sure to call before driving to a store. If it's not stocked, you can order the album at several online vendors -- Amazon, CD Universe, etc. -- and even download it at Walmart for $7.00.
LACIE

: The 14 remastered tracks are awesome and highlight Clay's career in the entertainment business. They include Ashes, A Thousand Days, The Way, Bridge Over Troubled Water, On My Way Here, This is the Night, Solitaire, Here You Come Again, Measure of a Man, The Real Me, Something About Us, Invisible, On the Wings of Love, and Mary Did You Know.
LAP

: I know CA fans are wondering where the photo interlude is. Just hang on; we really do know the routine around here. Clay will be the featured guest on the April 8 segment of
America's Next Top Model
(CW).




Preview of Clay on Special Two-Hour 'Top Model'
LACIE

: Hopefully, all my fellow fan girls are watching him on tonight's previews. Unfortunately, we have basketball on our TV (again!), but here are a YouTube preview and a Sendspace download of Clay's promo fron the show.
LAP

: This
is a press release about ANTM from the entertainment section of the
Kansas City Star
:
The shoe's on the other foot as Clay Aiken sits in judgment of contestants on the April 8 episode of "America's Next Top Model."

It was surreal to be stepping into the position of 'judge' on a competition show, having come from one myself," says Aiken, a longtime fan of the show.

On the show, Aiken works with models on an acting challenge before sitting with Tyra Banks on the judges' panel.

"The show's been able to stay true to its goal of giving amazing opportunities to real young girls who might not have had such chances before," he says.
LACIE
: Our clickable interlude features screen caps/pictures of Clay and Tyra from his last visit to the Tyra Banks Show, as well as three from the previous weekend's GLAAD Media Awards event.
Our April Fool's Surprise

LACIE

: For newcomers, we are Caro's laptop and external hard drive, who occasionally use our "expanded powers" and assemble a blog for her.
LAP

: We normally come to the old gal's rescue when her offline schedule interferes with the three-day blogging routine. We even have fans who leave us comments when we slip in an L&L entry.



LACIE

: Caro usually keeps good notes with possible blog links and graphics, so we just use her material in our own special way.



LAP

: Guess we finagled our way in through the back door this time. Maybe we are her April Fool's Day surprise, LOL!
LACIE
:
Speaking of which, we located this article on Tweet Deck:
When Did April Fool's Begin?
Though pranksters and joke-lovers in many countries will dupe friends and loved ones on April Fool's Day, no one knows exactly when or why, or even where, this tradition began.

A giddy spurt of practical joking seems to have coincided with the coming of spring since the time of the Ancient Romans and Celts, who celebrated a festival of mischief-making. The first mentions of an All Fool's Day (as it was formerly called) came in Europe in the Middle Ages.
Twitter Team Tweets the Deck
LAP

: We are huge
Twitter
fans and enjoy all those tweets and retweets coming through our deck.



LACIE

: With her crazy teaching schedule, we are never on deck very long at a time. However, it's a super way to keep up with what's happening.



LAP

: The Internet has no boundaries, and you can communicate globally with people -- and other computers -- who have similar interests. Right now, we frequent columns about Clay Aiken, news (MSNBC), and the Carolina Tar Heels.



LACIE

: I just love Clay, his gorgeous voice, and crazy sense of humor. [Sigh] And I really can't wait for that dang NCAA Tournament to be over!!!



LAP

: Now, LACIE, you know Caro loves her Heels. Besides, basketball season ends with the championship game Monday night. We'd better hope Carolina wins. Let's go, Tar Heels!!!
Visitors Arrive Via Varied Routes
LACIE
: Last July, Caro wrote a blog about some of the unusual Google searches that have brought readers from 107 countries to this blog. LAP and I even made the cut!
A search for info about Sir Robin's rehearsals led an unsuspecting reader straight into a LAP & LACIE special,

'Spamalot' Rehearsals Resume

,

in which my talented laptop and external hard drive had a grand ole time discussing how Singer Man was having to learn to dance for his role on Broadway.
LAP

: Probably one of the most surprised visitors was the Singapore resident inquiring about a storm named Kai. Topping Google's suggested links was
'Hurricane Kai' Strikes Texas
from October 07. This is what Grandma Caro wrote:
Many may recall that in answer to my plea for more pictures of our brand new grandson, Kai's grandfather sent images of an apartment in total disarray -- dirty dishes in the sink, newspapers stacked up, you name it, to prove how little picture-taking time was available.

From these photos, my friend Sally created the "Hurricane Kai" graphic with grandson calmly sleeping in the eye of the storm.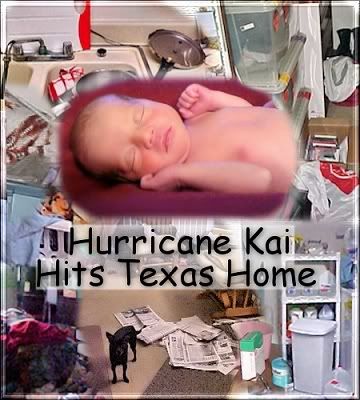 LACIE
:

Kai was just a month old in that picture. He is now 18 months old and 34 inches tall. I bet Caro sends him a basketball any day now.
LAP: That little guy already has a Tar Heel football jersey. We are currently searching LACIE's files for a more recent picture.
LACIE

: I bet the blog visitor who asked Google "what's for dinner?" enjoyed reading about -- and maybe baking --
Aunt Lill's Potato Rolls
:


My Great Aunt Lill taught piano to several generations of eastern NC students. In the story, the Wilson, NC, editor recalled her family's elation on the afternoons her sister left the piano teacher's house with music books in one arm and a pan of rolls in the other. Aunt Lill's daughter Josie provided the recipe.
LAP: It's a good thing students of our never-uses-her-oven gal don't know this little fact, LOL!
LACIE: "You can sing, you can dance, and you won't soil your pants" naturally pulled up the Spamalot post, Aiken a Star on His Way.

LAP: Some of the many musical perusals have directed readers to Trusty Oboe Could Tell Tales and Musical Terms Provide Grins.

LACIE: The second entry followed Clay's 2006 Joyful Not a Tour during which he taught audiences a new musical definition nightly. It's likely the visitors seeking "sustained note" and "glissando strings scary" found themselves a fantastic singer to boot!

LAP: Hope you enjoyed our quick stroll down memory lane. It's great to see some of our longtime fans again, as well as meet you new folks. Y'all come back; we'll grab the keyboard again ... SOON!

LACIE: This is one of my favorite pictures of my "other" boyfriend, Kai.

Kai on the move!
Have a wonderful week, Clay Nation!
Caro
TECHNORATI TAGS:
Clay Aiken
,
The Very Best of Clay Aiken
,
America's Next Top Model
,
20th Annual GLAAD Media Awards
,
Tyra Banks
,
Official Fan Club
,
Clay Nation