Amazing_CA helps celebrate Canada's Thanksgiving 2007 with this lovely graphic.
'Hurricane Kai' Hits Texas
Canada, US Celebrate Holidays
Official celebrations of Thanksgiving in Canada and Columbus Day in the United States will be observed on Monday. However, in some areas, family and community festivities have already begun.


AYSTAFG UPDATE: Clay is scheduled to be part of a two-hour "Are You Smarter Than a Fifth Grader" Special airing on Thursday, Nov. 1, 8 - 10 p.m. ET/PT, baseball playoffs permitting. This announcement came from Fox.



We in the United States commemorate the anniversary of the Oct. 12, 1492 arrival of Christopher Columbus to the Americas. Hoping to find a western route to India, Columbus instead discovered an entire continent that was mostly unknown to Europe, Africa, and Asia at the time.

In 1892, President Benjamin Harrison called upon the people of the US to celebrate Columbus Day on the 400th anniversary of the event. Since 1971, the federal holiday has been observed on the second Monday in October, the same as Canada's Thanksgiving.

Long before the first Europeans arrived in North America, farmers in Europe held celebrations at harvest time, giving thanks for their good fortune and abundance of food.

Cornucopia Honors Abundant Havest

Farm workers filled a curved goat's horn with fruit and grain as part of the celebration. They brought the tradition of the cornucopia or "horn of plenty" with them to Canada.

The English explorer Martin Frobisher, who had been futilely attempting to find a northern passage to the Orient, established a settlement in Canada; and in the year 1578, he held a formal ceremony in what is now the province of Newfoundland to give thanks for surviving the long journey.


This event is widely considered to be the first Canadian Thanksgiving and the first official Thanksgiving to occur in North America. Other settlers arrived and continued these ceremonies. The explorer was later knighted; and an inlet in northern Canada, Frobisher Bay, honors his memory.

For a few hundred years, Thanksgiving was celebrated in Canada in either late October or early November. In 1879, Nov. 6 was declared the official national Thanksgiving holiday.

On Jan. 31, 1957, Parliament proclaimed that the second Monday in October would be "a day of general thanksgiving to almighty God for the bountiful harvest with which Canada has been blessed." The observance was moved to October in 1857 because after the World Wars, Remembrance Day (Nov. 11) and Thanksgiving kept falling in the same week.

Just like the United States, the day of thanksgiving in Canada is celebrated with religious services, parades, family gatherings, pumpkin pie, and a whole lot of turkey.

Happy Columbus Day to all Americans and Happy Thanksgiving Weekend to our Canadian neighbors, many of whom have become good friends through the Clay Aiken online communities!

PHOTO INTERMISSION: A colorful splash of Fall erupts in this clickable interlude of featured graphics. Included are designs by Ambassador of Love, photo by Scrpkym, 1; Clayquebec1, 2; Cindilu2, 3; Amazing_CA, photo by Toni7babe, 4; and Amazing_CA, photo by Shamrock, 5.

Distance Cramps Grandma's Style
Being a long-distance grandmother is very trying as one waits for reports from the initial pediatrician visits and all the other "firsts" occurring during an infant's early days. Then, too, there's the incessant desire for new pictures every single day.

I remember our household's dizzy schedule when a new baby entered the home -- dirty dishes in the sink, unread newspapers, untouched piles of adult laundry, perplexed pets, unmade beds.
I know for a fact this is the scene in West Texas where Kai lives with his mother and grandfather because as tired as he was, Grandpa sent me a set of photos Saturday with the express purpose of reminding me how life can be revolving around a new baby. No precious baby pictures, just images of the chaos. Points well taken!
His sense of humor still intact, Grandpa also got a big laugh out of the humorous-but-true collage my good friend Sally created from the speciall set of apartment photos with Kai sleeping calmly and unperturbed in the eye of the storm.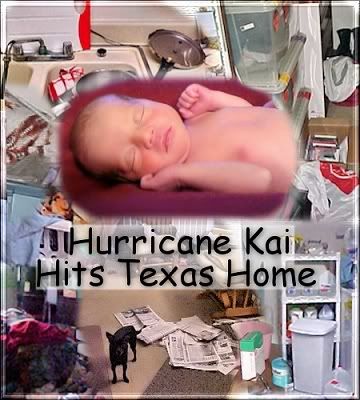 Grandson Kai sleeps through storm. -- Collage by Sally
New Camera to the Rescue
Our daughter has been taking photos with her father's large, ancient digital camera; but that's about to change. Until we can be together, I asked Sally, the photographer, to help me locate one for Jen.
She said it might take a couple of days to research; but by the time I finished teaching music lessons Thursday afternoon, I had an email entitled "I Found the Camera!" A snazzy little Canon with two gigs of memory was promptly ordered.
The new equipment should arrive sometime this week, and I told my daughter it definitely comes with "pictorial strings" attached. Hopefully, the "hurricane season" in West Texas subsides soon.
Below is a clickable of Amazing_CA's Thanksgiving graphic: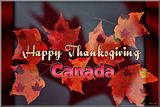 Have a great week, Clay Nation!

Caro

RELATED TAGS: Clay Aiken, Canadian Thanksgiving Day, Columbus Day, grandmother, new baby, collage, camera, Official Fan Club, Clay Nation