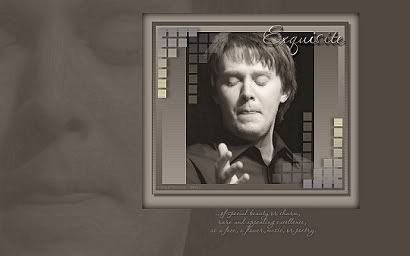 ARTISTIC DESIGN -- The title "exquisite" perfectly describes the handsome graphic by Cindilu2 of Tangerine's photo from Clay Aiken's Summer Tour 2007.
A First for Grandma

Clay Set for Oct. 11 '5th Grader'
Previously thought to be airing in November, Clay Aiken's appearance as a celebrity guest on "Are You Smarter Than a Fifth Grader" is scheduled for next Thursday, Oct. 11.
The second season of the Fox show premiered this week (8 p.m. ET/PT) with a brand new class of students. Mackenzie, Olivia, Sierra, Cody, and Nathan are the five pupils who will appear with Clay next Thursday.
The new 5th graders were selected during a nationwide search this past summer, as previous class members moved on to middle school. An all-new bonus episode with the new group will air Friday at the same time.
Brief bios of the Class of 2008 appear in a story at Reality TV Magazine, including info about their hometowns, favorite subjects, aspirations, and idols.
In late August, Clay taped a celebrity edition of AYSTAFG with all winnings earmarked for The Bubel/Aiken Foundation.
Time to set the recording equipment, for sure!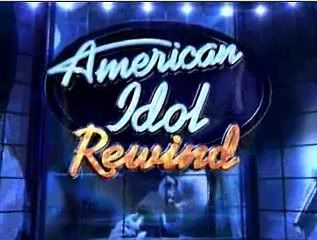 Screen Cap Links to AI Rewind Video
'AI 2 Rewind' Resumes
Clay continues narrating the second edition of American Idol 2 Rewind this weekend with the Miami-Detroit auditions on tap. Check your local schedule for the Oct. 6-7 times at TV Guide or link to Zap2It.
In my area, reruns of the initial show's New York auditions also will be telecast this weekend. As usual, the times are all around the clock. Definitely another assignment for Tivo.
A true fan, I just can't get enough of that voice!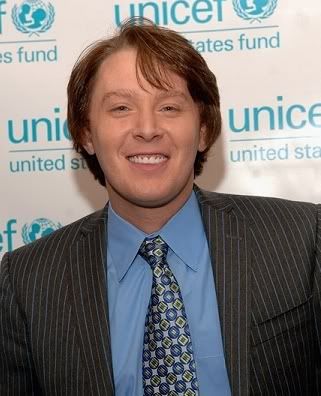 Clay at New York Launch Party
Clay Helps Launch Book for UNICEF
Clay was on hand for the launch of Jenna Bush's new book, Ana's Story: A Journey of Hope, at New York City's Labouisse Hall, UNICEF House, Monday; and news of the singer-UNICEF ambassador's appearance headlined many media sites.
In the book, the daughter of the US president chronicles her experiences working with UNICEF-sponsored charities in Latin America. As an intern for the United Nations Children's Fund, she visited drought-stricken Paraguay in 2006. Proceeds of the book will benefit UNICEF.
Among the media sites covering the event were People and AOL.
A video of Clay's interview during the launch can be seen at ETOnline. Also, on the site's home page, the "Clay Aiken in NYC" video is listed as #1 in the Top 10 Emailed Stories.
Singer Man's enthusiastic fans must have been at it again. Maybe it's because we love the man in blue!

GRAPHIC INTERLUDE: Through the talents of eight visual artists, this clickable interlude encompasses summer, fall, and a "looking back" rewind. Included are designs by Amazing_CA, photos by Toni7babe, 1; Amazing_CA, photos by Fivegoldens, 2; Cindilu2, photos by KarenEh, 3: Claysmelody, 4; and ABeautifulMind, photos by Invisible926.

Retired Teachers' Hangout
Wednesday morning I accidentally stumbled into what has to be the hangout for retired teachers. Would you believe Office Depot?
I had stopped by to make extra copies of my tax records before mailing them to a Nashville accountant. First, I met a former middle school math teacher with whom I worked several years ago. This "retired lady of leisure" still tutors math students the way I teach young musicians, and we traded ideas about record-keeping, makeup policies, etc., while catching up ... in the hangout.
After my former colleague pointed me in the direction of a 16-month calendar, I told the manager he needs to put her on commission. He admitted she knows the store inside out.
Calendar Problem Solved
This fact that I have been pulling out my check book to determine lesson dates in a new month put a pocket calendar at the top of my shopping list. Each one I checked only had one page allotted for addresses, so the same manger suggested I take my selection to a copy machine and create additional address pages. Smart man; he made another sale!
There I was joined by a woman of similar age copying vocal music. I opened the conversation by introducing myself and telling her I am also a musician. Sure enough, here was another retired teacher hanging out at the Depot.
After her initial "Am I supposed to know you?" reaction, we chatted throughout our projects. As it turns out, both our mothers attended UNC-Greensboro back when it was Woman's College. We traded several similar experiences in our field and wished each other well.
LOL, I wonder if there's such a thing as monthly meetings or conventions. Guess I'll find that out soon enough!
Milestone Moment for Grandma
Wednesday marked a momentous occasion for this new grandmother. I unexpectedly heard my grandson's voice for the first time ever!
My daughter Jen was holding Kai while giving me a telephone report about his very first trip to the pediatrician. Her son now weighs 5 lbs. 8 ozs., having gained 6 ozs. since his Sept. 17 arrival; and the little guy has grown from 18.5 to 19 inches.
As Kai made his presence and needs known, I was suddenly struck by the fact that this was a milestone for this long-distance grandma. Even though my grandson was crying, his voice tugged profoundly at my heart. What a memorable moment!
Hopefully, there will be a new picture or two inserted here sometime this weekend. Jen reads her mother's blog at the "Carolina" site, and I just know she will get this little hint.
Below is a clickable of Cindilu2's opening graphic: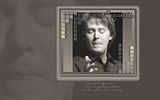 Have a wonderful weekend, Clay Nation!
Caro
RELATED TAGS: Clay Aiken, Are You Smarter Than a Fifth Grader?, The Bubel/Aiken Foundation, Season 2 American Idol Rewind, Jenna Bush, UNICEF, TV Guide, Zap2It, ETOnline, Official Fan Club, Clay Nation