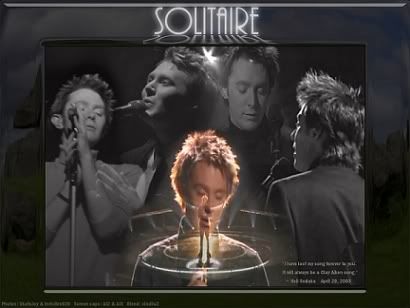 SOLITAIRE REVISITED -- Cindilu2's commemorative graphic features photos by SkateJoy and Invisible926, as well as screen caps from performances during American Idol 2 and 3.
Clay To Perform 'Solitaire'

Sedaka Celebrates 50 Years
"I have lost my song forever to you. It will always be a Clay Aiken song." -- Neil Sedaka, guest judge, American Idol 2, April 29, 2003
With that memorable ovation, Neil Sedaka bequeathed his song "Solitaire" to Clay Aiken. Friday night Clay will join a star-studded cast celebrating the legendary singer-songwriter's 50 years in show business at Avery Fisher Hall, Lincoln Center.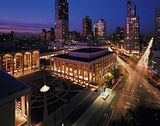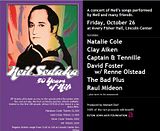 Clickables of Avery Fisher Hall and Neil Sedaka 50 site
In addition to Clay's rendition of "Solitaire," other friends scheduled to perform Neil Sedaka songs include Natalie Cole, Connie Francis, Dion, Paul Shaffer, Lou Christie, Captain & Tenille, Raul Midion, Renee Olstead and The Bad Plus.
Grammy winning producer David Foster, who played piano for Sedaka back when the honoree and Elton John had their 1975 smash duet "Bad Blood," will also entertain. Proceeds from the evening will benefit Elton John's AIDS Foundation.
A host of Aiken fans will be in the audience Friday night. The rest of us look forward to their recaps and possible new Clack!
For more information, see Neil Sedaka Celebrates 50 Years at Yahoo! and the Neil Sedaka 50 website. For a preview and a walk down memory lane, see Clay's AI2 and AI3 Solitaire performances in a montage by SundayNYC at YouTube.
Sedaka will be a guest on Thursday morning's Today Show.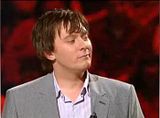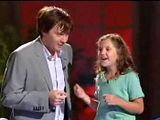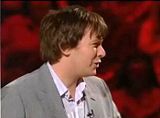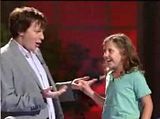 Clickable AYSTAFG outtake screen caps by ClayIzzaQT
Clay Featured in '5th Grader' Outtakes
The Fox website is featuring new outtake video clips from Clay's upcoming appearance on Are You Smarter Than a Fifth Grader? One is of Clay singing "backup" to 5th grader Mackenzie on the show's theme song, and the second reveals how the singer's nut allergy affected host Jeff Foxworthy's usual Snickers snack.
In conjunction with Clay's appearance on AYSTAFG, The Bubel/Aiken Foundation pledge campaign total for "100 Let's All Play Camps in 2008" currently stands at $87,255.30. As of Oct. 23, actual donations tallied $48,378.88.
Supporters are urged to continue pledging and donating. Check with employers to see if they will match donations. Instructions for donating to the "Smarter Pledge Campaign" are located at TBAF link above.
I'm sure my local TV listings are similar to everyone else's RE the air date for Clay's edition of AYSTAFG:
Nov. 1: Sports event, Baseball, Playoff sports, Colorado Rockies at Boston Red Sox World Series, Game 7, from Fenway Park in Boston. (If necessary) Alternate prime-time lineup: a special two-hour episode of ``Are You Smarter Than a 5th Grader?'' featuring Clay Aiken and Regis Philbin playing for charity.
If the World Series goes the distance, AYSTAFG will air the following week. Here's to Colorado or Boston winning the crown in six!

PHOTO INTERLUDE -- graphic artists including Ambassador of Love, photo by PermaSwooned, 1; Amazing_CA, photos by Invisible926, 2; Claysmelody, photo by Pink Cocoa, 3; Amazing_CA, photos by ClayIzzaQT, 4; and Ambassador of Love, photo by Riversend, 5.

Mark Your Calendar

Oct. 26 -- Neil Sedaka 50th Anniversary Concert, New York City
Oct. 27-28 -- AI2 Rewind (LA Auditions)
Nov. 1 -- Are You Smarter Than a Fifth Grader?
Nov. 3-4 -- AI2 Rewind (LA Auditions)
Nov. 6 -- Holiday Celebration on Ice Taping, Las Vegas, NV
Nov. 10-11 -- AI3 Rewind (Best of the Worst)
Nov. 17 -- AI2 Rewind (Hollywood, Part 1)
Nov. 26 -- Christmas in the Heartland Tour begins, Wichita, KS
Dec. 22 -- Christmas in the Heartland Tour ends, Merrillville, IN
Dec. 25 -- Capitol One Holiday Celebration on Ice
Dec. 30 -- Capitol One Holiday Celebration on Ice (repeat)
Jan. 18 -- Sir Clay/Robin joins Broadway's "Spamalot" cast.
'Lonely No More' Leads Love Songs
Clay's "Lonely No More" from A Thousand Different Ways currently leads as the favorite October love song at Favorite New Songs Not on the Radio.
Fans can vote once daily at the love song link above. Kelly Clarkson's "Be Still" is a close second in this category.
"Lonely No More" was the top love song not on the radio in September while "The Old Songs" by Barry Manilow was runner-up.

Lycos 50 Reflects 'Spamalot' News
For the 224th consecutive week, Clay Aiken is listed in the Lycos Top 50. This week the singer is the ninth most popular search with the subtitle "Spamalot."
Speaking of which, CA fans have been spending hours at YouTube watching "Spamalot" videos to acquaint themselves with the Broadway show Clay will join on Jan. 18.
A highly recommended "Spamalot" set begins here, but videos of the show are plentiful. After all the viewing and reviewing, we Clay fans may even have some understudies in our ranks!

When grandson Kai is not singing or checking out his Halloween costume, he is most definitely sleeping. The "Singing Superman" photo was edited by Sally, and ABeautifulMind designed the peaceful nap time graphic.
Thnx to "Aunt" Aspiegirl, Kai has already starred in his first montage. No wonder he needs a lot of naps!
Below is a double clickable of Cindilu2's "Solitaire Revisited" graphic: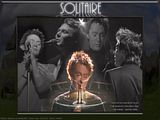 Have a great week, Clay Nation! You, too, Superman!
Caro
RELATED TAGS:
Clay Aiken
,
Neil Sedaka Celebrates 50 Years
,
Solitaire
,
Lincoln Center
,
Are You Smarter Than a Fifth Grader?
,
The Bubel/Aiken Foundation
,
Lycos Top 50
,
Love Songs
,
Lonely No More
,
A Thousand Different Ways
,
Spamalot
,
Broadway
,
Official Fan Club
,
Clay Nation