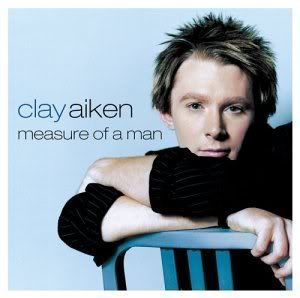 Measure of a Man
Fans Celebrate 4th Anniversary
Four years ago Clay Aiken fans were celebrating the release of the singer's first mainstream album, Measure of a Man. Today the Clay Nation reflects upon the flurry of activities that boosted this beloved disk to record sales and the special accord it still holds for many.
From release parties throughout North America the evening of the 13th to a myriad of TV appearances and performances accompanying the CD's drop, the curtain was rising on Clay Aiken's premier steps onto the worldwide stage.
This abbreviated timeline recounts several events surrounding the CD's rollout. Many are paired with clickable photos.
October 03 -- Elle Magazine: Allison Glock's story, "Aching for Aiken," captured the meaning of Clay for new readers, as well as his ever-expanding fan base.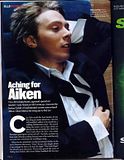 10/4/03 -- Nick Appearance: Clay sang "Invisible" and "I Will Carry You" on Nickelodeon's Let's Just Play Festival.
10/9/03 -- Primetime Live with Diane Sawyer -- In a very poignant interview, Diane delved deeply into Clay's family background, heartbreak and happiness, AI success ("triumph of the nerds"), the hip shake, his feelings about sudden fame, a frank discussion about sexuality, his quick sense of humor. A special rapport was established between singer and reporter that continues to this day.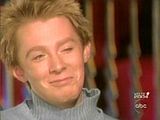 10/11/03 -- The Invisible Video: Clay and a host of fans invited to be "extras" filmed the Invisible video in Hollywood.

10/13/03 -- Jay Leno Show: Leno's NBC studio was packed with Aiken fans, who made their presence known with loud screams and long applause every time Clay's name was mentioned. After performing "Invisible," Clay sat down to chat with Leno, who was amazed that Clay's fans had spent the night in the parking lot waiting for tickets. The first of many all-nighters, as well as Leno appearances, for CA fans!
Present in the audience was a very special fan, Sherry, who had celebrated her birthday by appearing as an "extra" in the filming of Invisible. In the video, she received a hug. On this night, she received a shout-out and a kiss toss from Clay.
During the show, Clay demonstrated his "carnival talent," an ability to turn his feet inside out. Comedian Wanda Sykes, also a guest that night, quipped: "I'm impressed. That's good if you want to kick yourself in the a**!"

10/13/03 -- LA CD Release Party
:
In addition to appearing on Leno the evening of Oct. 13, Clay also made a brief stop at the Los Angeles CD Release Party and was interviewed on JoJo's radio program in the KISS-FM LA studios before flying to New York for East Coast CD promos.

October 14, 2003: MOAM Released
Released at midnight on 10/14/03, MOAM recorded 612,869 sales in its first week (10/19/03 Soundscan report), marking the fastest-selling debut of a solo artist in 10 years. The CD was #1 on the Billboard 200 Chart for two weeks and remained on the album listing for a total of 35 weeks.
10/14/03 -- Entertainment Shows: Clay was featured in a variety of appearances on ET and E!. He visited TRL to promote the album, and fans soon learned the art of voting for a Top 10 video.
10/15-17/03, New York City: On Oct. 15, Clay & Co. performed two songs from MOAM -- "Invisible" and "The Way" -- on Good Morning America. The same performance and chat format was repeated two days later with The Early Show on CBS and The View on ABC.

Talk show hosts really seemed to enjoy interviewing the personable singer from North Carolina, and CD sales soared. Most fans drove to work leaving their trusty VCR's recording the morning show appearances for later viewing. Heady times that many still recall fondly!
PHOTO INTERLUDE: Fast forwarding to Summer Tour 2007, this clickable interlude features graphics by five talented visual artists. They include Amazing_CA, photos by Toni7babe, 1; Amazing_CA, photos by ClayIzzaQT, 2 and 5; PinkCocoa, design and photos, 3; and Ambassador of Love, 4.

Fans Recount MOAM Festivities
Recollections of the Oct. 13 CD Release Parties, midnight purchases of MOAM, and initial spins of the long awaited songs are headlining Clay Cyberspace. Representative are these reflections shared by Clayversity members:
Raquelsg: It's a night I'll always treasure and remember fondly, as I was one of the fortunate 20 to have won tickets to be in studio with Clay that night at KIIS-FM in LA. Excitedly, we met first met the DJ, Jo Jo, and were given instructions.

Once inside the very small studio itself, we could hardly contain ourselves. There was lots of cheering and screaming, some prompted by Jo Jo himself. Clay was so cute sitting there; but at the time, he seemed too shy to actually look at us or interact with us even during the commercials.
We took turns rotating rows so each would have a chance to stand in the front closest to Clay. Vanessa, his PA at the time, was sitting beside him; and Roger was standing in the back of the crowd behind all of us "enthusiastic" fans. We got to watch him chat with others at CD release parties across the country and tape a couple segments for ET the next day.
After the interview, I drove as fast as I could to the Orange County CD Release Party already in progress and posed for lots of pictures holding my autographed picture of Clay. We got to hear the CD over the speakers at Virgin prior to midnight, watched Leno on their TV, and bought our CD's at the stroke of midnight.

It was an amazing night!

Andee1960: I drove to Wal-Mart at 6 a.m. on the way to work. I pulled off the plastic with my teeth and let that music wash over me. I still love MOAM with a passion.
MOAM Heard Round the Office
Coopersgirl: I got my MOAM at 6 a.m., went to work two hours before anyone else, took the CD out of the bag, and kissed it. I plugged in the brand new CD player that I had bought the day before and turned it on as loud as I dared, sat at my desk and cried.

Later when everyone came to work, they noticed the new CD player on my desk and asked when it became OK to listen to music in the front office. I just smiled and said, "Today."

I never got tired of it, but everyone else in my office did. Later in the day a maintenance man came upstairs, stopped at my desk, and said he liked my music. He and others had been working in the basement at 6:30 and said they could hear Clay through the furnace.

Claytonlady: The MOAM CD Party in Hartford was a great night. We all had a dinner and party at a nice restaurant with games and fun, even a Flat Clay. Then we went over to Borders and waited until midnight for the CD release.

They had Clay on "Leno" on a television in the store; but as soon as we got home, I had to re-watch it. It was such an exciting night filled with great memories!

50 Women and One Tiny TV

Smittenwithclay: I thought I was the only fan in Oregon, so I stepped up to coordinate a party with a couple friends. I remember walking into KrispyKreme for the Clay Aiken party pick-up and hearing the manager say, "Give her five dozen." No questions asked.

We were supposed to have a TV to watch "Leno," but the restaurant messed up. However, AprilJoy had recorded the East Coast feed and brought her own set. I'll never get the image out of my heard -- 50 women hovering around a 14" TV "oohing" and "ahhing" and "oh my goshing" when Clay was on.

It's something I will always remember, and I got to buy the first CD in Portland!

WinkAtMe: My CD Release party was right next door to Virgin Records in New York City. It was an amazing night that started with my not knowing a single soul -- six of us at a tiny table getting to know each other and chattering about Clay. We even got a call from Clay while he was still at the LA radio station for his interview.

On to Virgin Records, and I was first in line to get MOAM. The line wove all around the first floor of the store. I am still good friends with all those who snuggled around that tiny table.

Voice of a Lifetime

Rainlover: October 13, 2003 --.all over the country, CD release parties were held for the much-anticipated release of Clay's first CD, Measure of A Man, but none in my small town.

As soon as Clay's "Tonight Show" appearance was over, I grabbed my purse, jumped in the car, and made a mad dash to Wal-Mart. I bought the CD and ran back to car, tearing open the packaging with my teeth on the way. I sat in my car in Wal-Mart's parking lot and listened to all of it. And cried.

The most beautiful voice I've ever heard, the one I'd waited all my life to hear. There are no words to really describe the joy, the pleasure.

Four years tonight. I have never tired of MOAM, and I still listen to it regularly. I feel blessed to have Clay in my life.

Happy Fourth MOAM Anniversary to Clay and his fans around the globe! Have an awesome week, Clay Nation!
Caro

RELATED TAGS:
Clay Aiken
,
Measure of a Man
,
CD Release Party
,
Invisible
,
Anniversary
,
Official Fan Club
,
Clay Nation