FOREVER CLAY -- Special banner by Cindilu2 features a Clay Aiken timeline from Atlanta to the present.
Atlanta Auditions Recalled
'AI Rewind 2' Stirs Memories
The third segment of American Idol 2 Rewind featuring the Atlanta Auditions doesn't air until this weekend, but reminiscing about the first time Clay Aiken sang for the show's panel of judges has been in high gear on message boards all week.
Remembrances of that fateful audition are intertwined with discussions of the singer's upcoming appearances, a rumored Broadway audition, and the varied ebb and flow of topics ranging from the best and worst lyrics ever, charitable fundraisers, CA sightings, and member celebrations of weddings, promotions, or a new grandson's latest smile.
Among the links referenced in the above paragraph are The Bubel/Aiken Foundation, The Way We Make a Difference, and the "Clay Aiken -- Excellent Example" video at Fresh Bread.
Clay Aiken: 2003 at a Glance
A delightful way to get into the spirit is to review 2003 through the collection of graphics by Fountaindawg at the "Clay Aiken Kids" site. Click on the picture below to view the year either as a slide show or in stills.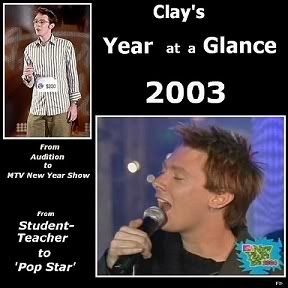 Graphic links to '2003 At a Glance'
Artists Celebrate Singing Career
This corner's commemoration began with Cindilu2's "Forever Clay" banner in which each image of Singer Man along the bottom represents a chronological, pictorial history from present day Clay on the left back to American Idol. For graphic aficionados, the banner is comprised of 38 layers.
The Atlanta Auditions have been preserved in countless montages through the years. Two of my favorites are by Aspiegirl and Cindilu2. The graphics by Amazing_CA and Cindilu2, respectively, link to these montages at YouTube.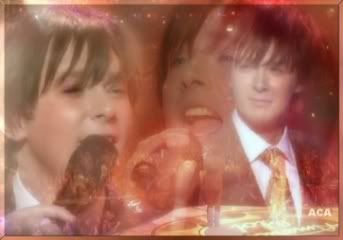 Graphic links to 'What a Feeling' Montage by Aspiegirl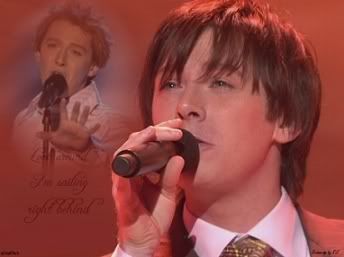 Graphic links to 'Once Upon a Dream/Dream On' by Cindilu2
Atlanta Auditions on Tap
Even though fans listen to Clay narrating Season 2's "Rewind" in each installment, the excitement this weekend is that we will actually see him in the famous Atlanta audition.
"Rewind" features interviews, behind-the-scenes updates, never-before seen auditions, as well as footage from the Season 2 shows.
To locate the times shows are scheduled for your area, check TV Guide or link to Zap2It.

'AI 2 Rewind' Schedule

Oct. 13: Atlanta Auditions
Oct. 20: Austin Auditions
Oct. 27: LA Auditions
Nov. 3: Nashville Auditions
Nov. 10: Best of the Worst
Nov. 17: Hollywood Week, Part 1
Nov. 24: Hollywood Week, Part 2
December -- Reruns of the auditions/Hollywood episodes.
Jan. 5: Group 1
Jan. 12: Group 2
Jan. 19: Group 3
Jan. 26: Group 4
Feb. 2: Wildcard Show
Feb. 9: Top 12 to 11
Feb. 16: Top 11 to 10
Feb. 23: Top 10 to 9
Mar. 1: Top 9 to 8
Mar. 8: Top 8 to 7
Mar. 15: Top 7 to 6
Mar. 22: Top 6 to 5
Mar. 29: Top 5 to 4
Apr. 5: Top 4 to 3
Apr. 12: Top 3 to 2
Apr. 19: Final 2
Aprl. 26: Finale

Photos Aid Memory Stroll
When my computer crashed last spring, I lost all the CA photos and graphics I had carefully categorized by year/event/artist EXCEPT those that had appeared in previous blogs. Fortunately, they were safely stowed in my Photobucket account.
That swipe of the ole hard drive removed several hundred possible decisions for this pictorial walk down memory lane. Even so, this collection recalls the American Idol we celebrate this weekend.
PHOTO INTERLUDE: Featured graphics are by ABeautifulMind, photo by Scrpkym, 1; Cindilu2, 2; Fountaindawg, 3; Cindilu2, photos by Tasapio, 4; and ABeautifulMind, 5.

AYSTAFG Promos Clay's Appearance
At the end of Thursday night's show, Fox promoted upcoming celebrity episodes of "Are You Smarter Than a Fifth Grader," introducing Clay as a "singing sensation." No definite air dates were announced. Below are two clickable caps, a gif, and a Sendspace download of the promo clip.

Special thnx to

ClayIzzaQT

,

Idb51

, and

Goldarngirl

, respectively, for the caps, gif, and promo clip. You can download the clip here: AYSTAFG Promo.

'Hurricane Kai' a Hit with Grandpa
There's a footnote to the previous entry's "Hurricane Kai" collage in which my friend Sally merged the photos of a chaotic "new baby" household with an angelic sleeping grandson. Texas Grandpa thought he had silenced my constant requests for more baby pictures by sending visuals of the tumultuous apartment.
According to our daughter, Grandpa not only admitted that Sally and I had the last laugh but he also printed full size versions for several friends and relatives. The man definitely has a sense of humor!

Reader comments about the incident were hilarious, and I was reminded more than once that West Texas is prone to tornados, not hurricanes. A former Texan, I have even blogged about riding out the infamous F-5 Lubbock tornado in a mobile home.
Twisters are not named; so for the sake of art, West Texas is currently experiencing a hurricane. After all, "Kai" means ocean.
Signed, Sealed, Delivered
To remedy the ancient photography equipment out west, Grandma Caro ordered a sassy little Canon for the Texans. From its departure in Tulsa, OK, I tracked the package's trek through Oklahoma City to Mesquite (TX), and finally into West Texas.
Wednesday morning I was delighted to note that the new camera had been delivered at 9:34 a.m. Sporting two gigs of memory, this little technological component is surely capable of at least a gazillion photos of our grandson, who at three weeks now weighs 7 lbs.
Meanwhile, ABeautifulMind, who normally focuses her artistic talent on a certain singer, applied new Paint Shop Pro tutorials to an early photo of our the little "hurricane." The graphic below was sitting in my PM box when I logged into Clayversity Tuesday morning. Many thnx, ABM!


Movie Message an Eye-Opener
After completing my October tax project, I promised myself some down time, planning to view a special movie from my birthday DVD collection. This past weekend, sleepy or not, I was determined to watch "Camilla."
Unlikely traveling companions, the characters portrayed by Jessica Tandy and Bridget Fonda were busily planning a trip to Toronto to hear a performance of the Brahms violin concerto. I must have jumped a foot off the couch when a bulletin suddenly appeared on the screen: "Incoming Phone Call from Caro."
Now wide awake, I first looked at my silent telephone, then paused the movie and dialed my benefactress, Sally, to ask what in the world was going on. She just laughed and laughed, finally explaining that anytime I call her during a movie taping, she is alerted via the onscreen missive.
I can enjoy movies multiple times. At least on the second run of "Camilla," I will be prepared for the telephone tidings.
This clickable of Cindilu's very special banner opens to a full 800 pixels:


Happy Atlanta Auditions Weekend, Clay Nation!
Caro
RELATED TAGS:
Clay Aiken
,
Season 2 American Idol Rewind
,
The Bubel/Aiken Foundation
,
The Way We Make a Difference
,
Fresh Bread
,
Clay Aiken Kids
,
TV Guide
,
Zap2It
,
grandmother
,
collage
,
camera
,
Camilla
,
Official Fan Club
,
Clay Nation