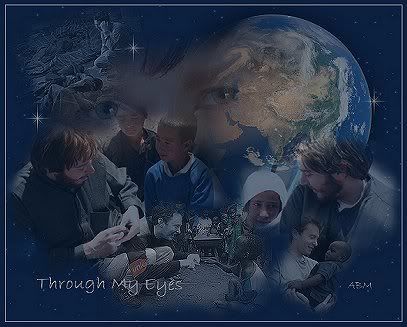 THROUGH MY EYES -- ABeautifulMind's stunning graphic exemplifies Clay Aiken's humanitarian work around the world.
Ugandans Greet Clay with Bows
ABC Accents Charity Activists
Even with the ongoing media blitz about Clay Aiken's January nod for a starring role in Broadway's "Spamalot" and expanded promos for his Nov. 1 "Are You Smarter Than a Fifth Grader" appearance, one of the best articles to come down the pike this week was the ABC News piece about celebrity charity activists.
Although Paris Hilton's new venture -- Paris to Rawanda: Socialite Becomes Latest Star Hitched to Charity -- is the lead, it is UNICEF Ambassador Aiken who is quoted throughout.
These are a few highlights from the four-page article, which is well worth reading and sharing:
Aiken made the cut when he was named a UNICEF ambassador in 2004. The organization approached Aiken after hearing of his involvement with his own charity, the Bubel/Aiken foundation that helps young people with special needs.

Aiken didn't know what to expect during his first visit to Uganda. He walked into the minimalist community center, where he expected nobody to know his name. Suddenly, he was greeted with bows from the crowd.

"When we walked in, they kept calling me your excellency," laughed Aiken. "I think both visits we've been on there have been misconceptions about how important I am."

"Celebrities have the ear and attention of the public," said [Lisa] Szarkowski, who heads the ambassador program for UNICEF. "They tend to command more attention than talking heads from our organization.
Attention that leads to big bucks. Aiken asked fans to donate money to UNICEF to help the children in Lebanon and raised more than $75,000 in 24 hours.

Celebrities sit through classes to learn about UNICEFand all the various issues that threaten children's survival around the world.

"We study as much as we possibly can before we go," said Aiken. "And I study after I go, because I want to be an expert on it. I think it's a disservice to the country you're going to and the children you're trying to help if you don't know what's going on and can't speak knowledgeably about your experience."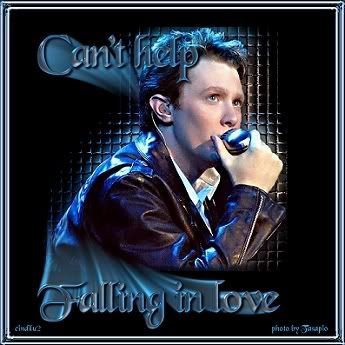 Jukebox Tour graphic by Cindilu2, photo by Tasapio
Newly-Released Jukebox Montages
Hot off the press and on continuous replay on my computer is the latest collaboration by Goldarngirl and Luckiest1: "Best of Atlantic City -- Jukebox Tour 05."
Featuring the work of several videographers, the montages contain outstanding visuals and audio, as well as some knockout special effects.
A must have if you never saw a Jukebox concert and even if you did! To download, click on this link for Goldarngirl-Luckiest1 Productions: Best of Atlantic City Jukebox Montage.
Files in avi and wmv formats are in the upper right corner. Just right-click and save. You'll be glad you did!
PHOTO INTERLUDE: I suppose the word is out that there are now two special guys in my life. Not only has Clay relinquished his longtime claim to my desktop, but my new grandson Kai, who will be five weeks old Monday, has this session taken over the normally all Singer Man clickable interlude.
The photographer was Kai's mother, and CA friends provided fine tuning and extra effects. Sally edited photos 1, 4, and 5, while Amazing_CA surprised Grandma Caro with the blend of several earlier pictures.
Trying on his Halloween cape a few days early, Superman was almost asleep when the final photo was snapped.
Possible Stagehand Strike Looms
With Clay's "Spamalot" debut still two months away and the announcement of his Sir Robin role only two days old, the New York Magazine this week referenced him regarding a possible stagehand strike on Broadway.
And in local news, Mayor Bloomberg offered to mediate labor talks between Broadway producers and stagehands, but the president of the stagehands' union Local 1 said no.
A lot is at stake here, people! If the stagehands strike, Clay Aiken could have to move his own props and scenery!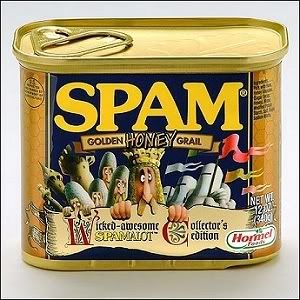 Golden Honey Grail Spam Collector's Edition
Souvenir Shop Sells Spam a Lot
"Spamalot" is derived from a line in the movie when the knights quote "We eat ham and jam and SPAM a lot." Hormel Foods, which produces SPAM products, has even created a special collector's edition can of a new SPAM Golden Honey Grail flavor in honor of the show.
The tin includes artwork from the show's marketing campaign. The Collector's Edition Golden Honey Grail Spam is available at the Spamalot website via the Shoppe link.
Some 'Spamalot' Trivia
Among the props is a cow that weighs 45 pounds and it takes two stagehands to catapult it over the castle.

Spamalot uses approximately 40 coconuts per month, supplied by the Coconut King in Florida.

The Show Portal weighs 2800 pounds.

The heaviest piece of scenery, The Camelot Hanger, weighs in at 6000 pounds.

The Grail Lift that elevates the Lady of the Lake weighs over 4000 pounds and uses 2600 pounds of hydraulic pressure.

It takes over 80 people on stage and off to run each performance.

Six pounds of confetti are used at each performance.

The orchestra uses a Spama-horn, an instrument specially developed for and used only in Spamalot.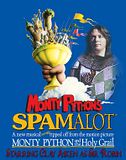 Clickable Photoshop
by Ambassador of Love
There are over 100 wigs (including facial hair) in the show, all hand-tied and made of human hair, yak hair, and synthetics supplied from New York, California, and London.

The mud make-up is a formula specially designed for Spamalot.

The poorest peasants' costumes in the show are actually made of raw silk.

Three feet of "blood" has to be ironed prior to each performance.

There are over 100 undergarments in the show, including 30 pairs of men's fishnets and 56 cod pieces.

The Lady of the Lake's costumes are all comprised of hand-strung glass beads.

The costumes are not only made of a wide variety of fabrics, but many are made of molded ABS plastics, and even nuts and bolts. You are as likely to see a costumer with power tools as you are a sewing machine.

It's a guarantee that one knight will lose their head every night.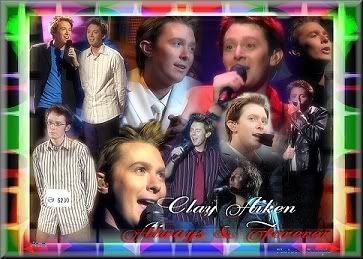 Amazing_CA's graphic links to Atlanta Rewind
'AI 2 Rewind' Swoops Into Austin
American Idol 2 Rewind continues this weekend with Clay narrating the Austin auditions. To locate the times shows are scheduled for your area, check TV Guide or link to Zap2It.
The segment still playing around the clock in Clay Land is last weekend's revisit to the Atlanta Auditions where Singer Man first wowed the judges. The video of Clay's portions can be viewed at YouTube by clicking on Amazing_CA's graphic above.
If you would like your own copy, here is a download via Sendspace: Atlanta Auditions -- Clay Portions.
Below is a clickable of ABeautifulMind's lead graphic: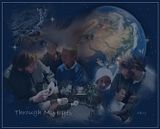 Have a wonderful weekend, Clay Nation!
Caro