Click to expand graphic by AmazingCA with photos by KarenEh.

National Inclusion Project
2011 Gala Tickets Go on Sale 5/3
General admission tickets for the National Inclusion Project's annual
Champions Gala
went on sale at the charity's website at noon Tuesday; but due to a series of snafus, the date has been reset for noon May 3.

Following transaction difficulties, an update was posted by the Inclusion Project on social networking sites, message boards, etc. Here is the new plan:
GALA TICKET UPDATE

: A switch in our email servers caused an error with our ticket page. We are resolving the issue, and in the meantime:





1) Any transactions made today have been voided. If you purchased a VIP ticket earlier, there is no issue.





2) We will do a reset and open purchases for tickets next Tuesday, May 3, at 12 noon ET. Thank you for your understanding. We look forward to seeing you at the 2011 Champions Gala!
Evening activities for the Oct. 22 event begin at 5:30 p.m. and include a recognition ceremony of Champion honorees, dinner, silent and live auctions. Closing the annual event will be entertainment by co-founder Clay Aiken and backup musicians.
VIP tables and tickets, which also include a special reception on Oct. 21, are still available. See the above link for online purchasing information.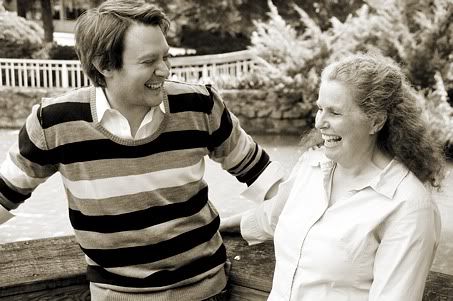 Clickable photo of NIP co-founders Clay and Diane Bubel.

The National Inclusion Project was co-founded in July 2003 by Clay and Diane Bubel, Charlotte mother of a son with autism.
Set at the Raleigh Convention Center, the Gala annually honors individuals and corporations for exceptional achievements in the area of inclusion, promotes awareness of the benefits of inclusion, and raises funds to help support the foundation's projects.
"We hope that everyone will join us for an enjoyable evening including dinner, silent and live actions, and entertainment - all in support of inclusive opportunities for all children," the singer urged.
Past Galas have provided memorable performances by Clay and his backup musicians. For many, top of the list was "Both Sides Now" from the 2010 event with Debra Leisey signing the words as he sang the poignant song written by Joanie Mitchell.

BOTH SIDES NOW an appropriate ending to 2010 Gala.
Singer Clay Aiken with Debra Leisey signing perform duet.
View video by Scarlett full screen at YouTube.
Clay Recognized as a 'Cool Dad
'
Clay Aiken was this week recognized as one of the six coolest gay celebrity dads in a featured article at the
Your Tango
website.
In addition to Clay, the "Cool Dad" article by Kayda Norman includes reports on Neil Patrick Harris, Elton John, Ricky Martin, B.D. Wong, and Dan Savage. Below is the singer's segment:
From Neil Patrick Harris to Clay Aiken, these dads aren't shy about embracing fatherhood.



Clay Aiken

. Though the former American Idol contestant may not have been quite as vocal about fatherhood as others on this list, the birth of his son did give him courage to come out of the closet.

"I cannot raise a child to lie or to hide things. I wasn't raised that way, and I'm not going to raise a child to do that," Clay said (via People.com), about a month after his son was born.

And rather than go the route of adoption or surrogate, the singer and his good friend Jaymes Foster used artificial insemination to bring about son Parker Foster Aiken.

More than anything, Clay strives to raise his son in a loving environment, which, in our opinion, makes him one of the coolest dads out there.
Vote Clay Aiken the Ultimate Idol
Need to put your voting skills to good use? Help vote Clay Aiken the
Ultimate Idol
in the Q-102 four-week poll.
It's very simple. Just click on the contest link and vote for Clay, currently in the quarter finals against Carrie Underwood. You can vote as many times as you wish.
Four sets of Idols -- Clay and Carrie, Adam Lambert and Jordin Sparks, Kelly Clarkson and Kat McPhee, David Archuleta and Jennifer Hudson -- are pitted against each other. These eight have won a previous round, and their fans are trying to boost them to the competition's next level.

The Clay Nation knows who the Ultimate Idol is. Put all that voting experience to work!

Mama Mac's Cane to the Rescue
Driving to Wesleyan Christian Academy to teach music lessons is usually uneventful except that I'm frequently in a race with the clock. It's just my nature to leave at the last minute, something I inherited from my mother.
Monday I was actually on time but had to deal with a branch that was stuck under my car and just wouldn't let go. The noise was so loud that I stopped and tried to knock the branch away to no avail.

I immediately drove to the nearest gas station; and, fortunately, a kind man walked out of the adjoining market at just that moment.
I described my problem and asked if he could help, so he knelt down to take a look.
"It's in the middle of the car!" he exclaimed. "I'll have to find something to stretch that far."
I reached for my mother's cane, which I now use when walking outside the house, and asked if he thought it would work.
He grinned and promptly unhinged me from the abrasive branch. I thanked him, gave Mama Mac a silent nod of appreciation, and was on my way. She would have thoroughly enjoyed the moment!
Have a wonderful week, Clay Nation!
Caro