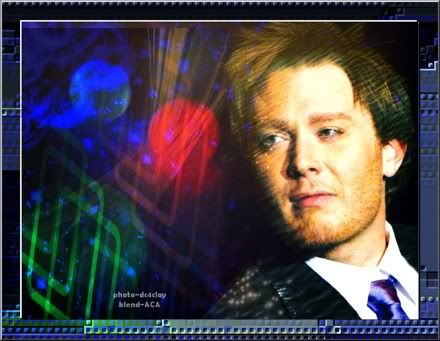 TRIED & TRUE WALLPAPER -- AmazingCA's Clay Aiken graphic using photo by dc4clay expands with a double-click.
Aided by Facebook, Twitter
Aiken Fans Prove Super Sleuths
Clay Aiken fans are among the world's best detectives. A casual tweet or twit pic and the Clay Nation is off and running with the singer's current filming locales, telecast dates, photos, you name it!
In past appearances on

Jimmy Kimmel Live

, Clay has acknowledged the sleuthing prowess of his fans by jokingly offering the collective expertise in locating Osama Bin Laden.
Just in the past couple of weeks, amateur sleuths have uncovered interesting news bites with more forthcoming. For now, read about the singer's Season 3 appearance on Drop Dead Diva, and check out the photo with Tori Spelling on the
Funny or Die
set.
Fountaindawg

's graphic below consolidates the current finds with earlier Tried and True Meet & Greet photo from Atlanta and concert pix by

PermaSwooned

.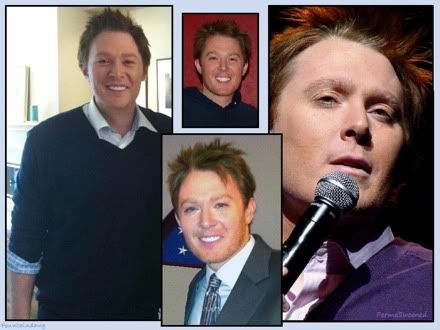 Click to expand graphic by Fountaindawg to wallpaper size.
Allergies, Storms, U-verse Converge
Student spring breaks staggered over a three-week span couldn't have come at a better time, as in addition to music lessons, I am still battling seasonal allergies and, hopefully, fine tuning a new U-verse package that includes telephone, Internet, and TV.
The allergies just don't seem to want to leave, and my Internet connection with U-Verse hasn't figured out how to stay. I am very happy with the television part of the bundle, as I have enjoyed a multitude of new and old movies.
Phone Number Temporary No More
For anyone thinking of switching to U-verse, I highly recommend that you first make sure your phone number will not be changed, even temporarily. Mine took two weeks to finally be reinstated.

Thanks to Vonnie in Texas, Jake in Tennessee, Joe in the Triad, and a whole slew of other technicians with whom I have became acquainted, that is now behind me.
Next on the list is identifying the correct setting for my Internet connection. Just in the time it took to write this blog, the connection dropped three times; and mornings are usually the most trustworthy hours!
Late afternoons and evenings are the worst; but even then, everything sometimes works. The spring storms my state is experiencing may have something to do with adverse atmospheric conditions.

All I want is the steady consistency of my former AT&T wireless. Wonder if U-verse would consider a bundle with my old DSL connection?
Movie Meets in Cyberspace
Internet friends within the Clay Aiken fandom not only discuss the successes, news, and special causes of their favorite singer; they also share family events, health issues, recipes, and a variety of "off topic" subjects.
In the past week,

Scarlett

and I have discovered Cyberspace is a great arena for viewing movies together, even 1,125 miles apart! After syncing the Netflix and U-Verse films, we communicate via Facebook chat during a movie's run.
Such deep thoughts as "awwww" and "oh, no!" are better typed as the dialogue and action continue in parallel locations. So far, we have watched in tandem
Heart and Souls
,
The Dream Team
, and
The Blind Side
.
I was asked how we coordinate these events when one is streaming and the other is playing back a recorded movie via U-verse. The formula is something like this:

Caro

: I'm paused on the movie title.


Scarlett

: OK, I'm there. Go!

And that's as high tech as it gets ...
The next flick has not been determined, but
The Cure
,
It's Complicated
, and
My Cousin Vinny
are in the mix.



Clack Rendering Starts First


Rest assured, Clay fans, that at least two computers are always running in the home of the clack goddess. Before a movie is queued on one machine, rendering of remaining high definition

Tried & True Tour

videos is well underway on the other.
The Atlanta, Pittsburgh, Sarasota, and Mesa T&T tour shows have been completed in high def
and are available in PLAYLISTS at the Wowzers4Clay YouTube Channel and for download at the Tried & True Tour doc on Google.

Charlotte is next, and other concerts will be finished as soon as possible. Do you have a preference?

Scarlett

reads the comments, so drop her a hint in this blog or at the above links.

You Don't Have To Say You Love Me - Clay Aiken
View montage by Hope/Wowzers4Clay full screen at YouTube.
Montages Highlight T&T Performances
Featured in this segment are montages by

Hope/Wowzers4Clay

of two

Tried & True

selections: "You Don't Have To Say You Love Me" and "Misty." Both montages incorporate footage from

Tried & True ~ LIVE

, as well as video/caps by

dlh7777

from the WTTS PBS Special Concert in Chicago.
YDHTSYLM also utilizes video from T&T concerts in Minneapolis, MN (

dlh7777

), Charlotte, NC (

Scarlett

), and Glenside, PA (

farouche

) while "Misty" includes videos from the Pittsburgh and Atlanta shows shot by

Scarlett

.

Clay Aiken performs 'Misty' - Montage by Hope.
Link to YouTube for full screen view.
Have a wonderful Easter Week, Clay Nation!
Caro