NOW AND THEN: Fountaindawg's expandable graphic utilizes similar shots with an American Idol 2 screen cap from 2003 and a 2011 Tried & True Tour photo by PermaSwooned.
Blue Lights Up Autism Awareness Day
Montages Replay Tried & True 2
During the weeks after a very popular Clay Aiken tour, fans can always expect a second version to commence online with montage collections from the ever expanding libraries of video clack.

Sure enough, Tried & True Take 2 is in full swing with high definition videos, a series of "best of" compilations, photos and graphics, still popping up daily in Clay Cyberspace.

Below are three such videos spotlighting the many T&T versions of "Who's Sorry Now," the finale of an eight-part highlight collection, and a montage on the auto-tune series. Special thnx to
melobru
,
forgetyou1276
, and
mrbaconclayaiken17
, respectively.


The Best of 'Who's Sorry Now' from Tried & True Tour.
View montage by melobru full screen at YouTube.
Videographers whose clips comprise the eight-video series below include

Thankful4Clay

,

MBlovesClay

,

Mee4Clay

,

goldarngirl

,

hereforclay58

,

canfly172

,

Scarlett

,

hosaa

,

farouche

,

ClayIzzaQT

,

toni7babe

, and

dlh7777

.

Tried and True Highlights, Part 8 (AZ, CA)
View all eight montages by forgetyou1276 at YouTube.

Tried & True Auto-Tune Memories
View montage by mrbaconclayaiken17 full screen at YouTube.
April Ushers in Autism Awareness
National Autism Awareness Month received a special kick-off Saturday with prominent buildings around the world lit in bright blue shades of hope.


Among the global sites heralding World Autism Awareness Day with the Light It Up Blue Campaign are the Empire State Building, Willis Tower in Chicago, Staples Center in Los Angeles, Niagra Falls, CN Tower in Canada, Christ the Redeemer Statue in Brazil, and the Sydney Opera House in Australia.

The blue light of hope can also be seen in participating airports, bridges, museums, concert halls, schools/universities, restaurants, and retail stores.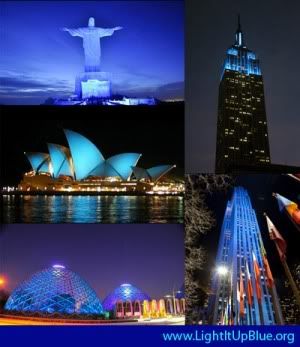 Throughout April, the
National Basketball Association is partnering with international organization Autism Speaks to increase awareness and raise research/treatment funding.

For an in depth report on autism, the events of April 2, and Autism Awareness Month, see the Clay News Network blog.

Have an awesome weekend, Clay Nation!

Caro