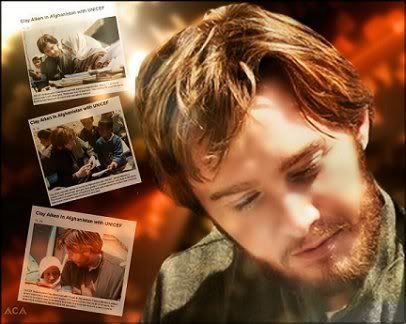 CLAY IN AFGHANISTAN -- Amazing_CA's graphic captures several of the photos UNICEF released from Special Ambassador Clay Aiken's recent trip to the war-torn country.
Recital Rehearsal Tackles Nerves

Champions of Children Honored
On the same night that American Idol was completing a heavily-hyped, two-part West Coast special to "give back" by raising money for charitable causes, multi-platinum recording artist and special education activist Clay Aiken was being honored on the other coast by the National Center for Learning Disabilities for his tireless work on behalf of children's causes.
Celebrating its 30th anniversary at an annual benefit dinner, "Voices of Our Children, Voices of Our Future," at New York City's Marriott Marquis, NCLD "honored three outstanding individuals who have championed the needs of children with learning disabilities and have given them a strong public voice."
More complete biographies can be read in the links provided for the honorees below:
Arthur Ryan, chairman and CEO of Prudential financial, Inc., recipient of the Spirit of Achievement Award.
Clay Aiken, multi-platinum recording artist and special education activist, recipient of the Children's Advocacy Award.
Donald D. Deshler, Ph.D, professor in the School of Education and Director of the Center for Research on Learning at the University of Kansas, recipient of the Distinguished Education Achievement Award.


Link to Clay Aiken's NCLD Bio Page
Clay's Resume, Award Impressive

Fans know Clay's qualifications, but it's awesome that his resume and the award presentation announcement were distributed in press releases before and after the banquet:
Multi-platinum recording artist Clay Aiken's musical success has enabled him to fulfill his lifelong wish to support educational and children's causes. While the accolades that followed his stunningly close second-place finish on the second season of American Idol have validated him in ways that he never could have dreamed of when he was a teacher working with autistic children back in his home state of North Carolina, it is the charitable work that his musical career has enabled him to do that means more to him than anything else these days.
The singer created the Bubel/Aiken Foundation in 2003, an organization that promotes and funds educational and recreational programs for children with special needs. He also serves as a United States Fund for UNICEF National Ambassador, helping ensure that children everywhere can receive a primary education. In 2006 Mr. Aiken was appointed to the Presidential Committee for People with Intellectual Disabilities.
Mr. Aiken holds a Bachelor of Arts degree in special education from the University of North Carolina at Charlotte.
From a nationwide pool, the NCLD selected Currey Ingram Academy of Brentwood, TN, as a featured school for its benefit dinner. As part of the program, the Currey Ingram rock band and middle school chorus serenaded the award-winning singer by performing "Shine" and "I Will Carry You" from his first album, Measure of a Man.
Congratulations to an entertainer who not only is making a difference in this world but also inspires others to do the same!
PHOTO INTERLUDE: This clickable interlude features graphic designs from Clay's Afghanistan trip, the Today Show, Entertainment Tonight, and promo for his latest CD, A Thousand Different Ways. Visual artists represented include ABeautifulMind, 1; MNmeesh, 2; Amazing_CA, 3 and 4; and Claystruck, 5.

Recital Rehearsal Reaps Rewards

The lure of seasonal outdoor activities and the need to prepare for a spring recital battle royally for a young musician's time and interests this time of year. Yet, somehow my flock had a productive pre-recital rehearsal Thursday afternoon.
Ranging from 4th through 9th grade, the string class was joined by a freshman flautist for our next-to-last run through of solo and ensemble selections for a May 20 concert.
One of the most enjoyable numbers will be our closing medley of Irish fiddle tunes -- Staten Island, Devil's Dream, Fishers Hornpipe, St. Patrick's Day in the Morning, and Irish Washerwoman -- in which each student plays an opening solo and is joined by various violin, viola, flute, and tutti combinations to complete the cycle.
For more than an hour, we put to good use our pencils, marking bowings, breath marks, dynamics, repeats, missed accidentals, etc. Then came the round robin of solos in which each, accompanied by their teacher at the piano, got a taste of playing for a room full of people.
Nerves Take Trial Run
Despite the occasional articulation of nerves, most performed well and received enthusiastic applause from their peers. Solo compositions range from the Baroque Period's Bach, Handel, and Lully to Schumann and Bizet of the Romantic era.
The flautist also studies oboe, and a couple of violinists remarked they were hearing this instrument up close for the first time. I think they decided strings are a bargain compared to maintaining premium double reeds.
As I reminded all about the particulars of May 20, my sixth grade violist raised his hand and asked, "Are we doing this for money?" Nope, but the recital is excellent preparation for when they do play for pay.
Even the members of Thursday's audience, the mother and younger brother of a violinist, concurred this was a favorable rehearsal. This teacher figures if little brother could sleep through the entire session, the sweet notes definitely outweigh the sour!
For sure, May 20 is circled in my book. Here is a clickable wallpaper calendar by Cindilu2 just in time for the new month:

Locate Your Birth Date's #1 Song
If you would like to know the #1 hit song on the airwaves the day you were born, check out this chart at Wikipedia.
In light of the previous recital discussion, mine is most appropriate -- "Comin' in on a Wing and a Prayer" by the The Song Spinners, LOL!
Below is a clickable of Amazing_CA's beautiful opening design: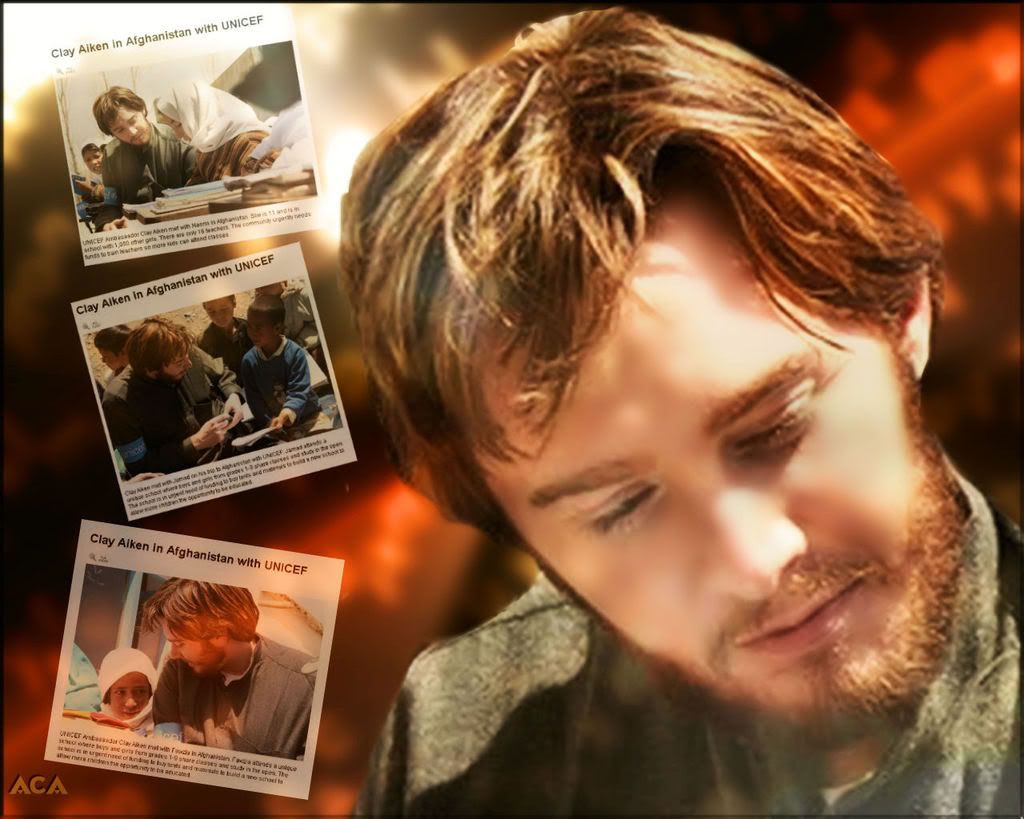 Have a great weekend, Clay Nation!

Caro
RELATED TAGS: Clay Aiken, A Thousand Different Ways, National Center for Learning Disabilities, Children's Advocacy Award, The Bubel/Aiken Foundation, The Bubel/Aiken Foundation, UNICEF, Afghanistan, Currey Ingram Academy, Measure of a Man, American Idol, Idol Gives Back, Clay Nation