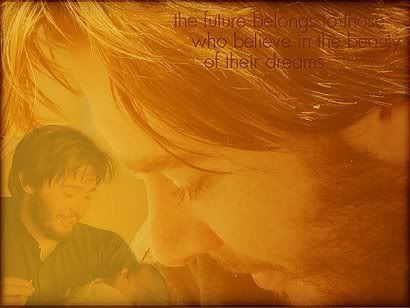 THE BEAUTY OF DREAMS -- Cindilu2 designed this beautiful graphic with photos of UNICEF Ambassador Clay Aiken's recent trip to Afghanistan.
UNICEF Update: $161,798.82 on Day 8
World Embraces Hokie Nation
Like most areas of North Carolina, the Piedmont Triad's ties to Virginia Tech are many. With the large percentage of international students and the mass media coverage of Monday's horrific slaying of 32 innocent victims, citizens of the world have this week have become vested in this Blacksburg, Va., college community, almost as if we are adjunct members of the "Hokie Nation."
Between teaching music lessons and keeping tabs on new totals of Clay Aiken's Afghanistan Appeal for UNICEF funds, I took a tour of sevearl boards communicating messages of sympathy, healing, and hope for Virginia Tech from around the globe.
The boards I visited reminded me of personal posts about blessings and sadness that weave themselves into linear thread discussions or the special forums CA fans maintain for times like these.
A long-awaited promotion, a terrible car accident, a daughter-in-law's difficult pregnancy, the birth of a new child or grandchild -- whatever life brings, Clay Cyberspace shares joys and sorrows daily. None, however, of the tragic magnitude of the Virginia Tech Massacre.


VT students share their grief. -- Photo by Amy Sancetta
Grieving Community Turns to Internet

The Virginia Tech boards/blogs I visited contain endless pages of communiques, starting with the frantic early searches for word of family members and friends who possibly could have been victims.

Even as the list of the departed was being confirmed, the grief-stricken community turned to the Internet to share info and remembrances, ask questions, and comfort each other.
Sites I visited include God Bless Virginia Tech, MSNBC Clicked, CNN: In Honor of the Victims, Crimeblog, Gateway Pundit, and Facebook (registration required).
Thoughtful Missives Fill Websites
Caring posts of hope and tribute have poured in from students and professors of other campuses, as well as citizens from every corner of the globe. These represent a small sampling of the touching messages, many anonymous, I encountered:
Here in Belgium we are confused and heart broken that a a person can do this to others. Our world is not as beautiful as we think, yet we can show the true nature of beauty through our resolve. Hold strong, the world recoils together and heals together. Love, thought, and prayer to all the untimely departed.
Kevin Sterne is from PA too (Eighty-four, PA). He saved his life by making himself a tourniquet out of an electrical cord. He knew how to thanks to Eagle Scout training.
You know, for all the stammering about how the Internet takes away privacy, and "net neutrality", and criticisms that technology has either invaded or taken over our lives...it really can be a great tool that coalesces our nation and enables us to reach out and comfort those in their time of need, when before we would have been helpless, distant witnesses. -- Alex, Lawrence, KS
I have worked with Ryan Clark every summer for the last eight years at Camp Big Heart. He was an amazing person, counselor, and friend. Ryan was always there when you needed him and was always ready with a joke and a smile. It makes to me sad to think of all of the hundreds and thousands of people who will never have the chance to know Ryan and to have their lives touched by. -- Liz, GA
On Yom Hashoah 2007 — Holocaust Remembrance Day — Liviu Librescu, an internationally respected aeronautics engineer who taught at Virginia Tech for 20 years, gave his life so his students could live. Librescu, age 76, blocked the door to his classroom in Norris Hall, giving students time to escape from windows in the room.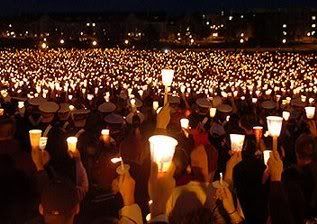 VT Candlelight Ceremony -- Photo by Andrew Russell
Colleges Unite in Candlelight Vigils
Candlelight vigils similar the one held at Virginia Tech Monday night have occurred on many other college campuses this week. According to NBC News, prayer services were conducted on 400 campuses Thursday.
Several of my music students were excited that their school will participate in Friday's "Hokie Hope," a day when many in the nation will don maroon and orange in honor of the VT students and faculty.
Distinguished English professor, poet, and activist Nikki Giovanni offered words of encouragement at the convocation Tuesday (4/17). This is the video of her moving tribute: We Are Virginia Tech!
In one morning, a community of higher learning was forever changed. Endless expressions of sadness mixed with hope for the Virginia Tech family continue to appear on message boards everywhere. These thoughts were posted by fans in the Clay Aiken community:
The ripples of this horror reach out and affect so many. Hopefully, the ripples of love and comfort can reach back to uphold those who are suffering and will continue to suffer in the weeks, months and years ahead. -- Anntherese54
The murderer did even more than end lives and change the lives of everyone on that campus. He also affected individuals throughout the country, and, I daresay, the world. And it is a shame that one madman was able to have that kind of power. Still, I have to believe that in the long run those working for good and through love will change ever so many more lives -- in wonderful ways. -- Brightstar
PHOTO INTERLUDE: This clickable interlude features graphics from Clay Aiken's recent Afghanistan trip for UNICEF. Visual artists include Amazing_CA, 1 and 5; Katt45, 2; ABeautifulMind, 3; and Betty897x, 4.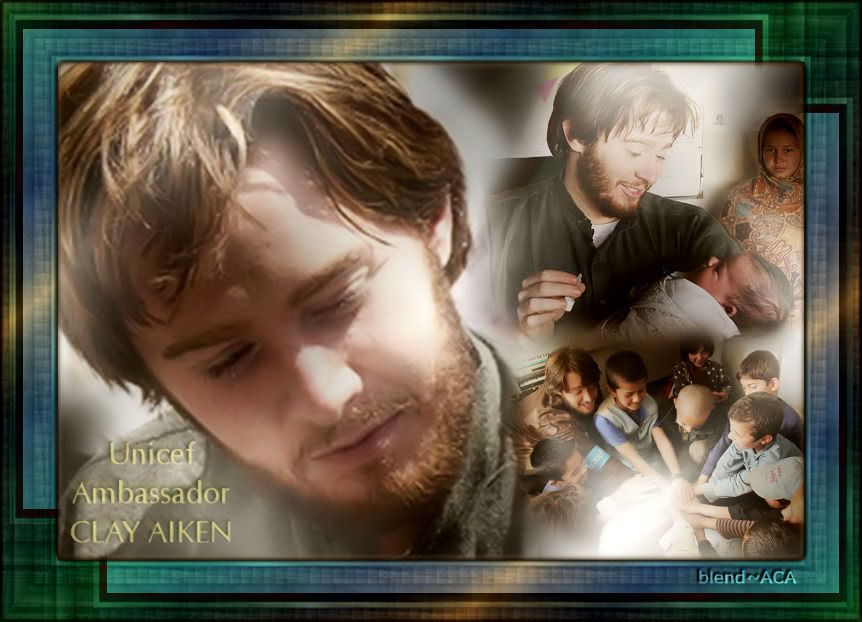 Afghanistan Appeal Stands at $161,798.82

UNICEF announced that Ambassador's Clay Aiken's Afghanistan Appeal reached $161,798.82 at 9 a.m. Friday. The new total represents donations made in the US and in Canada.
The Day 8 update for Clay's $100,000-in-10 days challenge was released in a Fieldnotes blog at 1:05 p.m. Friday. There is a video of Clay thanking everyone for helping to exceed the Afghanistan goal.
The campaign will continue through April 22, and donations can be made at this UNICEF page.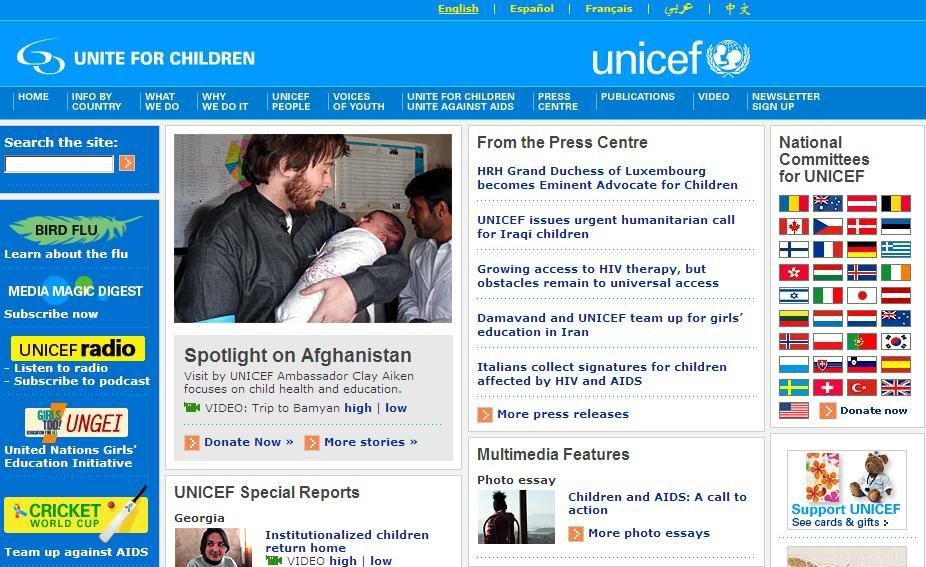 Clay Featured on UNICEF Opening Page
The above photo will take you to UNICEF's Home Page. On Wednesday, the organization posted a new article about Clay's experiences in Afghanistan.
UNICEF Ambassador Visits Afghanistan
NEW YORK, USA, 18 April 2007 – UNICEF National Ambassador Clay Aiken has visited central Afghanistan to see for himself how UNICEF is trying to improve life for children in the region.
"We met a number of young women who have an amazing outlook on their future now in post-conflict Afghanistan," said the US pop star. "There is an amazing sense of hope, an amazing sense of promise, not only in the country but in the youth as well."
At the Sadat Health Clinic near Bamyan, Mr. Aiken saw lifesaving measures in action and even administered the oral polio vaccination to a newborn baby. Besides providing immunization, the clinic offers family planning services and midwives to advise mothers on breastfeeding and good hygiene practices.
People from other villages sometimes walk up to four hours in order to reach the clinic. To read the remainder of the article, view new photos, and watch a short video, see Afghanistan.
Below is a clickable of Cindilu2's opening graphic: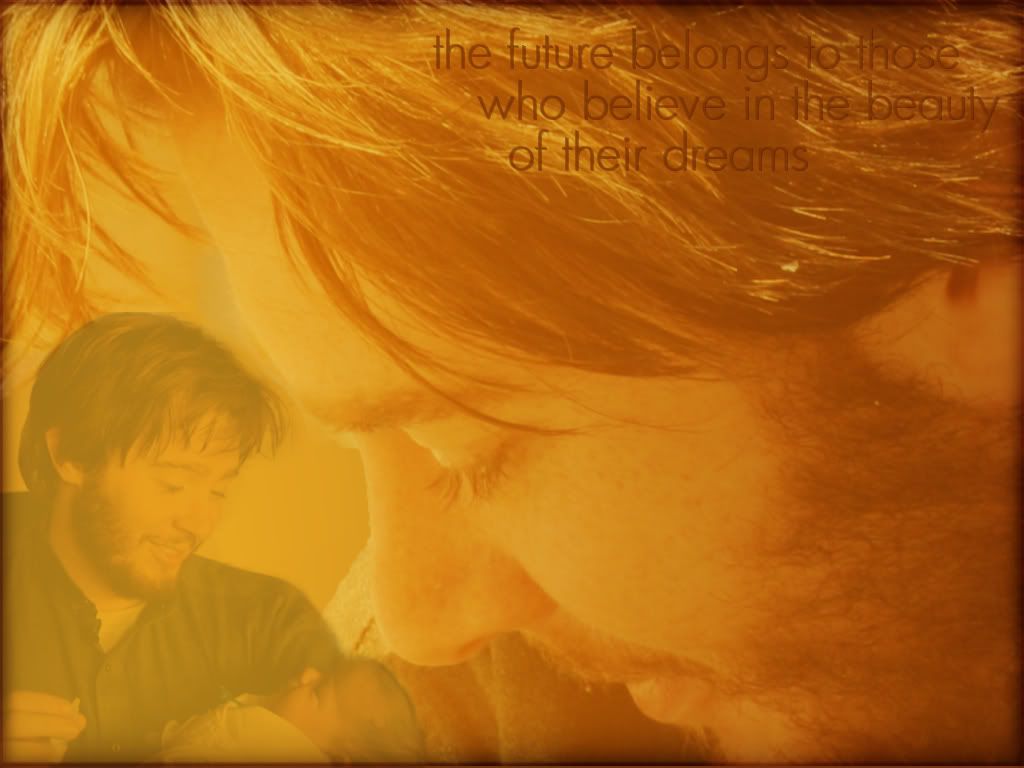 These are Cindy's words about the contrasts drawn between the lives of two men presented in this blog, as well as the quote from her lovely graphic:
Hope and despair, peace and chaos, love and hate ... everything about the two men who, for better or for worse, inspire this blog is a study in contrasts. One a good, kind loving man striving to make the world a better place, the other only taking and destroying, shattering the lives of so many. I can't even begin to fathom what makes a person like this Cho do what he did.
The quote in my graphic says, 'The future belongs to those who believe in the beauty of their dreams.' I mourn for those whose dreams were cut short, and I give heartfelt thanks I am in the world at the same time as the man in that graphic. He makes me believe in dreams.
WORD to all of that!
Be sure to check out Friday's Entertainment Tonight where Clay will speak about his trip to Afghanistan. Have a great weekend, Clay Nation!
Caro
RELATED TAGS: Clay Aiken, A Thousand Different Ways, Virginia Tech, Hokie Nation, UNICEF, Afghanistan, Clay Nation