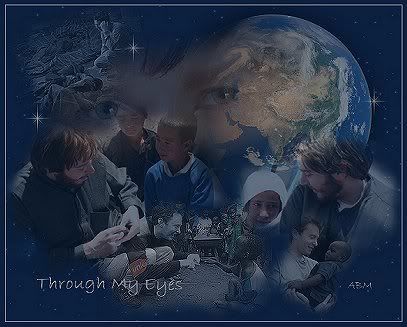 THROUGH MY EYES -- ABeautifulMind designed this inclusive graphic with scenes from Clay Aiken's UNICEF trips around the globe.

$145,902.31 in Seven Days!

Response Astonishes UNICEF
"I've just returned from Afghanistan and see that the need is urgent. Let's aim high and work together to raise $100,000 in 10 days. Join me in standing with UNICEF to help these kids." -- Clay Aiken
4/18/07 UPDATE: 145,902.31 IN ONE WEEK!
In a Fieldnotes blog at 11:04 a.m. Wednesday, Chris Phillips of UNICEF announced that $139,778.60 has been raised in seven days of Clay's 10-day appeal for funds for the children of Afghanistan.
By 5:15 p.m. the new total stood at $145,902.31 in the US. Figures from Canada will be posted at UNICEF Fieldnotes later.

Today is Day 7 of the challenge. We've got three more days left and we've already exceeded Clay's $100,000 goal. How much more do you think we can raise for the children of Afghanistan in three more days?
Look at it this way: If this campaign raises $200,000, UNICEF could provide 333 tents or 970 water pumps. Large tents are used for temporary classrooms and community programs. Each tent costs $700. Hand pumps bring clean water to families in Afghanistan.
My colleagues in the field in Afghanistan tell us that only 23% of people living in Afghanistan have access to clean water. The Mark II hand pumps UNICEF is providing in Afghanistan cost about $206.29 each.
What a powerful way to make a difference in the lives of thousands of kids in Afghanistan!
You can still help provide clean water and education for children in Afghanistan by making a donation at UNICEF.
[April 16 blog continues here.]
When Special Ambassador Clay Aiken returned from his trip to Afghanistan and issued the above appeal for $100,000 in 10 days on Thursday, UNICEF had no idea the speed with which the money would come pouring in. Within 24 hours, the total stood at $70,000; and by the weekend, the tally was $90,000.
News of the appeal has spread throughout Clay Cyberspace and beyond via blogs, email, and word of mouth. Message boards are keeping tabs on the progress at the UNICEF Page where donations are made and visual tallies documented.
When the 10-day campaign began, the thermometer was empty. The total currently stands at $90,000:




Monday afternoon Clay reflected on his visit to UNICEF field sites in Afghanistan with a blog at Fieldnotes, and three new photos from the trip were uploaded to Flickr, one of which is posted in the final segment below.
Blog Traces Surprising Totals
A Fieldnotes blog update traced the thermometer's surprising $60,000 total by 3 p.m. Friday, followed less than two hours later with a second post proclaiming a new total of $70,000.
This is part of the first Fieldnotes update:
Thank you, Clay Fans!
What an excellent Friday! It is only 3 p.m. on Day 2 of Clay Aiken's $100,000 Challenge for Afghanistan. We're thrilled to tell you that we've already raised $59,635. That's more than half of our original goal . . . and we've got eight more days to go.
This money will be used to help kids in Afghanistan. UNICEF will provide medical supplies, text books and meet other urgent needs.
Thanks to so many of you for forwarding Clay's appeal to fund UNICEF's work in Afghanistan to your friends and posting it on your blog.
Donors To Receive Reports, Photos
Contributors who reply to the appeal with a $50 or more contribution by April 22 will receive a link to Clay's exclusive field report, as well as additional photos from his trip to Afghanistan that won't appear anywhere else. Those donating $1,000 or more will receive an autographed copy of the report.
In the second Fieldnotes update Friday, readers were informed that Clay would blog about the Afghanistan trip -- and he did.
The original goal may be near, but the call for funds continues through the 22nd. The generosity of Clay's fans and UNICEF supporters will insure that urgent medical and educational needs are met in Afghanistan. Donations can be made at this UNICEF page.
In my ideal world, no child would suffer. Charitable instincts would prevail. There would be global acceptance of all different types of people. -- Clay Aiken
PHOTO INTERLUDE: This clickable intermission features the beautiful graphics CA fans have created from UNICEF trip photos and screen caps. They include Amazing_CA, 1 and 2; J4Clay, 3; Clayquebec1, 4; and Claysmelody, 5.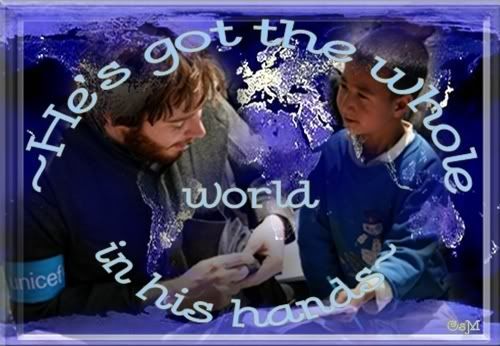 Raleigh Paper Welcomes Clay Home

The Raleigh Chronicle featured an excellent story -- Clay Aiken Returns from Afghanistan -- on Saturday, April 14. This is just the beginning:

RALEIGH - United Nations Children's Fund (UNICEF) Goodwill Ambassador and singer Clay Aiken just returned to his hometown of Raleigh from his first visit to Afghanistan, where he aimed to raise awareness about the hope and promise he has seen in the young people of the war-torn country.

"The people here are very strong and they are very proud of their country," Mr. Aiken told reporters in Kabul on Wednesday, praising the "strength and conviction of the Afghan people and their ability to make sure that this country returns to its glory after such a long darkness."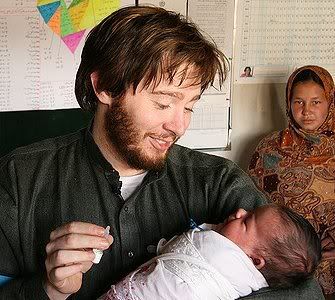 Clay Aiken in Afghanistan with UNICEF

A Very Special Coincidence
A mailbag blog here is long overdue. The comments written by OFC readers always provide amazing additional insight into the featured topics. One from the 4/13 "Clay Appeals for Afghanistan Aid" entry could not be more relevant, and I would like to close this edition with smz80219's very special remark.
I was so impressed that I encouraged my friend Smz, a passionate knitter and Clay fan, to include the account in Smz's OFC journal, which she did. Here is one fan's very special story:
I thought one of my new knitting projects was very timely, to say the least. Afghans for Afghans is one of the organizations for which I knit. Their turn came up in my rotation, and on the 28th of March I started a wool baby blanket for them.
I will always have a soft spot for that blanket since it was being done while Clay was actually in the country. I can honestly say that since starting this blanket I have felt the need to pray -- deep inside -- a lot more than usual. That happens sometimes.
Much prayer has happened while sitting and knitting on this blanket. I hope those blessings are in each stitch and wrap around that baby who eventually uses this offering from a US knitter who has a heart for that country and its people.
Below is a clickable of the opening graphic by ABeautifulMind: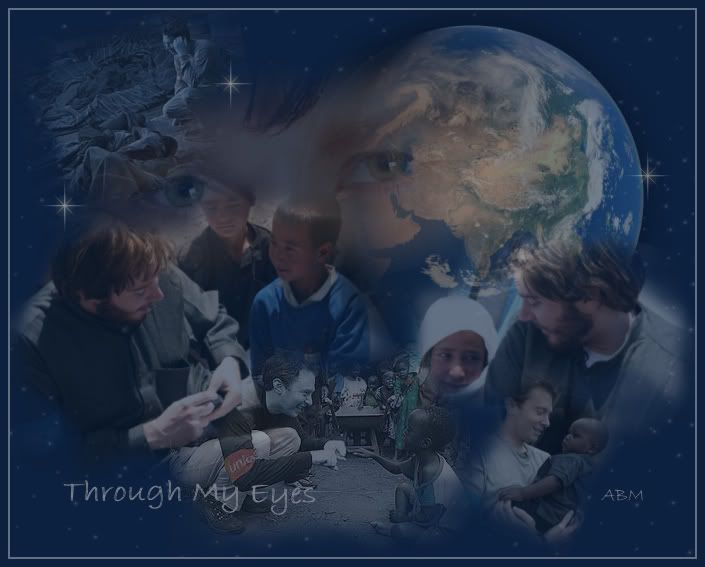 Have an awesome week, Clay Nation!
Caro
RELATED TAGS:
Clay Aiken
,
A Thousand Different Ways
,
UNICEF
,
Afghanistan
,
Raleigh Chronicle
,
Afghans for Afghans
,
Clay Nation