YOU'RE GONNA SHINE -- Amazing_CA's lovely graphic features Pink Cocoa's photos of Clay Aiken at The Bubel/Aiken Foundation's March 31 Champions of Change Gala in Raleigh.
A Tale of Three Phones
'Grand Central' at Music Lessons
I imagine the two red-headed brothers who take music lessons here on Wednesdays sometimes think my house is a mini replica of Grand Central.
Once their arrival coincided with a four-engine fire alarm, complete with ladder truck. Students, mother, and teacher stood on the porch watching as a fireman with an ax entered a home across the street and determined all was well.
Almost every Wednesday, UPS deliveries for my Internet business seem synchronized for the minutes just prior to or during their weekly piano and violin instruction.
Being young southern gentlemen, the students usually help their teacher shove the boxes inside, temporarily stacking them beside the piano. As you may have read in the previous entry, one of those boxes last week included my computer coming home from its trip to a Charlotte repair shop.
I generally work through the stack of boxes as I need them; and some calmly wait behind the grand for days and, on rare occasions, weeks.
Everyone who has talked with me on the telephone during the past several months breathed a sigh of relief when I finally ordered a new cordless handset the end of February. My friend Sally had even sent me a discarded -- but still kicking -- cordless that worked well in tandem with the handset off my fax machine. The trouble with the latter was I often forgot to return the phone for its overnight recharge.
Cordless Order Hits Snag
When I placed the order with Circuit City, I lived up to my Scottish heritage and thriftily opted for the least expensive shipping plan. After one month and no phone, I dialed their 800 number. Customer Service promptly deemed the shipment lost and set up a replacement order. The next morning, however, they informed me the company was out of this particular item and my account would be credited.
Back to the drawing board, I decided to look for a telephone in town and continued alternating the old duo. One phone was actually more reliable on incoming calls, while the other was more successful in dialing out. Both, however, were prone to dispensing -- at will -- sudden loud screeches in the middle of a conversation.
About 10 days ago, I was searching for my latest shipment of food bars and remembered I still had one more box behind the piano. I picked up the package and immediately noticed that it was lighter than previous food bar orders.
There, waiting patiently by the piano for more than a month had been the missing cordless. I notified Circuit City, and so far the new telephone is purring like a dream!
PHOTO INTERLUDE: These clickable graphics feature the talents of five visual artists, who have captured singer Clay Aiken in concert and on his recent UNICEF trip to Afghanistan as a special ambassador. They include Cindilu2, 1 and 5; ABeautifulMind, photo by Scrpkym, 2; Amazing_CA, 3; and Ambassador of Love, 4.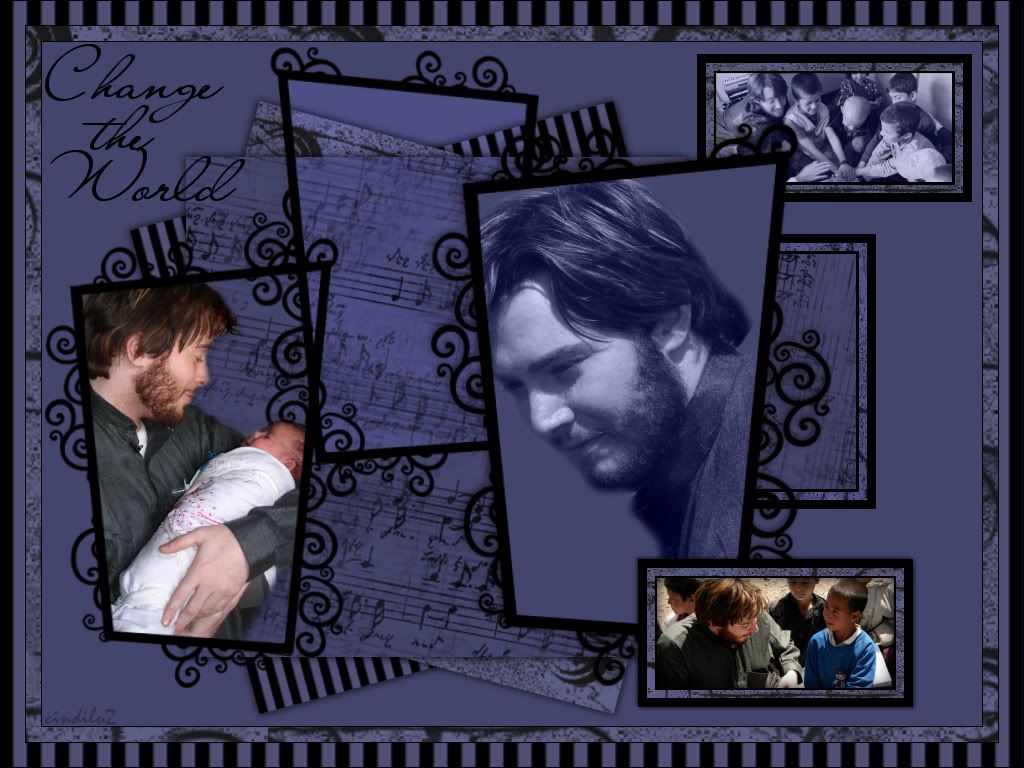 Clay on WNYC Radio at Noon Thursday
Clay spoke about his UNICEF trip to Afghanistan on The Leonard Lopate Show on WNYC public radio at noon Thursday. The program airs weekdays at 12 noon on 93.9 FM and AM 820; fans were able to stream the interview from the site. This information appears online at WNYC:
In Another Light -- Clay Aiken became a household name through American Idol. He's here today to talk about becoming a UNICEF ambassador, and working to bring the everyday lives of children in Afghanistan to the spotlight.
Underreported: Clay Aiken on Afghanistan -- Clay Aiken has had plenty of media exposure. But he joins us for today's "Underreported" to talk about a subject that doesn't get a lot of press: health care and education in Afghanistan. Clay Aiken recently returned from a trip to Afghanistan as a UNICEF Ambassador, where he helped launch the "$100,000 in 10 Days" campaign to support Afghanistan's health centers and schools.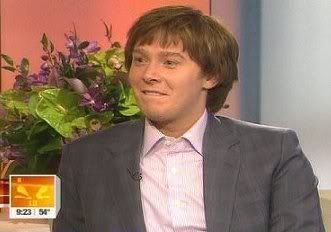 Clay on TODAY -- Screen Cap by Geekette
Prior to his appearance on WNYC, Clay dropped by NBC's Today Show for a brief interview, which can be downloaded at Clack Unlimited or with these Sendspace links: Today 'Invisible' Intro and Afghanistan Today.
Special Thank You From Texas
Many thnx for your kind thoughts and prayers for my MIL. I have read her the messages for NinaB from the Gratefulness candle site, as well as in blog comments. She still awaits further tests and is amazed that many people from three countries have expressed such caring thoughts.
All the best to those dancing the "ticket tango" in this week's pre-sales for summer concerts in Knoxville, Los Angeles, Sterling Heights (4/26); and Newark (4/28)!
Below is a clickable of Amazing_CA 's opening gala graphic: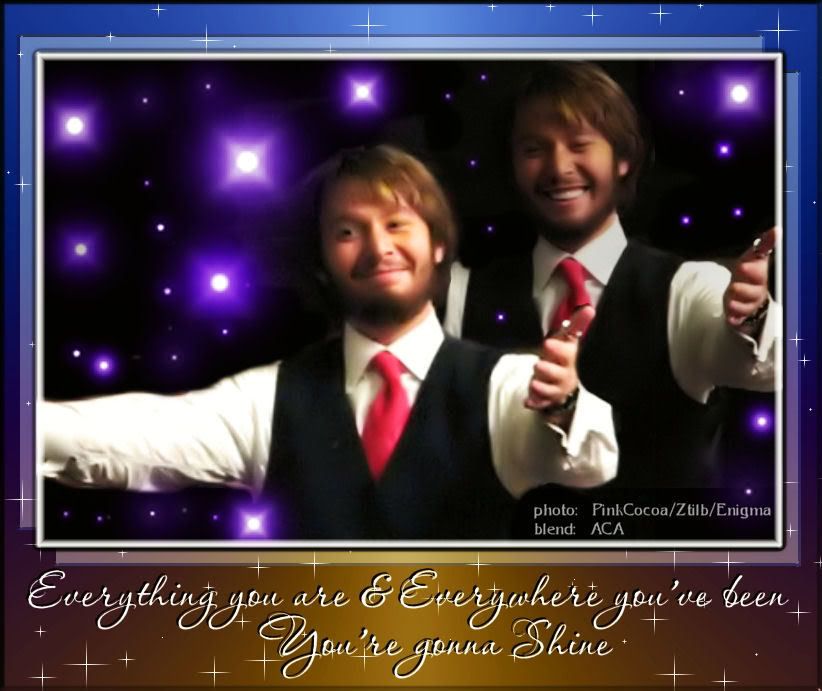 Have a great week, Clay Nation!

Caro
RELATED TAGS:
Clay Aiken
,
A Thousand Different Ways
,
The Bubel/Aiken Foundation
,
UNICEF
,
Afghanistan
,
Clay Nation