USING YOUR VOICE -- In Amazing_CA's beautiful graphic of photos by Invisbile926, Clay Aiken addresses TBAF's Champions of Change Gala in Raleigh.
TBAF, Jericho, New CD
Fans Support Clay's Causes
If the CBS show Jericho receives a slight bump in the ratings this week, the producers will need to send Clay Aiken a thank you note. In a blog Monday, he acknowledged fan support of The Bubel/Aiken Foundation's annual Champions of Change Gala and included a plea to help save one of his favorite television shows, Jericho, which is currently lagging behind in the ratings on Wednesday nights.
Apparently, Clay and his good friend and backup partner, Quiana Parler, are hooked on the show, so much so that she suggested he blog and ask his fans if they, "in their infinite power," would rally to keep Jericho on the air. He even provided instructions for downloading previous episodes from iTunes.
In no time at all, Claymates had spread the word, provided storylines and downloads for Jericho novices, and located an Eonline site to Vote To Save One Show. Balloting, which began immediately, ends on Friday, April 6.
LOL, the man knows his show is in good hands!
Clay Thanks Fans for TBAF Backing
In the same blog, with final tallies still coming in from the weekend's Champions of Change Gala in Raleigh, Clay thanked his enthusiastic fans for supporting the foundation by raising money and awareness:
"I have NEVER seen ANYTHING like the AMAZING response that TBAF received on this past weekend! You guys are UNBELIEVEABLE! I don't have a total yet, but as soon as I am able to I will let you know. What I do want to say now is a heartfelt thanks to those of you who have supported TBAF over the past several years.
"A tremendous thanks to those of you who were AND were not able to come this weekend, but either way helped us achieve such astounding success in our drive to raise funds and awareness to continue including kids with disabilities, and to help them have opportunities that they might not normally have."
Unofficial Gala estimates have been quoted at $184,000-plus, but that figure is likely to change. In Kevin Bacon's Six Degrees challenge, which ended at midnight March 31, TBAF Charity Badge garnered 2,198 donors and $43,983, qualifying as one of six causes set to receive $10,000 from the organization.

Creative Control of CD Thrills Fans
Though the headline of a new People interview touts Clay Aiken: 'Idol Is a Drug,' the paragraph that most excites the singer's fans concerns his indication that a new album with more creative control will soon be in the works:
"We are going to be going out on tour this summer. And we're actually looking into making another album pretty soon. This time we're going to do something more creative. And so I'm excited about that, 'cause I'm looking forward to having a little more free reign than I've had in the past. Each time I've done an album, I've had a little more creative control over what happens."
Asked his recommendation to Idol contestants about making the most of their fame, he discussed his philosophy in depth:
"I think that where I am today is a direct result of God's plan to put me in each place in my life. Find something that you are passionate about that gives back to your community.
"I think there's a misconception that really upsets me when people say, 'If you're in the public eye you have an obligation to let me know when you're gettin' married, who you're gettin' married to and who you're dating.' That's bull.
"But you do have an obligation to be a role model. From the beginning, I realize I got this only because God wanted me to be here. I think anybody who has any microphone to use who doesn't use it for the benefit of those around him is remiss."
That's our Clay, using his voice!
PHOTO INTERMISSION: This clickable interlude features graphics from last weekend's TBAF Champions of Change Gala. Visual artists include Amazing_CA, photos by Butterflyshine, 1; Amazing_CA, photos by Enigma, 2; Fountaindawg, photos by Butterflyshine, 3; Amazing_CA, photos by Irishbookgal, 4; and Cha Cha Trusty, photos by Invisible926, Irishbookgal, and Butterflyshine, 5.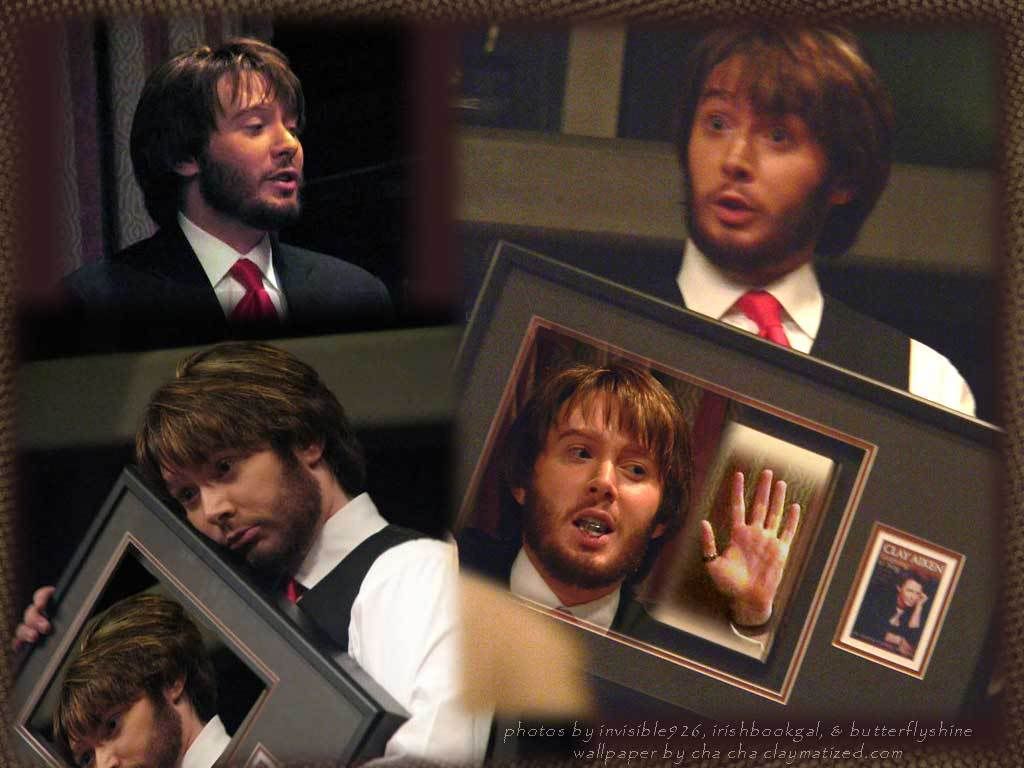 Naismith Honors TWC Champs, UNC Coach
Monday's announcement at the NCAA Men's Final Four about two of the seven finalists for the Naismith Memorial Basketball Hall of Fame Class of 2007 has this Texas Western grad-Carolina gal over the moon!
The 1966 NCAA champions from Texas Western College (now the University of Texas-El Paso) and UNC Coach Roy Williams are among this year's inductees -- five coaches, a referee, and an entire team -- who will be enshrined in the Hall of Fame during festivities in Springfield, Mass. Sept. 7.
Both the Texas Western championship team and Coach Williams have been featured in blogs in this corner. Congratulations to the seven inductees, who also include Mendy Rudolph, referee, and coaches Phil Jackson, Van Chancellor, Pedro Ferrandiz, and Mirko Novosel.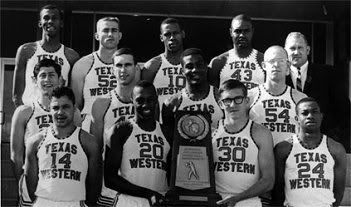 1966 Texas Western Basketball Team
TEXAS WESTERN - TEAM, the 1966 NCAA National Champions, became the first team in NCAA history to win a title with five starting African-American players, beating an all-white Kentucky squad in the Championship game. Regarded by many as a key turning point in integration and increased equality in athletics, the highly publicized and inspirational Championship game also capped an amazing 28-1 season for Texas Western, led by Bobby Joe Hill and David Lattin.
Coached by Hall of Famer Don Haskins, this true 'team' was comprised of African-American and white players, with seven different players leading the team in scoring. In 2006, forty years after the Miners captured the national title, their story was made into a major motion picture, Glory Road, the team visited the White House and was honored at halftime of the 2006 NCAA Men's Championship Game.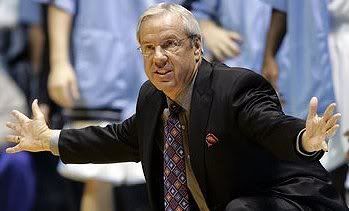 Tar Heel Coach Roy Williams
ROY WILLIAMS - COACH, a native of Asheville, NC, is the third coach in history to lead two schools to an NCAA National Championship game, and has led both Kansas and North Carolina to a total of five Final Fours (1991, 1993, 2002, 2003, 2005), three national title games (1991, 2003, 2005), and won an NCAA Championship with North Carolina in 2005.
Williams also played on the freshman team at North Carolina and was an assistant in Chapel Hill before accepting the head coaching job at Kansas in 1988. His teams have made 18 consecutive NCAA tournament appearances, winning at least one tournament game in each. Williams is a six-time National Coach of the Year, and in his 18+ years of coaching he has become the fastest coach ever to reach the 500 win mark.
Now how cool is that? Standing-O for the Texas Western basketball team and Coach Williams!
Family Cheers Soccer Novice
As much as I enjoy collegiate sports, I have to admit I know very little about soccer. After all, Mr. Caro and I raised a ballerina.
My brother's teenaged sons play, and one even referees for younger children's games. We now have another fledgling soccer player in the family -- four-year-old William, my sister's grandson -- who is breaking all kinds of records and keeping everyone in stitches at the same time.
At his first practice, William had quite a crowded cheering section with his sister Grace, parents, and grandparents applauding his newfound sport. Most of the adults also recorded his every move via digital and video cameras.
By the first game, my grand-nephew had made a name for himself. The ball came to him, he was told to run, and that he did -- past his field of play and through two other soccer games to boot. About a week ago, he scored his first goal ... for the other team, not once but twice!
As for Grace, sitting on the sidelines of a game is "boring!" This twin inherited some of our family's dancing genes; and come May, the little soccer champ will be returning sideline favors for his sister's tap/ballet rehearsals and recital.
Below is a clickable of Amazing_CA's handsome lead graphic: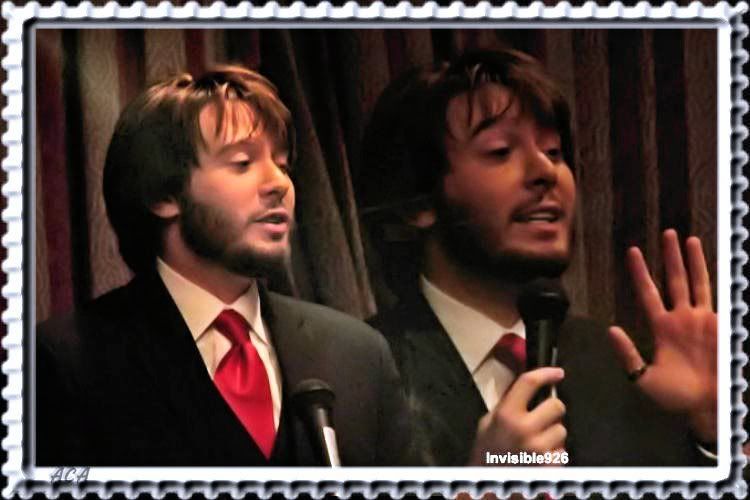 Have an awesome week, Clay Nation!

Caro
RELATED TAGS: Clay Aiken, A Thousand Different Ways, The Bubel/Aiken Foundation, Champions of Change Gala, Six Degrees.org, Kevin Bacon, TBAF Charity Badge, Jericho, People, Clay Nation, Naismith Hall of Fame, Texas Western College 1966 Championship Team, UNC Coach Roy Williams, Soccer