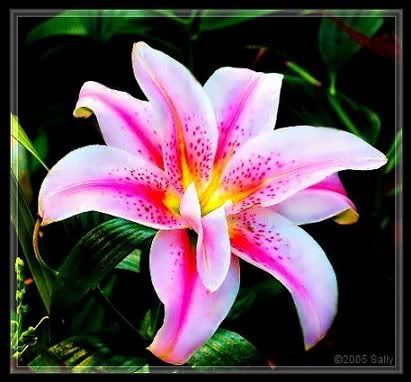 NEW BIRTH -- This beautiful tiger lily graphic by Sally commemorates Easter and the new season.
Rebirth and Renewal
Easter Celebrates Resurrection
Sunday Christians all over the world celebrate Easter, an occasion commemorating the crucifixion, death, and resurrection of Jesus Christ. The day also honors the rebirth of spring and, for many, the renewal of faith, hope, and new life.
Since its conception as a holy celebration in the second century AD, Easter has had its non-religious side and, like most Christian holidays, was originally a pagan festival.
The ancient Saxons celebrated the return of spring with an uproarious festival commemorating Eastre, their goddess of offspring and of springtime. When second-century Christian missionaries encountered the tribes of the north with their pagan celebrations, they attempted to convert them to Christianity, but in a clandestine manner.
To save lives, the missionaries cleverly decided to spread their religious message slowly throughout the populations by allowing them to continue to celebrate pagan feasts, but to do so in a Christian manner.
Eastre Merges with Easter
The pagan festival of Eastre occurred at the same time of year as the Christian observance of the Resurrection of Christ. It made sense to alter the festival itself and make it a Christian celebration as converts were slowly won over. The early name, Eastre, was eventually changed to its modern spelling, Easter.
Both the rabbit, Eastre's earthly symbol, and the exchange of eggs, a celebration of springtime's rebirth, were centuries old customs of the pagan festival that eventually merged with the religious Easter season. More about the history of Easter and the parallel pagan festivities can be read at Wilstar.
Recollecting Easters Past
Among my most vivid childhood memories of this weekend are the frigid Easter mornings that our junior high band played for early sunrise services around Greenfield Lake in Wilmington, NC. Fortunately, we had wool uniforms -- and a cup of hot chocolate not far behind.
One of my favorite Easter stories occurred a few years ago when Mr. Caro explained to a young Sunday School class the meaning of Good Friday, the day that Jesus Christ was crucified on the cross. A percussionist, Mr. "C" convincingly provided bombastic sound effects to portray the earthquake and horrific storms that accompanied Christ's death.
As he finished, he noticed a very perplexed expression on one boy's face. Suddenly, the youngster raised his hand, and exclaimed, "It's not Good Friday; it's Bad Friday!"
Special Pictorial Celebration
This blog's pictorial Easter celebration takes place on three stages -- the glorious landscape photographs by my friend, Sally; clickable blends of Clay Aiken photos by his talented fans; and Sally's beautiful floral graphics signifying the rebirth of the spring season.
Many may remember the featured artist as Sally888, whose OFC blog is currently on hiatus. Her stunning graphics of Clay are still back there, however.


Even though I have played for numerous Easter sunrise services, I have never been to Canada. Sally's beautiful photo of a sunrise along the Icefields Parkway transports us to the heart of the Canadian Rockies.



Lake Louise near Banff, Alberta, reported to be the most photographed lake in the world, was recorded for us by Sally.



In this photo, Sally captured springtime one morning in the Smoky Mountains of Tennessee, a state I called home for 17 years.
'Use Your Voice'
On a much larger stage than he probably ever imagined, Clay Aiken has for the past four years shared with the world his magnificent voice, caring heart, and unbending faith through word, deed, and song.
These handsome clickables feature Invisible926's 2006 Easter design (1); Clayquebec1, photo by Invisible926, (2); Cindilu2, photo and screencap by Galrow and Spotlightlover, (3); Amazing_CA's JNT05 blend, photos by Renee4Clay, (4); and ABeautifulMind's Easter graphic, photo by Scrpkym, (5).

Flowers a Canvas for Nature

Nature's splendor resonates throughout Sally's floral photos and graphics. I feel a special affinity toward the first because my hometown of Wilmington celebrates an azalea festival every year about this time.
Joining the pink azalea graphic in this springtime gala are a sweet-fragranced freesa and a lovely apple blossom.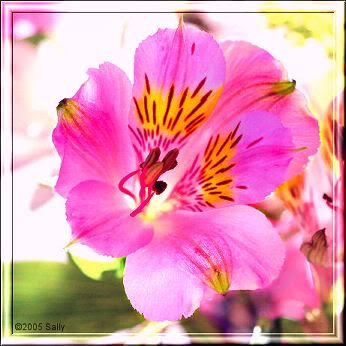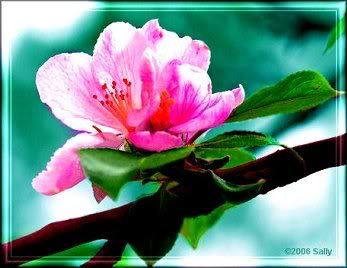 A SPECIAL THANK YOU to all who have sent good thoughts, vibes, prayers, as well as lit NinaB candles for my MIL. Nina, who was released from a West Texas hospital Friday, is very grateful for your concern and especially happy to be home for Easter.
Bravo to Sally, whose photos, graphics, and friendship helped this blog celebrate Easter in such a special way!
We close with her animation, a tribute to all the close relationships formed throughout Clay Cyberspace in support of our exceptional singing man from Carolina.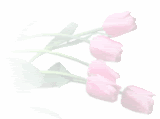 Happy Easter, Clay Nation!
Caro
RELATED TAGS: Clay Aiken, A Thousand Different Ways, Easter, Clay Nation