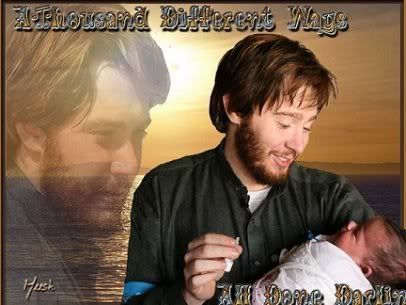 ALL DONE DARLIN' -- Administering medicine to an Afghanistani infant, UNICEF Ambassador Clay Aiken demonstrates love "A Thousand Different Ways" in this graphic designed by MNmeesh.
New Afghanistan Total: $181,783.03
Charities Complete Campaigns
Some days are diamonds, some days are stones
Sometimes the hard times won't leave me alone
Sometimes a cold wind blows a chill in my bones
Some days are diamonds, some days are stones.
Anywhere you turn, there are diamond moments contrasted by those of stone. When John Denver recorded Some Days Are Diamonds (Some Days Are Stone) in 1981, I doubt he -- or songwriter Dick Feller -- could have predicted the vast range this past week has wrought globally and even on personal fronts.
While the Virginia Tech tragedy and the mounting Iraq death toll battle daily for the "stone" headlines, Clay Aiken fans have rejoiced with several memorable "diamond days" in televised/online reports of his UNICEF Afghanistan trip and successful appeal for funds, as well as the official announcement that The Bubel/Aiken Foundation qualified for a $10,000 matching grant from Six Degrees.
Some personal diamond-stone musings follow; but, first, here are the latest updates from UNICEF and and TBAF.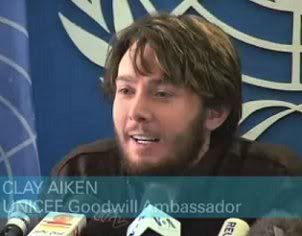 Clay speaks about Afghanistan -- Cap by Cotton
Afghanistan Appeal Raises Over $180,000!
In a UNICEF Fieldnotes blog at 4:23 p.m. Monday, Chris Phillips made the following announcement:
Yesterday was the final day of Clay Aiken's 10-day appeal for Afghanistan.
Congratulations! We raised $181,783.03 for the kids of Afghanistan during this 10-day campaign. That's $80,000+ more than the original goal we set for this campaign!
This total includes all gifts made online in the U.S. and Canada. We're expecting some checks to come in through the mail and will post a final total next week.
We appreciate your generous support of this appeal. Hundreds of you posted this appeal on your web sites, blogs and boards and forwarded the campaign to your friends.
My colleagues and I will continue to keep you posted on UNICEF's work in Afghanistan and around the world. We'll show you how your gifts are being put to work in the field.
The above photo links to UNICEF's Homepage where you can view a video of clay thanking everyone for the overwhelming support.
The Afghanistan Donation Page remains active.
Videos of Clay discussing his trip to remote areas of Afghanistan and the fund-raising campaign have been shown on North American television, UNICEF, and various websites. There are nine clips on Yahoo Video and four on The News Market.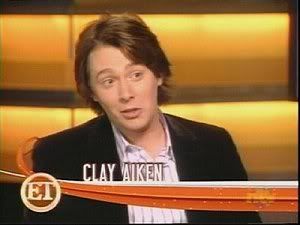 Clay appears on Entertainment Tonight -- Gerwhisp Cap

Friday the UNICEF Goodwill Ambassador appeared on Entertainment Tonight to talk about his trip to the war-torn country with Jann Carl. The interview also included Clay's thoughts about the Virginia Tech horrors, Sanjaya's boot from American Idol, and fame itself.
The video can be viewed at ET Online.
Kevin Bacon Makes It Official
By clicking on the picture below, you can listen to Kevin Bacon's telephone conversation with Kristy Barnes and Aron Hall in which he officially informed foundation staff members that TBAF will receive a $10,000 grant from Six Degrees.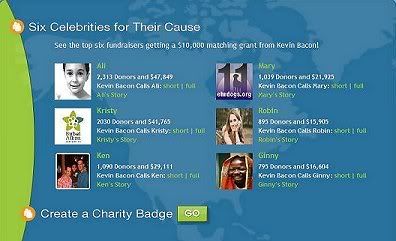 Link to Six Degrees Announcement Page
During the phone call, Bacon was obviously thrilled to receive feedback about how they spread the word to Clay's fan base, as well as the connection that occurred between the top-donor charity, Autism Speaks, and Bubel/Aiken.

According to TBAF Charity Badges still featured in many blogsphere journals, the foundation's total stands at 2202 donors and $54,093 raised.
Mark Your Dance Card!
Dancing the Ticketmaster Tango continues for those hoping to attend the upcoming Summer Tour concerts, often encompassing many degrees between diamonds and stones.
Details of the ticket purchasing schedule are on the OFC homepage. All the best to those taking a spin around this dance floor:
4/27 Knoxville, TN - Pre-Sale: 4/26, 9 a.m. EDT
4/28 Los Angeles, CA - Pre-Sale: 4/26, 10 a.m. PDT
4/28 Sterling Heights, MI - Pre-Sale: 4/26, 10 a.m. PDT
5/3 Columbus, OH
5/4 Frisco, TX - Pre-Sale: 5/1, 10 a.m CDT
5/4 Indio, CA
5/4 Indio, CA
5/5 Cary, NC
5/9 Newark, NJ - Pre-Sale: 4/30, 10 a.m. EDT
5/12 Tulsa, OK
5/18 Atlanta, GA
5/23 Asheville, NC
5/25 Tampa, FL

PHOTO INTERLUDE: These clickable designs feature diamond graphics and photos of five visual artists, including Amazing_CA, 1 and 5; Cindilu2, 2; ABeautifulMind, photo by Scrpkym, 3; and MNmeesh, 4.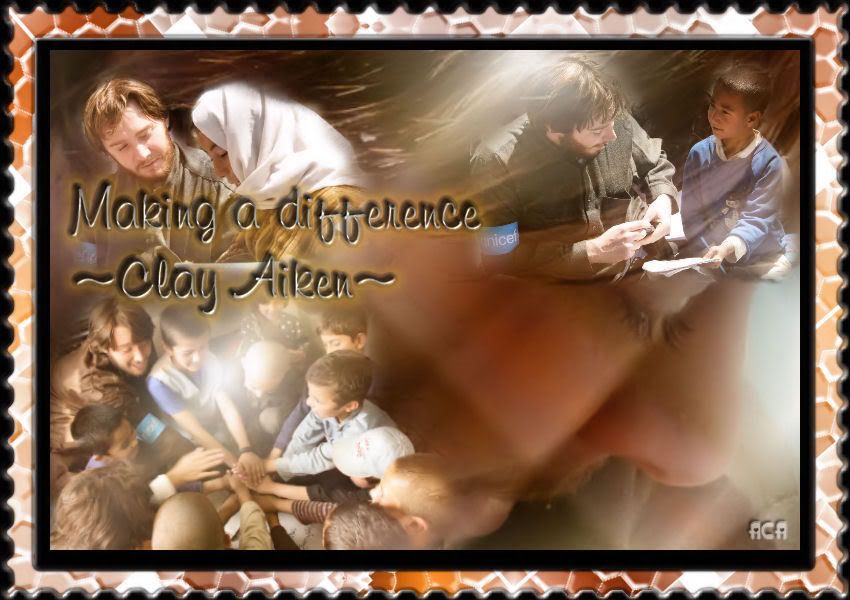 'Some Days Are Diamonds'
Friday, April 13, I recounted the impasse reached by online technicians and my nine-month-old Toshiba Qosmio. Together we tried every trick up their sleeves before finally agreeing I had to pack the machine for a UPS trip to a registered repair shop in Charlotte. To the tune of $91.09 round-trip, the Toshiba departed Thursday morning and was in certified hands by 9:27 a.m. the next day.
Meanwhile, my old Gateway laptop, abandoned since being replaced by newer technology last August, was called into service. After updating virus and spy sweeping software, we began surfing Cyberspace and even compiled a pair of blogs during the interim.
Wednesday morning, I phoned the Charlotte shop to see how repairs were progressing and was told the computer was on its way back. Preparing to welcome afternoon music students, I opened the door and was shocked to find my laptop patiently waiting on my porch.
Signature No Longer Required
Having lived through the Dark Ages, I thought I would have to sign for a delivery of this magnitude. No more, according to the mother of my students, a former UPS employee. That requirement was long ago abandoned for neighborhoods that are deemed safe.
The last part is good to know, but what if it had rained or I hadn't been home? I'm not yet sure this is progress, but I was glad to have that computer home again. The fact the Toshiba is still under warranty puts the invoice of $110 for an hour's work in the "diamond" column -- and makes me wonder if I'm in the wrong business.
Thursday is my busiest teaching day, so I didn't even start digging through the peanut packing material until Friday morning. I already knew the computer had been wiped clean, and I dreaded the sight of my empty picture and music folders.
S.O.S. Aids Sound of Silence
My Photobucket contains every picture/graphic I have run in 211 blogs, but not the many that were saved and yet to be used. The Gateway, bless its soul, still houses copies of all photos and music through August 2006. I was able to send a few family photos to my g-mail account before shipping the computer.
Friday I gradually began reloading software and bookmarks I had saved. I am a musician and by the afternoon, the devastation of the loss of these files struck hard. I didn't even have A Thousand Different Ways because I had passed my CD along to a relative.
An S.O.S. to friends Sally and Aspiegirl soon had my mailbox overflowing with musical attachments; and I have been listening to an eclectic playlist of Clay, Enya, Evanescence, James Galway, John Denver, Sarah Brightman, Willie Nelson, Sheryl Crow, and Bette Midler ever since. This definitely turned into a "diamond" event.
The latest stony twist in this saga has been the untimely demise of my external hard drive, which contains many beloved videos and montages and now refuses to work with either computer.
I have ordered a 250-GB drive that is supposed to be better, so I will have plenty of space to start a new CLACK collection, as well as begin my new routine of saving/backing up files.
I suppose a learning experience qualifies as a "diamond" episode, too.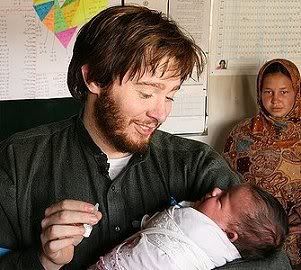 Clay Aiken in Afghanistan
All Done, Darlin', All Done
My MIL, the West Texas Claymate, is having a really rough time. She is home from the hospital fighting an infection so her cardiologist can run tests for blockages, to be followed by a possible stent intervention. I relit the NinaB candle at the Gratefulness site this weekend.
These are not fun times around her house, so she welcomes any entertaining news or story I can relate. I can safely say there's not a Clay fan around who derived as much pleasure from hearing Clay coo "All done, darlin'" after administering medicine to the Afghanistani infant in the above scene than my MIL.
Through my computer speakers, she listened to that tiny recording countless times during our phone conversation. With each repeat came more laughter.
If you need a lift, here's a Sendspace of All Done, Darlin' capped by Pixieglitter. Definitely a "diamond" moment!
Below is a clickable of Meesh's headline graphic: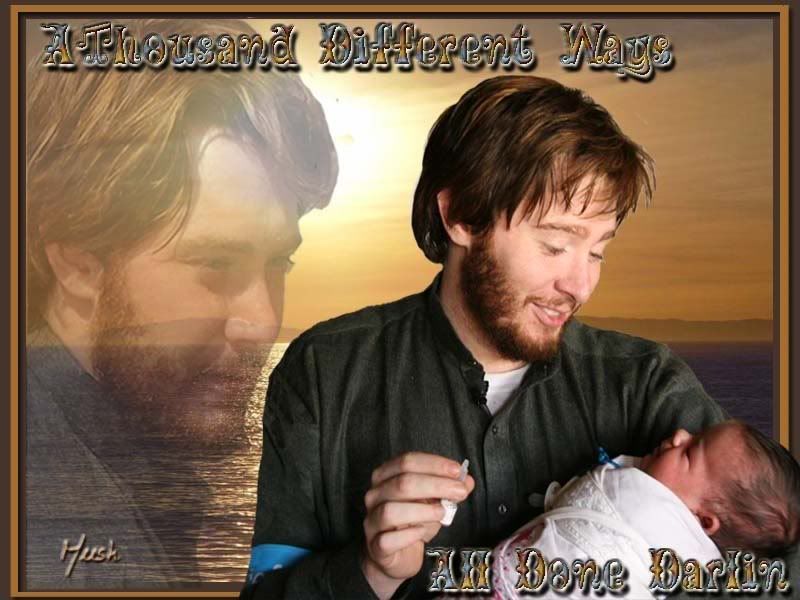 Have a wonderful week, Clay Nation!

Caro
RELATED TAGS: Clay Aiken, A Thousand Different Ways, The Bubel/Aiken Foundation, Six Degrees.org, Kevin Bacon, UNICEF, Afghanistan, Entertainment Tonight, Yahoo Video, The News Market, Some Days Are Diamonds, John Denver, Dick Feller, Clay Nation