RED CARPET -- Clay Aiken meets the press prior to the 20th Annual GLAAD Media Awards in New York City Saturday. Graphic by Amazing_CA.
Cantata, Dead Battery Don't Mix

Clay Presents Tyra Media Award

As I prepared for a church gig Sunday, I thought the run in my black hose was bad; but that was before I tried starting my car at 7:20 a.m.

When the electronic door lock didn't work, even I knew something was amiss and immediately dropped my gig bag to the ground to see if the car would start. Not a chance!

Calmly, I called my brother-in-law, the conductor, to get phone numbers of nearby musicians. Of all days, I had left the orchestra roster in my house. Fortunately, Anna, the other oboist, was able to swing by and provide a ride to and from our two performances.

Upon returning home from a morning of glorious music ("Wayfarin' Stranger," a Lenten cantata), I faced the reality of a "sick car" and called AAA, the company that replaced my battery on Nov. 14. The prognosis was that the battery is "severely discharged" and needed to be charged from 3-9 hours.
My choices were to drive around town letting the battery charge itself or head to one of two local AAA centers for expert stimulus. Tar Heel blue basketball fan that I am, I elected to leave the car running for two hours.
Carolina Basketball Rules
I wouldn't have missed cheering Carolina to its South Regional win for anything. During halftime of the first game, I turned the car off. Curious by nature, I immediately restarted it twice -- so I was hopeful.
According to AAA's print-out, a severely discharged batter can be caused by (a) extended storage [nope]; (b) lights left on [nope]; or (c) electrical problems. Monday morning I drove the car to my own auto repairman for a check-up.
Sure enough, there were no hidden lights left on, and the electrical system is on target. The battery, however, is weakened. Chris, who owns Automotive Connection, put my battery through the works. Even though the voltage dropped within seconds, he recommended I see what happens during the next two weeks.
So I'm the one driving around with fingers crossed. If the Sunday morning routine comes calling again, hopefully AAA will make good on the three-year warranty, which supposedly doesn't cover a "severely discharged" battery.
Double talk ... another of life's lessons? Whatever, so far, so good!


Clay's Introduction of Tyra Banks at GLAAD Media Awards
Clay Helps GLAAD Honor Friend
Meanwhile, between my rehearsal-performance schedule, March Madness, and the declining battery ordeal, I missed the red carpet, the main event, and all the immediate clack returns from Saturday's 20th Annual GLAAD Media Awards in New York -- a real "clackapalooza" weekend!
Here are the opening graphs of the press release:
New York, Sunday, March 29, 2008 - Vanessa Williams, Stockard Channing, Cherry Jones, T.R. Knight, Keith Olbermann, Judith Light, Clay Aiken and S. Epatha Merkerson were among the celebrities who joined the Gay & Lesbian Alliance Against Defamation (GLAAD) as it honored Tyra Banks, Suze Orman, Phil Donahue and the best in film, television and journalism last night at the 20th Annual GLAAD Media Awards in New York.

At the ceremony, singer Clay Aiken presented the Excellence in Media Award to Tyra Banks, who has shown a strong commitment to educating the public about the lives of gay and transgender people on her talk show, The Tyra Banks Show, and on her reality series, America's Next Top Model. The Excellence in Media Award is presented to individuals who, through their work, have increased the visibility and understanding of the LGBT community in the media.
Friends kept me posted; and my email box is filled with photos, YouTube links, even a transcript of Clay's speech, some of which are shared below.
PHOTO INTERLUDE: Featured in this clickable collection are images from Clay's appearance at the GLAAD Media Awards event. Represented are graphics by Fountaindawg, 1, and Amazing_CA, 5, and photos by bigappleforclay, 2, 3, and 4.
Many thnx to

GoodBabyBrush

, who transcribed Clay's speech, one he wrote himself. The excellent YouTube video above includes Clay's introduction, as well as Tyra's acceptance. You can download the video with this Sendspace file.


This is the transcription of Clay's portion:

Very few women in media ever reach the level of single-name recognition: Madonna, Celine, Dolly, Cher -- all also gay icons. Tonight we honor with the Excellence in Media Award a woman who fits into both categories, Tyra. [inaudible] breaking down barriers from the very start of her career.

She made history on the covers of some of the fashion industry's most influential magazines. Who among us didn't want to be with her or ... be her (laughter) when she graced the cover of Sports Illustrated Swimsuit Issue as the very first African American in that position.

Her model portfolio has been surpassed only by her extensive multi-media portfolio. Her transition from runway and print to broadcast brought some of America's favorite guilty pleasures in the form of America's Next Top Model -- which has a very good episode next week [points at self] (laughter).

It's a show that she both created and executive produces, and she uses it as a platform, not only to help young women achieve their dreams, but also to reinforce the value and importance of hard work and determination in achieving success all the while celebrating outer and inner beauty.

That show is nominated tonight in the category for outstanding reality programing in large part due to Tyra's refusal to shy away from including diverse models and judges in its cast. Her emmy award wining talk show The Tyra Banks Show has expanded her opportunity to speak to a large an influential audience about self-image and self-worth and countless other causes important to society.

This year that talk show has won 3 out of 5 nominations for outstanding talk show this year bringing the total nominations to 7 in the just 3 years. Nobody would expect less from someone who has been a trailblazer from the start: model, tv host, creator, executive producer. She's one of the hardest working people in the entertainment industry and (something) recognized for it.

She was honored by the Hollywood Rreporter as one of the 100 most powerful women in entertainment. Entertainment Weekly called her one of their 25 Smartest in Television and Glamour magazine named her one 2008's Women of the Year alongside Hillary Clinton. And tonight the GLAAD Excellence in Media Award.

This award is given each year to a media professional who increases visibility and understanding of the LGBT community, folks like Glenn Close, Billy Crystal, Diane Sawyer and Phil Donahue. Knowing Tyra, I know that she probably doesn't think she deserves a recognition like this. Her American's Next Top Model showcases people like Miss Jay, Jay Manuel, Isis King -- or that guy on next week's show.

Yes, her talk show gives air time to some of the issues that our community cares about most, like marriage equality, gay and lesbian people of faith, and transgender people, but Tyra doesn't necessarily do these things just to make a statement. She doesn't just address these issue for the impact. She includes, embraces and celebrates because that's just how she is. Cause she knows it's right. She doesn't marginalize, she normalizes.

She never sensationalizes or exploits, she just cherishes the value of every human being. Because the only thing bigger than her influence is her heart. Her deep respect for the value of all people has led her to make it part her mission to educate the mainstream public about the lives of gay and transgender people, reaching millions of young people nationwide with her message of inclusion and acceptance
.
Below is a clickable of

Amazing_CA

's opening graphic: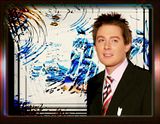 Have a wonderful week, Clay Nation!

Caro
P.S. Celebrating Tuesday's drop of The Very Best of Clay Aiken CD are clickables of graphics by fivegoldens and cindilu2. Check for the CD online and in local establishments.
TECHNORATI TAGS:
Clay Aiken
,
20th Annual GLAAD Media Awards
,
The Very Best of Clay Aiken CD
,
Tyra Banks
,
Lenten Cantata
,
discharged battery
,
Official Fan Club
,
Clay Nation