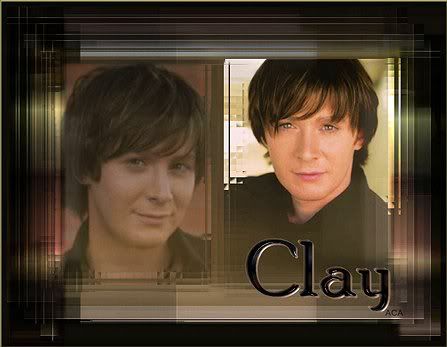 Clay Aiken graphic designed by Amazing_CA.
2009 Calendar Updates
Virtual Tour Recalls 'Clayisms'

The incredible pipes of Clay Aiken are reason enough for fans to long for a new tour, but almost as popular as the golden voice are the singer's quick wit and sense of humor that permeate onstage banter between songs.
Featured in this virtual tour stop are memorable "Clayisms" that can be traced back to concerts and television appearances of the past six years. No doubt, some longtime CA fans can describe the precise setting of each quote. Favorites shared in reader comments will be added to the blog.
Before the banter train leaves the station, however, here is an overview of upcoming appearances by Clay in the near future.
MARK YOUR CALENDAR

March 28: GLAAD 20th Annual Media Awards -- Clay will present a media award to good friend Tyra Banks. (Marriott Marquis, NYC)

March 28: Paula's Party - House of Blues rerun, 7 p.m. (FOOD)

Clay Aiken, Dionne Warwick and Duff Goldman are guests as the host creates a blues-inspired menu that includes blue-corn-crusted bass, blue-velvet cake, and a blueberry crème brûlée tart.
March 31:
The Very Best of Clay Aiken
CD drops
For playlist, see 2/24 Carolina entry. CD available in stores on 3/31 and for pre-orders at several online sites.
March 31: Scrubs rerun -
My Life in Four Cameras
(COMEDY)
Act II unfolds as J.D.'s sitcom fantasy, filmed in front of a studio audience and triggered by his tending to a TV writer. Clay Aiken guest stars as a hapless cafeteria worker, who sings "Isn't She Lovely?"
April 8: Clay appears on
America's Next Top Model
(CW)
"Clay Aiken, a close friend of mine, is a guest judge and will pose as a designer in this episode." -- Tyra Banks
May 14: Clay will make a cameo appearance on the final episode of
30 Rock
.
(NBC)
Clay is known for his quit wit and comedic timing. He just finished his second stint on Broadway's Spamalot in January and fans are anxiously awaiting his return to the spotlight.
Singer Becomes Clack Gatherer
Famous among CA fans is the 2007 Soft Rock Hard Place Ft. Myers concert during which Clay turned the tables on videographer Scarlett, who was shooting from the front row. The above video tells the story and can be downloaded at Clack Unlimited.

Clay Aiken Takes His Own Clack
These Clayisms, which date back as far as 2003, appear in no particular order.

God forbid the clack skip around!

I'm never wrong, people.

Breathe for me, honey!

Talk amongst yourselves.

I know your words.

Perfection takes time, honey!

You need another fact checker!

All done, darlin'.

Happy to save you money on your prescriptions (autographing "Clay = Female Viagra" poster)

They will be locked!

Lawd, Jesus! (fanning himself)

Hey Ruben, I got panties!

What do you have in there -- Radio Shack?

Git 'er done!

The twisty tie confuses me every time!

He hit me with his cane!

Stick me on the roof or fold me up and throw me in the trunk.

I don't have an accent, do 'ah'?

She didn't have the balls to send me the letter!

I think I'm gonna take a cold shower at intermission. **Deafening cheers** Let me try again; I'm gonna read a book.

In my life, I've had heartache and pain (pointing to Angela and Quiana).

Before the show is over they will have your email address, your phone number, your address; and the next thing you know, you will be driving them to Florida!

You can never get enough of Clay Aiken.

We're all family here, right?

I have my own Nation.
PHOTO INTERLUDE
: This clickable interlude features graphics by Amazing_CA, with photos by

fivegoldens

, 1;

PermaSwooned

, 2; and toni7babe

, 3. Represented are the Soft Rock Hard Place and Jukebox Tours.
Montages Feature 'Clayisms'
More "Clayisms" are highlighted in three YouTube montages by Marie Drummond: Clay, Your Halo Is a Wee Bit Crooked; Clay Testosterone Contest; and Clay Embraces His Dorkiness.


It doesn't really matter to me how I make a difference; I just wanna make sure that I do.

I'm going through puberty now, and you can say you were here when it happened. Now I am a man!

Here's to not caring!

Savor the flavor.

My teeth are blindingly white.

I was the only one that looked like Jesus. (reference to bearded appearance during UNICEF trip to Afghanistan)

Krispy Kremes, macaroni and cheese, and slooooooooow songs.

I love going up and singing on stage.

The fact that you are here will help when you get home. (to the men in the audience)

Clay talking about how classy the orchestra is and how he's not. A fan shouts out, "You're hot though!"

I got beat up by a girl!

He really liked me for some reason..." (RE the horse on Kimmel)

Lord help the sex symbol world if I'm one of them.

Did you get that on video?

You know, I think I'm a stronger person for realizing that you can't make everybody love you.

It takes a whole team of people working 24 hours around the clock to make me look like this.

I'm being trained to shake the bon-bon appropriately.

I'm fine and have taken steps to prevent any foot wandering in the future.

We sing lots of sloooooooooooooooooooowwww songs.

Clay Aiken bringing families together!

Sometimes things come out of my mouth that don't even go through my brain.

Success is measured by how happy you are, not how much money you have.

It's a little less sweet and a little more suspect!

It's important that I make a difference in some way. If it's by singing and touching someone that way, great. If it's being a teacher and helping some kid understand something, even better.

Use your voice.

I'm Clay Aiken! (signing "thank you")
Have an awesome week, Clay Nation!

Caro
TECHNORATI TAGS:
Clay Aiken
,
Clayisms
,
The Very Best of Clay Aiken CD
,
GLAAD 20th Annual Media Awards
,
America's Next Top Model
,
30 Rock
,
Official Fan Club
,
Clay Nation