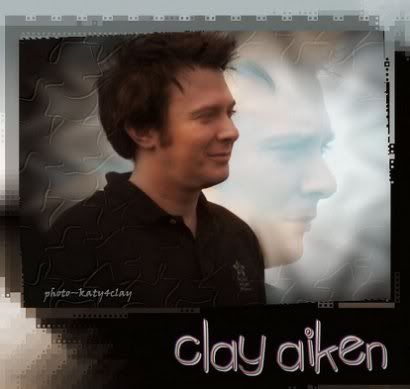 WHY MUSIC? -- Singer records PSA for "Music in Our Schools Month" festivities. Graphic by Amazing_CA, photo by Katy4Clay.
Weather Aids Movie Marathon
Clay Aiken Celebrates MIOSM
Throughout much of North Carolina, March is roaring in like a lion as students -- and teachers, too --are reviewing rarely used snow dance steps in hopes that schools will be cancelled on Monday.
Thnx to my recent intallation of DIRECTV and the oncoming weather pattern, my weekend movie marathon has a "3-5 inch" probable chance of a one-day extension. More on this in a bit.
Learning music opens up the mind like nothing else. -- Clay Aiken


That is really the lead, and this musician/private instructor could not have said it better: Learning music opens up the mind like nothing else.
A former band and orchestra teacher, I am proud that North Carolina singer Clay Aiken is helping in the March celebration of Music in Our Schools Month (MIOSM). One of four new spokespersons for 2009, Clay has joined a host of pop, country, and classical musicians recording special radio messages -- Why Music? -- that remind all of the importance of the arts.
Other newcomers to the roster include Steven Van Zandt, singer, songwriter, producer; Mark O'Connor, fiddler, composer, author; and Mary Stuart, platinum mandolin artist.
Download/listen to Clay's PSA at the above link. Here is what he says:
Wanna know one of the best ways to help your kids do better in school? This is Clay Aiken from Monty Python's "Spamalot." I visit a lot of schools both at home and when I'm on the road, and I hear too many students say school is boring. But what about music class? You know, learning music opens up the mind like nothing else.

Performing in a school music ensemble is fun and challenging for kids. It encourages creativity while instilling self-discipline. And learning music even develops something called spatial I.Q., which helps students tackle the challenges of other subjects like math and science.

Some night this week sit down as a family and play your kids some music you really love. Then listen to what your kids like and compare notes. Even better, sit down at the piano and sing some songs together. Help your kids learn to love music.
Like those of the many participating artists, Clay's bio is compressed but impressive:
Born in Raleigh, NC, Clay Aiken sang his way up from school choirs to the American Idol stage. Since then, Aiken has released five well-received albums, and has appeared in the role of Sir Robin in the Broadway musical Monty Python's Spamalot.
A current ambassador for UNICEF, Aiken has pursued his mission of bringing primary education to all children. Throughout his career, Aiken has raised hundreds of thousands of dollars for children in need.
World Concert Highlights MIOSM
First celebrated in 1973 by the state of New York, MIOSM has expanded into a national month-long occasion raising awareness in the importance of music education for all children. A cornerstone MIOSM event since 1985, the World's Largest Concert (WLC) is a sing-along linking up to six million students around the world in recent years.
Slated for 1 p.m. EST March 12, the 2009 WLC can be viewed on most publc access TV stations. In the Age of Technology, teachers link to downloadable sheet music and mp3s to teach students the songs. For more info and the 2009 song list, see this WLC link.
Coming from a long lineage of music teachers, I believe the artist PSAs and MIOSM emphasis are wonderful reminders to the public -- parents, young people, and school board members quick to slash arts programs -- that participation in music class is key to a student's education.
Ancient Greek philosophers believed music to be essential and beneficial in learning other subjects. In addition to the joys of singing or playing an instrument, music class is where students discover their own creative voice, learn about cooperation and how it feels to make real harmony.
Creativity, cooperation, harmony, and beautiful music -- what the world needs now!

PHOTO INTERLUDE: Graphics by Amazing_CA (1, 3, 5) and cindilu2 (2, 4) are featured in this clickable set with photos by PermaSwooned, 3, and Katy4Clay, 5. Widescreen versions of cindilu2's March calendar and graphic are available on her Yuku page.
Potholes of a First Time Pollster
When I posted the previous blog entry, the March 31 drop date for The Very Best of Clay Aiken had just been announced. Based on past history, most longtime CA fans agreed it would be a while before fans learned the album's tracklist.

Never having created a poll with Blogspot's gadgetry before, I decided this might be an excellent first time. To establish a consensus of "favorites," I asked a few friends to send me their wish list, the most popular titles of which made the poll.

For spacing and an assortment of other double-checks, I always test a new entry in a private duplicate blog before uploading the post to the Carolina site. True to form, I set up the poll on the dummy site, too. Everything worked like a charm ... until I routinely moved the works to the Carolina site.
One Little Check Mark
Even before I could ping the blog, frustrated readers began commenting that they were only allowed one choice rather than the stated multiple votes. Unfortunately, I inadvertantly missed checking that option in the final upload.

I immediately learned you cannot change a poll once participation begins, so I promptly posted that voting was on hold until I could replace the survey, this time with the multiple vote option checked. After that, everything clicked along smoothly with a steady stream of song selections in the side bar.
Around midnight, tradition broke rank and the actual playlist for TVBOCA was released, making the Feb. 24 Carolina poll somewhat obsolete. The saving grace is that voting, which continues in the sidebar song list and via reader comments, will provide a comparative list on March 3, Blogspot's pre-dermined closing date for the poll.

Reckon I will think twice before setting up a poll again? Knowing me, probably not!
Movie Marathan Rolls On
Even if there is no snow day in this area Monday, I have certainly enjoyed a weekend of back-to-back movies. So much so that I received several emails and PMs asking why I wasn't online.
I like a wide variety of genres -- drama, mystery, comedy, romance. I think I have even programmed a western. So far, in my short time with DIRECTV, some of my favorite films include:
The Great Debaters
Freedom Writers
The Touch
21
The Visitor
Bounce
Mad Money
Miss Potter
No Reservations
Music of the Heart
Among those recorded but not yet viewed include:
The Bucket List
Beyond the Sea
Becoming Jane
The Producers
Resistance
Taking Chance
Mrs. Brown
Copying Beethoven
A Mighty Heart
Babel
Most often, once-viewed movies are not immediately deleted from my cache. Perhaps that's the reason my DVR scheduler is already down to 75% available space. Oops, there goes another orange light -- make that 74%!
Below is a clickable of Amazing_CA's opening graphic: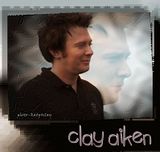 Have an awesome week, Clay Nation!
Caro
TECHNORATI TAGS:
Clay Aiken
,
Music in Our Schools Month
,
MIOSM
,
Why Music? PSA
,
Music Educators National Conference
,
MENC
,
World's Largest Concert
,
WLC
,
The Very Best of Clay Aiken
,
poll
,
DIRECTV
,
movies
,
Official Fan Club
,
Clay Nation