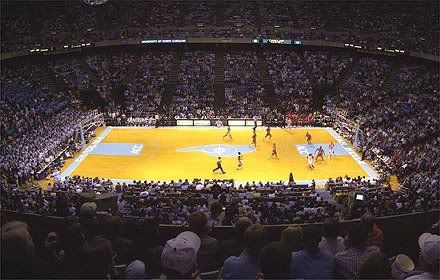 DEAN DOME -- Carolina hosts Duke in the regular season finale in the Dean Smith Center, affectionately known as the Dean Dome. - Tarheel Blue Photo

Heels Honor Hansbrough, Seniors

Carolina, Duke Close Season


CHAPEL HILL - Tyler Hansbrough scored 17 points in his final home game to help North Carolina beat Duke 79-71 Sunday and win the Atlantic Coast Conference regular-season title. Carolina led most of the second half for its sixth win in seven meetings.

Among the Carolina faithful on hand were alums Michael Jordan, Raymond Felton, Sean May, Charlotte Bobcats coach Larry Brown, former Senator John Edwards and his wife Elizabeth.

March Madness is here!

Tyler Hansbrough, National Player of the Year as a junior and one of the most decorated basketball players in Tar Heel history, closes the regular season chapter of his college career as Carolina hosts Tobacco Road rival Duke in an Atlantic Coast Conference showdown Sunday.

The second of two regular season games between the two teams alternately embraces tradititional Senor Day festivities for one of the schools. The 2009 finale unfolds at 4 p.m. in the Dean Smith Center, home court of the Heels (26-3, 12-3), who hold a one game lead over the Blue Devels (25-5, 11-4). NOTE: Senior speeches can be viewed at Tar Heel Blue.

The ACC title is on the line, and a win would clinch the top seed in next week's league tournament in Atlanta's Georgia Dome.

Sunday marks the final game for one of the winningest classes in Carolina basketball history that also includes regulars Danny Green, Bobby Frasor, and Michael Copeland.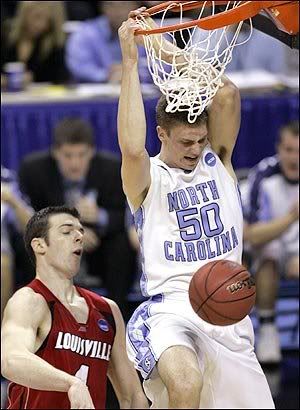 Typical Hansbrough dunk in Louisville game.
Special Celebration in Chapel Hill
In A national title would seal legacy, David Ely, senior writer of the Daily Tar Heel, describes the afternoon's events and goal of a national championship.
When Tyler Hansbrough grabs the mic for his Senior Day speech after North Carolina's game against rival Duke on Sunday, it will mark a celebration of the rarest order.

A once-in-a-lifetime player, Hansbrough holds nearly every record of substance at UNC. Most points in a career, most double-figure scoring games, most free throws made in the NCAA. And that doesn't even include the UNC career rebounding title and the ACC career scoring mark he's about to claim for himself.

The list of his statistical accomplishments could go on forever. But there is one small hole in his otherwise over-packed trophy shelf. A hole that, if filled, would cement Hansbrough in the Mount Rushmore of the college basketball world.

A national championship.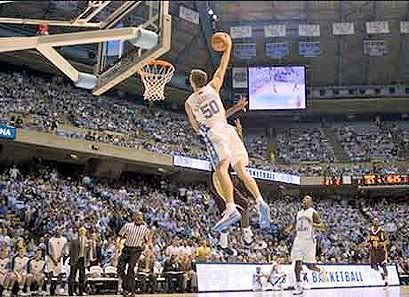 Just another day at the office.
Jersey No. 50 Slated for Rafters

Tyler's No. 50 jersey will eventually hang in the rafters with those of Lenny Rosenbluth, Michael Jordan, and James Worthy; but his goal is to win a national championship like these Tar Heel legends.
At the beginning of his sophomore season, the most decorated freshman in Carolina basketball history was asked why he decided to return to college instead of opting for the NBA as so many do.

After explaining to the reporter that he wants to accomplish more with his team and individually, he added, "I've never really known a player to spend another year with Coach Williams and get worse."
Network Still Beams to Popular Bluff

In 2006, I wrote a blog about Tyler's hometown radio station, KAHR-FM, which picked up the Tar Heel Sports Network feed and broadcasted UNC basketball to their native son's supporters. In Year 4, the Poplar Bluff crowd is still tuning into games 634 miles away from the UNC campus via KWOC-AM radio.
Like many North Carolinians, I will be watching the 4 p.m. televised game from Chapel Hill. A 4:30 p.m. flute choir rehearsal almost played havoc with my plans, however. Fortunately, my sister, the director, is trusting me to practice at home and join the group for next Sunday's performance.

That's a good deal. I doubt Carolina and Duke would have changed today's game time, LOL!


Season 7 American Idol David Cook will sing "Heroes" before the ACC Tournament games at the Georgia Dome later this week. A Clay Aiken fan, I would have preferred Singerman; but I'll be there cheering David on.

Have an awesome week, all! Go, Tar Heels!!!

Caro
TECHNORATI TAGS:
Carolina Tar Heels
,
Duke Blue Devils
,
Atlantic Coast Conference
,
Tyler Hansbrough
,
Danny Green
,
Bobby Frasor
,
Mike Copeland
,
Roy Williams
,
Poplar Bluff
,
Clay Aiken
,
David Cook
,
Official Fan Club
,
Clay Nation