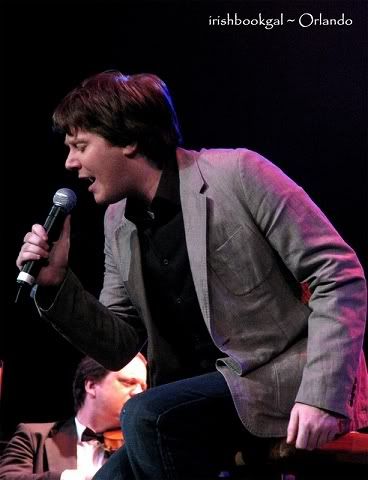 Photo by Irishbookgal from Orlando IWTKWLI.
SRHP Bows with Exquisite Trio
Virtual Tour Rolls Into Orlando
The Carolina blog's virtual tour rewinds time to the August 2007 Orlando Concert in which a beatufiul duet evolved into a magnificent trio by Clay Aiken and backup singers Quiana Parler and Angela Fisher.

The closing bow of the Soft Rock Hard Place Summer Tour, the Orlando-Hard Rock performance is also remembered for the singer's moving rendition of "Measure of a Man" and the predictable, playful antics of a final show.
First, here in a nutshell are current headlines and the promise of a new photo for grandson Kai's "fan club."
Clay To Present Award to Tyra Banks -- Singer-actor Clay Aiken will present the Excellence in Media Award to Tyra Banks at the 20th Annual Gay & Lesbian Alliance Against Defamation (GLAAD) Media Awards in New York City on March 28. See the story at Broadway World.

UAH Student Supports TBAF -- After reading about The Bubel/Aiken Foundation's mission of inclusion on a Clay Aiken CD jacket, Kelsey Thacker, University of Alabama-Huntsville student, started an ink cartridge recycling program at UAH to help raise money for the organization. Full story in The Exponent.

Clay To Cameo on '30 Rock' -- What do Mary J. Blige, Clay Aiken and Elvis Costello have in common? All three are the latest celebs to make cameos on "30 Rock." See The New York Daily News.

Countdown to 'The Very Best' -- Selected remastered tracks from four CA albums -- Measure of a Man, A Thousand Different Ways, On My Way Here, and Merry Christmas With Love -- will be released March 31 on the highly anticipated The Very Best of Clay Aiken CD.

Pre-order at Amazon for $9.49; AmazonCA, CDN $15.99;Target, $9.49; CD Universe, $9.00, among other sites.


I Want To Know What Love Is
Goose Bumps in Any Language
The Orlando-Hard Rock venue was packed with faithful fans and newcomers alike, while thousands around the globe listened via cellstream to an entertaining but emotional SRHP finale.
Throughout the tour, Quiana and Angela had cleverly teased Clay as to which would be his singing partner on the "I Want To Know What Love Is" duet. Each night Clay sang the opening phrase but had to guess which backup vocalist to face for a reply.
In Orlando, they both answered. As soon as Clay committed to singing with one partner, the other vocalised the next phrase. In the process, the trio spun gold, ending with Clay improvising low register riffs with Quiana and soaring into high altitudes scats with Angela.
In this memorable rendition of I Want To Know What Love Is, posted at YouTube by kb0326, Singerman renamed his backup singers "Heartache" and "Pain." You can download the audio and video by Spotlightlover with these Sendspace links.
Fan Reports NJU Exchanges
In the long line waiting to get into Hard Rock-Orlando, Platinum spoke with a Jamaican foreign exchange student who had attended the concert alone. He had seen Clay on American Idol, thought he had a fantastic voice, and wanted to see him in concert.

Later in the handshake line, she met fans from Venezuela who had come to the US specifically to see Clay. The wife didn't understand English, so her husband translated.
He told me his wife downloads all of Clay's videos off the Internet and watches him on YouTube, too.

Through her husband, the wife told me she loves Clay and thinks he is beautiful. I asked what she thought of the concert, and she grabbed at her arm in an up and down motion. This must be the universal sign for goose bumps.

She only has "A Thousand Different Ways," so I got her e-mail address and will send her some of the extras I have at home. I can't tell you how thrilled she was to get a handshake!
The above Orlando Slide Show features photos by Invisible926, ClayGlo, Toni7babe, and Brightstar. To view the pictures in gallery form, click on the "View All Images" button.
Orlando provided the perfect ending for the Clay Train's amazing ride during the Summer of 2007, but this 2009 virtual tour will continue spotlighting memorable performance moments.
Upcoming stops have been suggested in reader comments. A virtual tour is not hindered by the restraints of consecutive order. Hang onto your hat -- this clack will definitely skip around!
March Madness Takes Over
March Madness and conference rivalries have not just taken over my life (i.e., with no ties to either school, I watched the UCONN-Syracuse six-overtime game into the wee hours of Friday morning), but it has also infiltrated the nation's capital.
Listening to the Thursday afternoon daily press briefing while preparing to teach lessons, I did a double take when Press Secretary Robert Gibbs opened with, "Let the record show that the N.C. State alum let a Carolina Tar Heel ask the first question."
My teaching schedule and the Carolina-Virginia Tech game at noon Friday forced me to devise a Plan B -- watch until I just had to leave at 2, mad dash to the car on a time-out, listen to the remainder on the radio while driving to Wesleyan.
Workday an Unexpected Gift
A "heads up" email alerted me the school had scheduled a teacher workday for Friday. Thursday night I called the father of my first student to make sure she would be at her lesson. In the past, we have easily made up a missed appointment by adding 15 minutes for two weeks.
Hopefully, Dad didn't detect the huge grin and accompanying fist pump when he suggested my own remedy. Hence, I was able to watch the entire Carolina game. A big toe injury has our starting point guard in a boot, so all fingers are crossed for tournet's remaining games.
For two days and nights, my West Virginia friend, xxx4clay, and I have cheered for her Mountaineers and my Tar Heels via virtual pom poms and real-time emails. Good shots, bad calls, you name it -- we have made cyber cheering almost like being there.
Even though WVU lost Friday night, the team is assured an NCAA tournament berth. You can bet I'll have my blue and gold pom poms ready!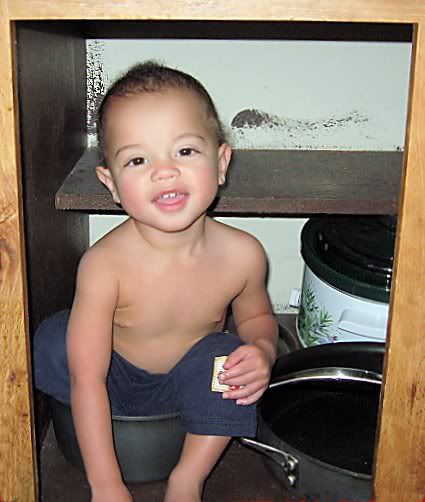 Kai enjoys the view from his special hangout.
Photo edited by Sally
For all the "Cyber aunties" who have been hinting for pictures of Kai, here is one I just received. A new USB connection finally ended the month-long drought -- but not before several friends suggested online possibilities for a replacement cable.
Grandson Kai, I am told, enjoys the view from the kitchen cabinet, especially when a meal is prepared or dishes washed. His mother snapped the shot of her son in his very own vantage point.
Have a wonderful weeknd, Clay Nation! Go, Tar Heels!!!

Caro
RELATED TAGS:
Clay Aiken
,
The Very Best of Clay Aiken
,
On My Way Here
,
A Thousand Different Ways
,
2007 Summer Tour
,
Soft Rock in a Hard Place
,
Hard Rock-Orlando
,
I Want To Know What Love Is
,
Quiana Parler
,
Angela Fisher
,
Tyra Banks
,
GLAAD Excellence in Media Award
,
The Bubel/Aiken Foundation
,
Kelsey Thacker
,
ink cartridges
,
30 Rock
,
March Madness
,
grandson
,
Official Fan Club
,
Clay Nation